As the hospitality industry continues to evolve at a rapid pace, so the career paths available become more diverse.
Add to this the increasing focus on core competencies and you have a multitude of interview types, processes and questions that a hospitality professional could face. While this may seem daunting, there are techniques you can use to increase your chances of interview success, whatever the role.
When it comes to securing employment in the hospitality industry, there are the usual hurdles to jump, as with any professional role. For instance, you will most likely go through at least two interviews before a decision is made, meaning you have to impress more than one interviewer. You also need to ensure you are able to answer all of the interviewer's questions confidently and honestly.
Jane Hurst – an editor and freelance HR professional with extensive experience of helping people land hospitality jobs – provides some key points on interview preparation.
Pre-interview essentials
Research the company – Very few things impress a prospective employer more than a candidate who has done their homework and knows a fair amount about the company. Do your research and gather useful background information prior to the interview. Things you should learn about include the company's history, turnover rates, number of employees, market position and anything else that may be important or newsworthy.
Dress for success – In the hospitality industry, you will be expected to look your best at all times. "If you are interviewing for a job within this industry, you need to dress accordingly," according to an expert from online magazine Groom + Style. "Make sure that your hair and clothing are tidy and clean. This is going to leave the interviewer with a better impression than if you showed up wearing jeans and a t-shirt. Your job will put you in the public eye, so the employer will want to see that you are able to look the part."
Don't rush – It is a good idea to get ready for the interview long before you really need to. That way, you don't have to do anything else but sit back and relax. Prepare everything the night before, including what outfit you're going to wear, and do as much revision as possible. If you leave everything until the morning of the interview, you will be rushing and won't be in the right frame of mind. To help with getting to the interview on time, consider doing a 'dry-run' on an earlier day at the same time, this way you'll know if you need to leave early due to traffic or transport schedules.
Go undercover – You might even want to visit the venue prior to the interview, in order to get a feel for the place. Visit as a customer, and take note of things like the level of customer service, appearance of the staff and the style of the venue itself. This is going to give you great insight as to what the employer expects. If you do find things that you are not happy with, do not criticize the company in the interview. Instead, offer suggestions that are going to show you have both an interest in the company and great ideas for the future.
Prepare something to present – Ask the person who books you in for the interview if they want you to bring anything to present. If they say yes, great. If they say no, then prepare something anyway. If you've done your research, then you'll know what the business goals are or areas where they can improve. By putting something together to present, it shows initiative, competence and adds value. It also takes the pressure off the Q&A style approach, as you can instead have a conversation about your suggestions.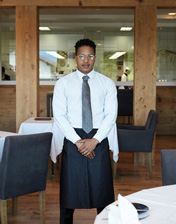 Practice makes perfect
You are going to be asked several questions during the interview. There will be some that you won't be able to prepare for, but more often than not there are many questions that are common to all interviews. Practice the latter as often as you can, ensuring you have the answers that the interviewer will want to hear. Some frequent interview questions and scenarios include:
Why do you want to work for our company?
Do you plan to work here on a long-term basis?
Why did you leave/why are you leaving your last position?
What does good customer service mean to you?
Describe an instance where a guest was unhappy, and how you handled the situation.
Describe an instance where you had to disappoint a guest, and how you handled the situation.
A hotel guest is asking about things to do in the area. What do you tell them?
By following the above, you will be able to face interviews confidently, knowing what to expect and what answers to give. All of this will also prove beneficial for Les Roches' upcoming Career and Recruitment Day, where you will get the chance to network with leading hospitality organizations and seek out employment.