Learn more about
Hospitality Degrees
Here you will find information on the different hospitality management degrees available to you; and discover how a specialized degree such as this can open doors to exciting careers within the hospitality industry and beyond.
What are the
different types

of hospitality degree?
Bachelor's
An undergraduate (or first) degree issued by a college or university after the student has successfully completed a program of study that can last anything from three to six years. A Bachelor's degree can cover almost any topic; they are designed to provide an in-depth understanding and, where appropriate, an amount of professional experience through direct industry exposure.
Master's
These are graduate degrees for students who have already earned their Bachelor's. Offering more intensive and focused learning around a particular subject, the Master's generally involves a year of study which culminates in a thesis or capstone project. This category also includes the Master of Business Administration (MBA), which is a professional graduate degree awarded to students who study business management and the science behind it.
Diploma
Professional diplomas offer career-switchers an ideal entry point into their chosen industry. You can find options to study at both undergraduate and postgraduate levels, while some diploma programs can also provide a stepping-stone to a Master's or MBA.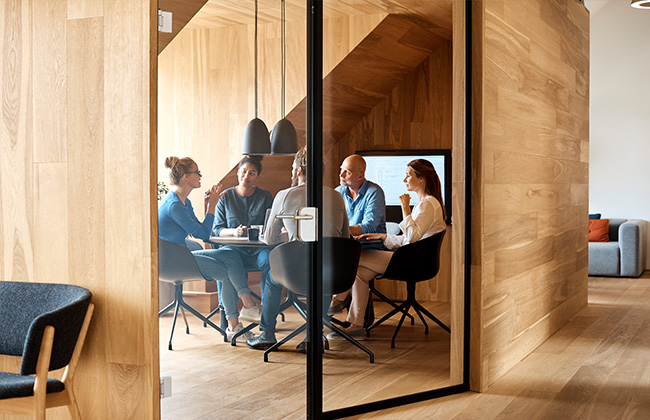 What
can you do

with a hospitality degree?

A hospitality degree provides access to internships, management training programs, or full time jobs across operational or administrative fields within hospitality and tourism. This means hotels, restaurants, plus a whole range of other travel services.

Alongside hospitality jobs, there are plenty of other sectors which share common ground with the skills and attributes acquired by a hospitality management graduate. These include:
Financial services
Technology
Luxury brands and luxury retail
Events
Spa & wellness
and many others
Is a hospitality degree worth it?
A hospitality management degree delivers an exceptional return on investment.
Why? Because the skills and knowledge you develop – in particular the 'soft skills' such as communication skills, empathy, people skills and problem-solving – are highly sought after within the 21st century global economy. And that is the key to a successful career.
---
94%
of Les Roches students have at least one job offer upon graduation
---
In pure financial terms, there is no hard and fast rule on earning potential, because every country and every industry is different. However, the United States Bureau of Labor Statistics has estimated that Bachelor's degree graduates enjoyed weekly incomes almost 70% higher than those of non-graduates.
Having such a degree will also assist you in developing an entrepreneurial mindset; especially if you choose a hospitality program that features an entrepreneurship specialization.
What is more important in the hospitality sector: experience or a degree?
The answer is that both are important: gaining experience – particularly international experience – is essential to progress within hospitality and tourism; but before that stage, you increasingly need a specialized hospitality degree as your entry ticket.
Even though hospitality management graduates have the tools to forge leadership careers, before you can become a hotel manager you still need to get into the industry via an entry-level job.
And if you look at two of the biggest growth markets for hotels, China and India, you can see that 83% of entry-level jobs offered in China demand a Bachelor's degree, with 61% for India.
The two markets are equally demanding when it comes to industry specialization, with a respective 74% and 83% requirement for a hospitality related education.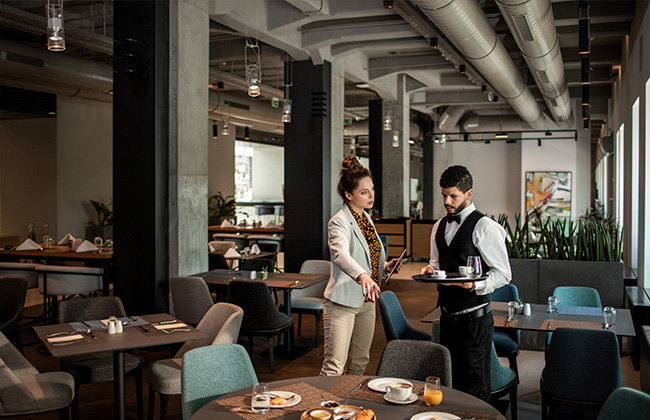 Lead the way in hospitality
Study at one of the world's leading hospitality business schools, transform alongside international students, and graduate ready to disrupt an industry.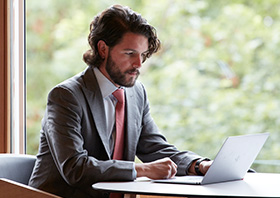 What are the
most important aspects

of a hospitality management education?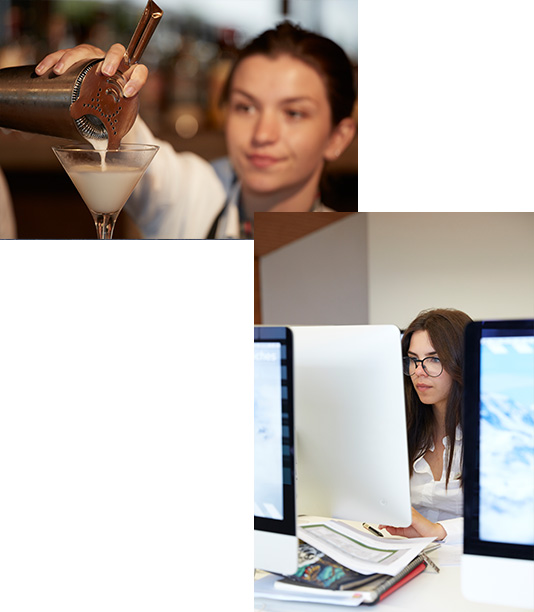 Mixing the practical with the academic
The major schools in this field – Les Roches included – offer 'practical arts' training in hotel operations as part of the curricula of their hospitality management programs. The intention is not that the students will spend their hospitality careers preparing food, waiting at tables or cleaning rooms; it's because to manage these functions effectively you must first understand how they work. And the best way to achieve this is by actually doing the jobs yourself!
'Real world' professional experience
In a competitive employment market, hands-on experience counts. A good hospitality management degree will include professional internships, so that graduates have 'real world' hospitality work experience on their resumes alongside their academic qualifications.
Your immersion in the world of work doesn't just stop there, however. You should aim your search towards an institution where the faculty have accumulated frontline industry experience, including hotel management, as well as serving their time in academia. This not only gives their teaching a uniquely rounded perspective; it also means they can scour their networks to bring in expert guest speakers who will add real value to your learning.
You should also look for evidence of a thriving alumni community, which stays engaged with the school and offers expert mentoring, guest lectures and internship opportunities to current students.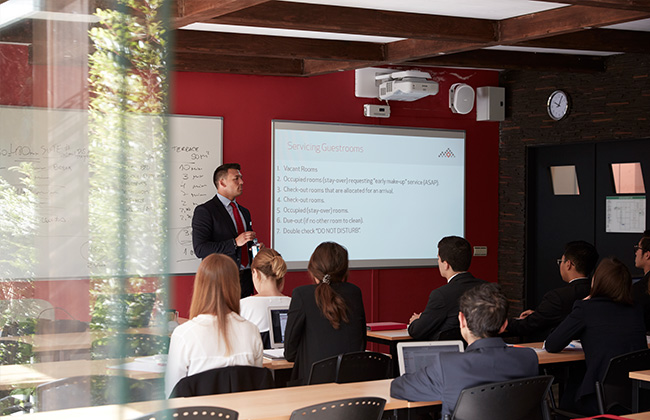 ---
67%
of Les Roches alumni secured their first role through the Career Services team and contacts made while they were a student
---
Personalized career support
A hospitality degree is not just what you learn in class. It's also the networks you build and your journey of discovery in terms of career possibilities and the different routes to a leadership role. The more hands-on, and personalized, the career support you enjoy, the more easily these non-academic elements will fall into place.
For example:
Do your shortlisted institutions offer dedicated career and recruitment days, allowing you to meet with dozens of potential employers?
Will the careers team offer you personalized support in finding, securing and completing professional internships?
Are there value-add services such as advice and guidance on writing resumes and cover letters, or training sessions to polish your interview skills?
All of the above deliver the career opportunities which will help you to secure an appropriate return on investment for your hospitality management studies.
How do I find a
good hospitality management school?
Begin your search with the international rankings (e.g. QS World University Rankings) to determine the leading schools. You can be confident that any institution appearing within the global Top 10 – and especially the Top 5 – will offer a world-class education.
You may also have a particular study location in mind. There are hospitality schools just about everywhere, but the international rankings demonstrate that Europe and the United States are particular hot-spots for this brand of degree education.
From there, the choice becomes more about you: how does each institution suit your personality, learning approach, and future career ambitions? What are the opportunities for students to become the person they want to be?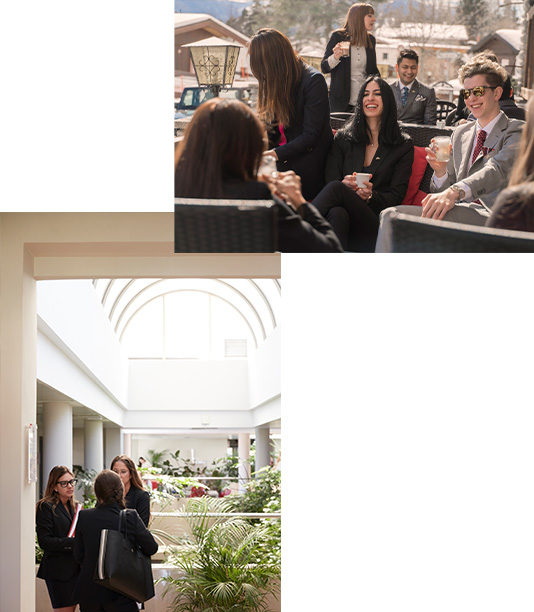 "Studying at Les Roches opened my eyes to diverse cultures, languages and communication, which helped me adapt successfully in work environments around the world."
- Class of 2013 BBA graduate
Below are some questions to ask yourself. These will help you dig a little deeper into your own personality traits, and how they match up (or otherwise) to the schools on your shortlist:
Campus style 'A'
Campus style 'B'

Prefer a more personalized and student-centered approach to education – one that's more tailored towards individual learning styles, rather than "one size fits all".

Like the feeling of larger, university-style classes and campus – therefore don't necessarily need a personalized environment.

International in outlook – potentially interested in transferring to Spain, the UK, or China for one or two semesters.

Are less interested in transferring to other international campuses during your undergraduate program.

Want a more multicultural environment, with an evenly distributed mix of classmates and no dominant nationality. Happy with 100% English language tuition.

 

Like, or don't mind, a predominantly European/French-speaking student body and interested in the option to take courses in French.

 

Would like the opportunity to focus on a specialization and have it reflected in your final degree award.

Are not interested in Bachelor specializations.

Prefer a school where accommodation, F&B, and planned weekend activity options are interwoven into the fabric of your educational experience.

 

Prefer a school where accommodation, F&B, and planned weekend activity options are interwoven into the fabric of your educational experience.

 
Learn more about Hospitality Management