Hospitality Internships
A degree program with the right internships can make all the difference if you want to land a good role in the competitive world of hospitality.
Hospitality Management Internships
Internships give students a valuable insight into what it's like to work in any industry and, in sectors such as hospitality, they can be vital in helping you achieve your career goals.
The beauty of them is that you can do an internship in any discipline in the hospitality industry, which is a great way to gain hands-on experience, develop the all-important skills you'll need and help you decide which area is right for you.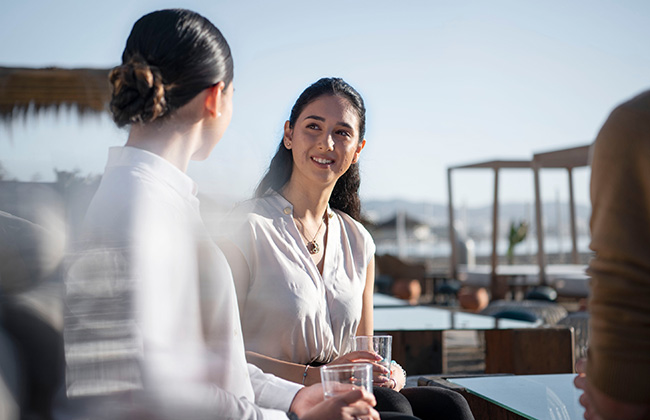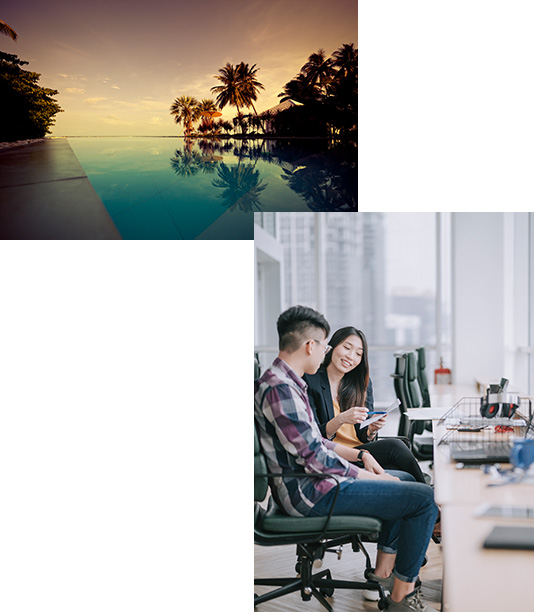 Why intern in hospitality?
Internships are a great way of getting some kind of work experience under your belt, which is vital in securing your first role in the hospitality industry.
Proving you have not only worked in the industry but also that you have developed the soft skills needed in hospitality makes you much more attractive to potential employers, which is why internships are considered an essential part of hospitality education.
If you are really ambitious, you need to choose a hospitality degree at a school with good connections that offers internships with the top brands.
The best schools will be able to offer internship opportunities that are not advertised on the open market because of their links with industry.
Your best bet is to opt for a program that includes more than one internship so you can gain relevant experience in different sectors, giving you a better all-round education and helping you decide on the area in which you want to specialize.
Hospitality experience will impact on your employability
Hospitality graduates with internship experience are the most sought after by employers not only because they have worked in the real world and developed the required soft skills but also because they can hit the ground running when hired.
In fact, many students find that excellent performance on an internship can even lead to offers of a first job in the industry, so they can be a great stepping stone to a successful career.
What do hospitality interns do?
Hospitality internships come in all shapes and sizes because you can work in almost any discipline and sector of the industry.
And while they are more than just summer jobs, most internships will see you working in frontline, entry-level positions where you can really get a feel for how the business operates.
Interns might find themselves working on a hotel reception, front-of-house in a restaurant or food and beverage department or in other hospitality roles where customer service is a crucial piece of the jigsaw.
But depending on your preferred specialty, you could end up working in the marketing department, with the finance team or in human resources.
A good school will tailor your internship to your personality and areas of interest.
With good industry connections, a renowned institution such as Les Roches can place you with some of the biggest names in the industry.
These include:
Marriott International
Soho House
Dorchester Collection
Jumeirah and Rosewood
Les Roches Bachelor in Hospitality Student, Rabea Pfleger talks about her internships in London and Hong Kong
What do hospitality students find important about internships?
Internships should be a core component of your hospitality education because they will contribute hugely to your personal and professional development, aid your resourcefulness and help you discover the secrets of the best and most innovative hospitality companies.
A good hospitality internship will not only give you the chance to put what you have learned into practice in a real workplace environment, it will also provide you with the opportunity to gauge which area of hospitality is best suited to your personality and ambitions.
You will become well versed in all aspects of the role you are carrying out, get a great insight into how the business operates, develop crucial interpersonal skills and learn how to think on your feet.
These will not only boost your employment prospects on graduation, they will also help you advance along your chosen career path.
"Wow, I'm working in a two Michelin star restaurant!"
Rabea Pfleger, Bachelor in Hospitality Management student
Are hospitality internships paid?
The good news is, while you are developing the skills you need to succeed, you will also be paid for the work you do.
Most internships in hospitality are paid opportunities, so you will not only allow you to put theory into practice in a professional environment, they will also remunerate you for your time – genuinely experiential learning.
Hotel internships
If your goal is to get into hotel management, internships should be an absolutely essential element of your hospitality management education.
Leadership roles in hotels require candidates who have hands-on experience of how each department runs and, to be effective leaders, candidates need to know what it's like to work at different levels of the operation.
Internships will give you the opportunity to gain insights into more than one area and give you a flavor of working as part of a team on the frontline.
What can you learn from a hotel internship?
A hotel internship is a great opportunity to learn a wide range of skills, disciplines and techniques from each department.
Depending on your area of interest and ambitions, you could be working with the housekeeping team, on the reception, in the food and beverages operation or even in the sales and marketing department.
As an intern, you will learn how to engage with guests, what makes the hotel tick and how each of the hotel's services contributes to the overall experience.
You may also receive hands-on training in how to set tables, pour drinks, deal with customer enquiries, change bedsheets and host events.
Hotel interns are generally treated as part of the team and gain an invaluable all-round insight into how a hotel operates.
As well as the valuable hands-on practical experience, hotel internships also offer incredible networking opportunities, since you will be working with people from many different backgrounds and countries.
And if you perform well during your internship, you could even land a full-time job with the hotel after graduation.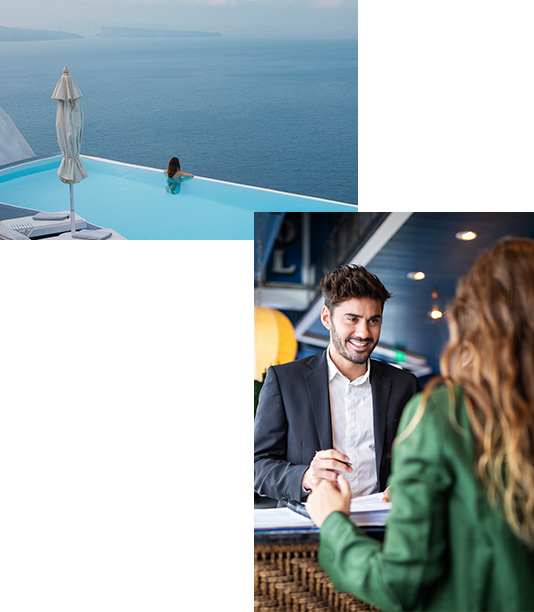 How do I get an internship at a Hotel?
You can do internships in hotels without attending college or university, but the best way to get the most out of one is to study a hospitality management or hotel management degree that has an internship program as part of the course content.
The best hospitality schools have connections with the top brands in the hotel, hospitality and tourism industry and can place you with hotels you could never hope to be working in without the introduction from the school.
Intern at some of the best brands in hospitality
If you are ambitious and want to work with the best brands, the best way is to go to a world-renowned hospitality or hotel management school such as Les Roches.
Among the advantages are:
Great connections – Les Roches has links with many prestigious industry partners you cannot access off the street
Careers support – personalized one-to-one coaching to help you get an internship that will help you progress along your career path
Variety – Les Roches can provide internship opportunities across a broad range of industries, from travel and tourism to hotels, events, casinos and theme parks
A great option for high school leavers is the BBA in Global Hospitality Management, which includes two internships as part of the program.
If you already have a Bachelor's degree, most of the Les Roches graduate programs offer internships as well.
Intern at exclusive hospitality brands
Our hospitality management bachelor's degree includes a full year of professional experience over 2 Internships.