A warm – and safe – welcome awaits you on campus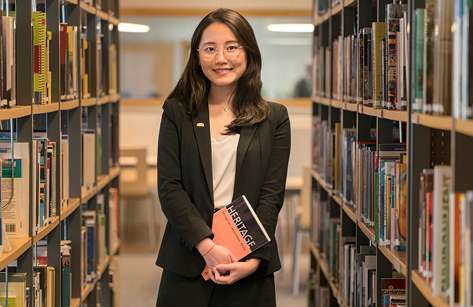 At Les Roches, we've always looked positively toward the future. It's down to the innovation and entrepreneurship ideals that are woven into our DNA. Now, with restrictions easing in Switzerland, Spain and Shanghai, we are looking toward resuming the personalized, face-to-face learning our students value so highly. 
If you are a current student, if you've already enrolled to join us, or if you are thinking about studying with us, you'll find relevant and up-to-date information on this page, as well as full details on how we'll keep you safe and healthy on campus. 
Remote Learning options
We offer remote study options across our undergraduate and graduate programs – all delivering the same academic outcomes as you'd achieve through face-to-face teaching on campus.
Latest updates from your campus
Information for current students
Information for new and prospective students 
Information for our current and future student communities
Summary of Les Roches Covid-19 safety protocols
Current students
New public health measures in Valais canton
The public authorities in Valais canton have announced a series of new measures to control the spread of COVID-19. These will be in force – if needed – until Friday 30 November.
In accordance with these measures, students at Crans-Montana campus have switched from face-to-face classes to a remote learning environment, which will remain in place until the restrictions are lifted.
We will also ensure that our school community adheres to the other measures introduced by the public authorities, namely:
Gatherings of more than 10 persons (private or public/indoors or outdoors) are no longer permitted
All contact sports (football, basketball, hockey, combat sports, etc.) are prohibited – although individual sport is permitted
All night clubs, bars, discos and similar entertainment venues are closed
Cinemas, theatres, libraries, fitness studios and gyms, swimming pools and other public/leisure facilities are closed
Restaurants, cafés, pubs and similar establishments must close at 22:00; food and beverages may only be consumed seated and with a maximum of four persons per table
For more information, visit the website of the Valais authorities.
Should you have any questions please do not hesitate to send an email to welfareinfo@lesroches.edu
For new and prospective students
Our remote learning option for BBA semester 1
We understand that today's circumstances could make it difficult for you to join us on campus when our next Bachelor's degree begins in March 2021.
We don't want you to postpone your future, so we have developed a unique solution, Les Roches Connect, which will deliver the complete semester 1 curriculum through a blend of learning at home and on campus.
Check-in dates for new students
If you're a new student to Les Roches you can find your check-in dates at the link below.
Check-in and start dates for new students 
We're offering flexibility on entry criteria
As a world-leading hospitality business school, we remain committed to operating within rigorous academic guidelines when setting our admissions criteria. However, we appreciate that the current situation means you may not have access to the necessary documents for your application. And we understand that capacity for English language testing may be reduced in your country.
We'll try to be as flexible and accommodating as we can within our guidelines and quality standards. For example, we'll accept predicted grades where possible, and find solutions for students who have not received their graduation certificates. The three additional English language tests that will be accepted (for the Fall 2020 intake only) are:
IELTS Indicator (you sit the test independently and provide us with your official results)
Oxford Placement Test (this test is bookable via our International Enrolment team and is included as part of your application fee)
Language Cert (you sit the test independently and then provide us with your official results)
Visas and late arrivals
At this uncertain time, you have the full support of our dedicated admissions and enrolment team for help with your application, including advice on visa requirements and processes. We understand visa services around the world are operating at reduced capacity; so, for the Fall 2020 academic semester, we've moved the semester start date back to October. This should allow you extra time to plan your arrival.
For added flexibility, we're accepting late arrivals of up to one month after the program start date, when caused by flight availability or visa delay. If you think you are going to arrive after your program start date, please contact the admissions and enrolment team to make a late arrival request, so we can prepare your additional pre- and post-arrival support.
We'll also be making extra resources available for visa applications for Switzerland. Keep an eye on this page for updates.
For our current and future student communities
Enhanced on-campus health, safety and welfare policies
Your wellbeing is our absolute priority and we're doing everything possible to create a safe campus environment for you. We've introduced four key principles to support your safety on campus:
Reinforced sanitary protocols
Clear guidelines for personal hygiene
Physical distancing in all situations
Regular communication to staff, faculty and students
Detailed COVID-19 protocols have been developed by each Les Roches campus. They cover all activities and areas, and are applicable to staff, faculty, students, and visitors. Our protocols have been evaluated and confirmed by medical and hygiene experts. They follow, and often go beyond, the advice of health authorities and advisors.
We're more committed than ever to your career success
With restrictions easing in many countries, travel and hotel demand is starting to build. It's the beginning of what we hope will be a full recovery for a hospitality industry that's proved its resilience to shocks in the past.
There's no doubt that the hospitality business of the future will look different. Companies will need to adapt to changing consumer demands, new technologies and new priorities in terms of health, wellbeing and sustainability.
It means that, as a Les Roches student, your innovative, disruptive mindset and skills will be in even higher demand – whether that's for your professional internships or future leadership roles after graduation. As a global Top 3 hospitality business school, you also have the power of our name to open doors to the roles you desire.
Our specialist Career Services department will be ready and waiting on campus, to ensure you're connected to the roles and opportunities you want – in your home country or elsewhere in the world if you choose.
As the previously communicated measures come to an end on Sunday 10th January, the Regional Government of Andalucía, has announced new measures that will come into force across Andalucía for the next 2 weeks (from the 11th until the 25th January 2021), in order to consolidate control of the Covid19 to ensure the best situation of normality in activity.
New general measures effective at 00:00 , Monday 11th until 25th January 2021
The school year in the compulsory stage (primary, elementary and secondary schools) will continue to be face-to-face and University within Level 4 Alert regions will continue on-line
All commercial and business activities remain functional until 20:00
All restaurants and bars remain open until 18.00
Cafeterias can stay open until 20.00 as long as they don't serve alcohol after 18.00.
Establishments will be able to stay open for the collection of takeaways until 21.30 and food can be delivered to homes until 23.30
Meetings of people will remain at a maximum of 6 per household
Mobility will be limited within the borders of Andalucía which will remain closed with other Spanish Regions.
The night curfew will be from 22.00 to 6.00am across the region.
Specific measures for academic continuity until 25th January 2021
The regional government has decided to allow the Universities that are not in a risk zone, such as ours in Marbella, freedom of decision to return to presential classes.
However, as in other education institutions of our region such as Malaga University, Les Roches has decided to maintain, out of prudence and responsibility, the practical subjects face to face, to ensure the good interaction and learning environment, and the theoretical subjects to continue online during this new restriction time frame of two weeks.
We hope to resume full presential classes from the 25th January if a positive evolution of the pandemic is confirmed.

Practical Subjects
All practical subjects will continue to be delivered face to face and all existing timings and rotations remain valid.
Your normal timetable applies.
This also applies to MIHM1 practical rotations (Students with transfers to and from campus for practical classes will be organized accordingly and communicated separately)
Additionally, MIHM1 students should be required to attend some presential classes due to the practical and experiential nature of the subjects. Your program coordinator will inform you accordingly.
Theory Subjects
All theory subjects will be delivered online until the 25TH January.
All existing timings for class schedules remain valid. Your normal timetable applies
You will receive MS Teams invitations from your faculty members to join your classes online
The full sessions will be live broadcasted and recorded for the whole duration of the class and posted on Moodle
Usual breaks will be kept
Attendance in online classes will be taken as usual and recorded in your absence management system
In case a student does not remain online for the full session or does not participate actively, he/she will be marked as absent
Cameras must be turned on during the sessions
Business dress code is required for sessions
All assessments will be online and scheduled exams will be done in Moodle. You will receive an email with all instructions and clarifications regarding this matter
Library
The library will be open for resources collection and individual study through appointment and individual requests. Library support is also available online.

F&B Operations
All F&B Outlets (Marché, Bistro, El Olivo, One and GrabnGo) operations will offer its services to all students both presential and remote. Timings, reservations and dress codes are still applicable.
We would like to remind you that our restaurants are practical classrooms, all of our practical operations (food outlets) are functional. All students that are online must come to have their meals in our restaurants in order to give the possibility of students on duty to interact with student guests, a patron to practice and provide a learnt service. Furthermore, the F&B offers have a large variety of services to cater for different needs:
Breakfast is available in Marche and Bistro from 07:00hrs till 08:30hrs
Take away Breakfast is also available to student with early morning classes, this can be collected the day before from the Marche, NO reservation is required
Marche: from 11:00hrs till 14:00hrs
Bistro: from 12:00hrs till 14:00hrs with reservation
ONE: from 12:00hrs till 14:00hrs with reservation
GrabnGo: 12:30hrs with reservation and available at La Veranda
Burger2go: 12:30hrs on, and with reservation available collection from Bistro
All campus services and student support maintain operational as always and within the measures established by the authorities.
Summary of our main COVID-19 safety protocols
These protocols will evolve to follow updated guidelines from the health authorities in our different locations.