Have you ever wondered what happens in the Practical Arts semester, which is the starting point to our BBA in Global Hospitality Management? Well, wonder no more. Let our students enlighten you in their own words…
Hospitality is real. It's a living, breathing business, with real customers sleeping on real beds, eating real food and drinking real drinks.
So it figures that if you want to get ahead in hospitality, you need to know how it works. On the ground. In the real world, or as close as you can get within an educational environment.
This is why our students spend their first semester learning hospitality's Practical Arts. But what exactly are these Practical Arts? And how does this unique curriculum shape the learning experience?
To help answer these questions, we spoke to members of the most recent BBA semester 1 student cohort. This is what they had to tell us about some of the courses within the Practical Arts curriculum:
From Farm to Table – Fine Dining Kitchen
Roots is our on-campus fine dining restaurant, open to the public and operating under a sustainable, 'farm to table' ethos which means most items on the menu travel less than 100km to reach the kitchen. During this course, students are immersed in the unique universe of a fine dining kitchen, with its focus on high end products and attention to detail.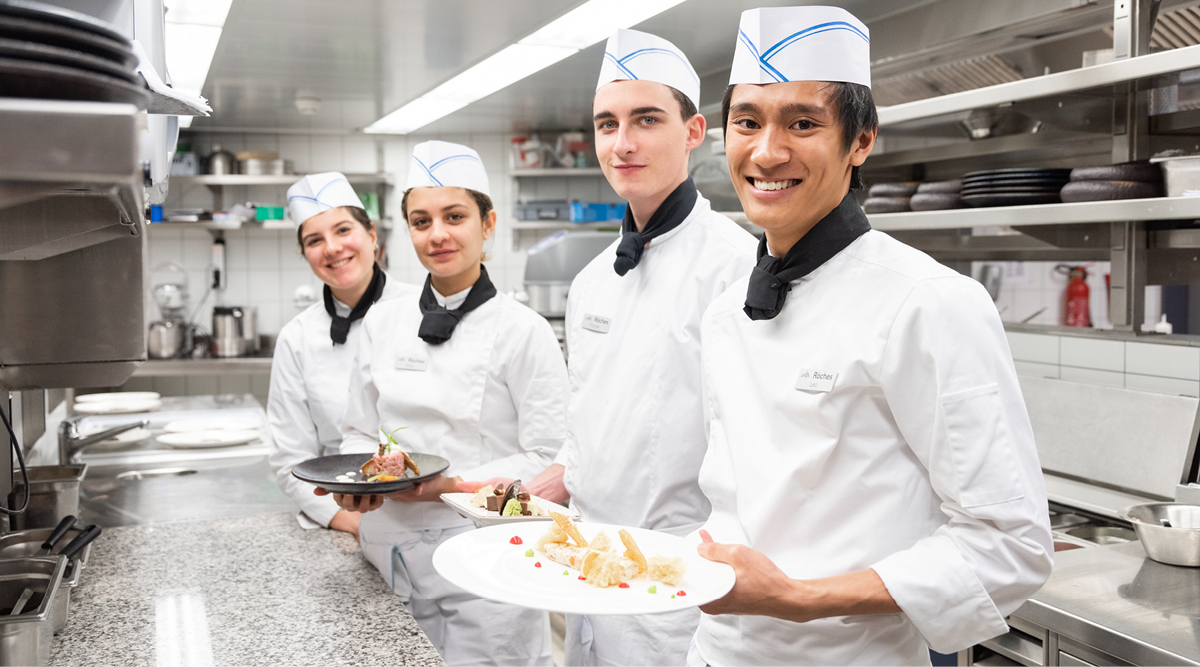 "I liked the structure of the class and the food we got to cook – it was really fun and interesting, and I'm glad I got to switch stations to see what it's like to prepare another dish. The pacing was also good – even though I didn't have much experience I didn't feel very lost or confused and I was able to gain a lot of new knowledge in a short time. Overall, I enjoyed what we did and I really liked the atmosphere and business of the place when we're working."
From Farm to table – Fine Dining Service
Students don't just get to prepare the food in Roots. They also get to serve it! Throughout this course they are progressively able to accompany the entire guest experience, from the greeting to the farewell.
"This course has taught me organization skills and professionalism. Learning by doing is very effective and helpful for our study. It taught me how to treat people and how to engage with my team. It was an amazing experience. I will miss Roots."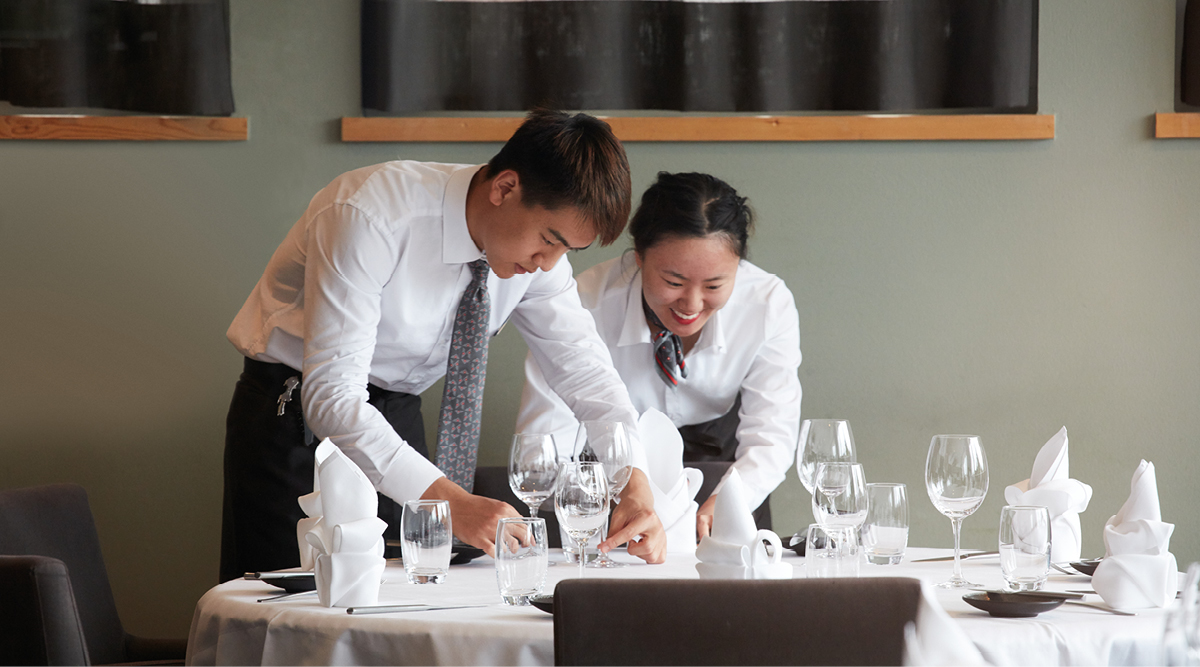 Concierge & Guest Relations
As you might expect from a hospitality school, we have our own replica hotel on site, complete with front desk. Through role play and other practical experience, students gain an understanding of the complex, customer-facing concierge and guest relations roles, learning how to interact with customers and respond creatively to specific requests.
"What I enjoyed about this course is that I learned how the front office team is divided into different groups, and everyone has a different role. The activity which was conducted all week was an excellent learning experience on how to work as a team."
Housekeeping Operations
Students' actual bedrooms are the perfect place to explore the daily housekeeping and cleaning services that hotel guests demand. Changing bed linen, making 'hospital corners', turndown services… students learn these practical skills because it's been proven that to manage departments like Housekeeping effectively you must know know how they operate from the ground up.
"What I particularly like about this course is that the theory and practical goes together. I liked how our classes were scheduled where we had the workshop first, so we could learn the knowledge needed for cleaning the rooms in the afternoon. I also liked that we got to learn through doing the tasks in a real life situation – all rooms are different, so they present different challenges every time."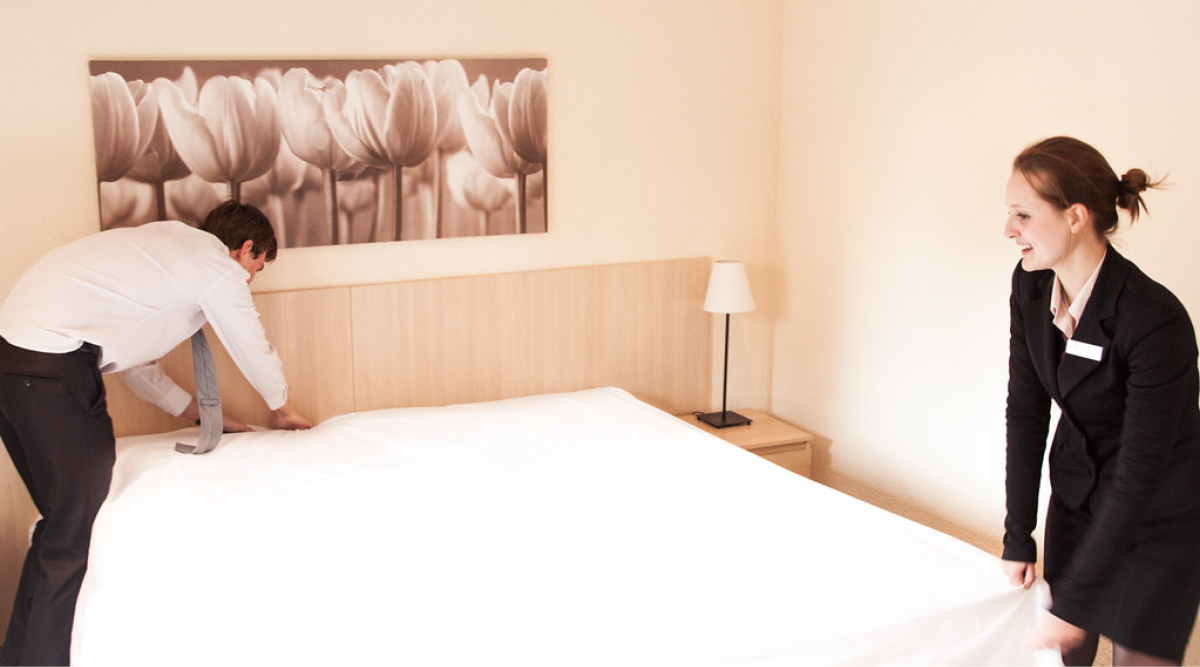 International Cuisine, Catering, Banqueting and Receptions
This combined kitchen and service course teaches both the foundations of preparing quality, fresh food in large volumes as well as how to be organized, communicative and observant in a large-scale, self-service operation.
"In my opinion, during these two weeks, I felt like I didn't just improve, but also grew as a person. This course has made me understand how communication and teamwork are essential in the kitchen and during service. Even though it was a jam-packed week full of morning shifts, I'm definitely a lot more organized with how the shifts work and how the industry works as well."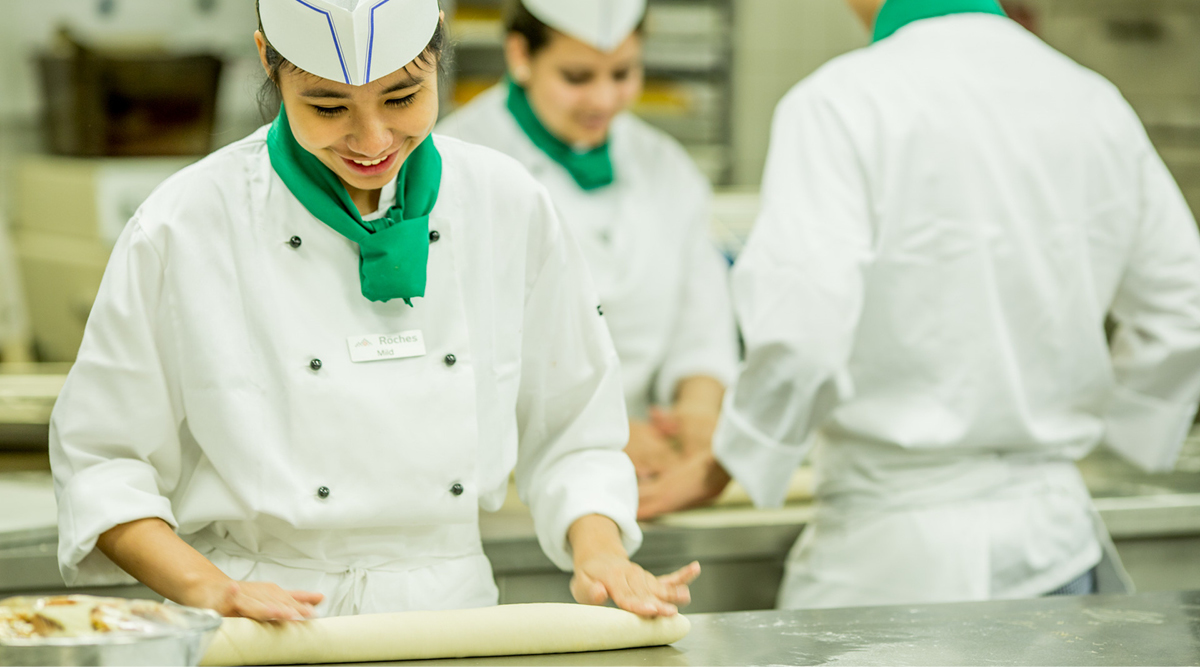 Mixology, Bar and Barista
An opportunity to cover the "B" in F&B, this course takes students into the world of beverages and bar operations. They work in two different bar environments (including Roots Bar), discovering trends and methods in preparing hot and cold drinks, including cocktail mixology. They also learn how to interact with guests in a professional manner.
"I came into Roots Bar knowing nothing of liqueur, wines, cocktails, etc. During the three nights of rotation at the bar, I gained so much knowledge… I discovered so many different varieties of liqueur; how it is produced, how it's used in making a cocktail. As a creative person myself, I found the bartending to be the most fun and interesting, because I was able to use the creativity inside of myself to present something that was made by someone who didn't have a clue to what an alcoholic beverage was. It was also so important to see the back-bar operation, since without it, a bar wouldn't be able to function."
And this is just a flavour of the full Practical Arts curriculum, which incorporates some 14 immersive and hands-on modules. Get in touch with us if you want to discover more about our industry-leading BBA program and how it could launch your career as a leader in hospitality!