Hotel management is one of the most satisfying and challenging careers within the hospitality industry.
With the right skills, education and experience, hotel management could take your hospitality career to another level.
If you are someone with great interpersonal and organisation skills, have meticulously high standards and are passionate about providing excellent customer service, hotel management could be the rewarding career you've been looking for.
What is working as a hotel manager like?
As a hotel manager, you'll be responsible for the day-to-day running of the hotel.
You'll have responsibility for reservations, food services, housekeeping, staff, marketing and sales.
You'll also be accountable for the financial management of the hotel.
Your working hours as a hotel manager will vary depending on the type of hotel you're managing, its size, and its location.
However, you can expect to work regular unsocial hours, including weekends, late nights and bank holidays, as part of your shift pattern.
What do hotel managers do?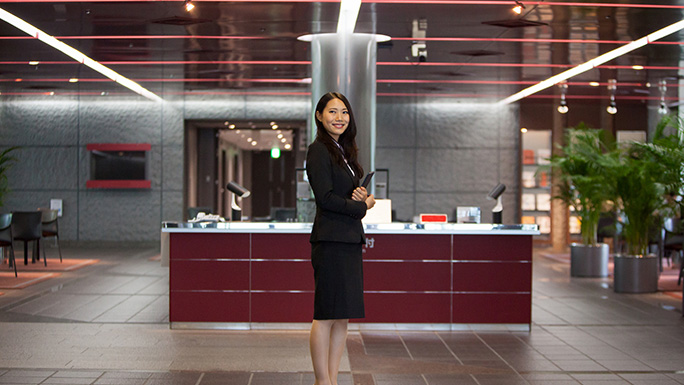 Managers are responsible for the day-to-day managing of employees and planning, coordinating, marketing and administering hotel services, including accommodation and catering.
Typical responsibilities include:
Manage budgets and set achievable sales targets
Maintain financial records
Recruit, train and supervise staff
Plan employee work schedules
Plan maintenance work, room bookings and events
Handle customer queries and complaints
Market the hotel business
Ensure health and safety and licensing compliance
How to get into hotel management
With so many career opportunities in hotel management, it's both an exciting and competitive industry.
To break into hotel management, you must acquire hands-on hospitality experience and build the skills you need to be successful.
While getting into hotel management by working your way up the industry is possible, the best way to jumpstart a successful hotel management career is with a hospitality management degree.
This will give you an excellent foundation in hotel management which you can build on as you gain more experience.
You can get into hotel management by following these key steps:
Earn a degree in hotel management or hospitality-related field
A bachelor's degree in hospitality from Les Roches will give you the knowledge, skills and practical experience you need to help you excel.
Our specialised hospitality programs will provide you with hands-on experience and modules that will help you build essential knowledge in hotel management.
Get hands-on hospitality experience
Nothing compares to real-world experience.
Most employers expect you to have at least five years of experience before becoming a manager.
However, some resorts and luxury hotels may require you to have more.
Get as much experience as possible in different positions such as housekeeping, front desk or catering.
Work your way up the industry
You can get into hotel management by starting in a junior position and working your way up as you get more experience and knowledge of the industry.
What skills do you need to be a hotel manager?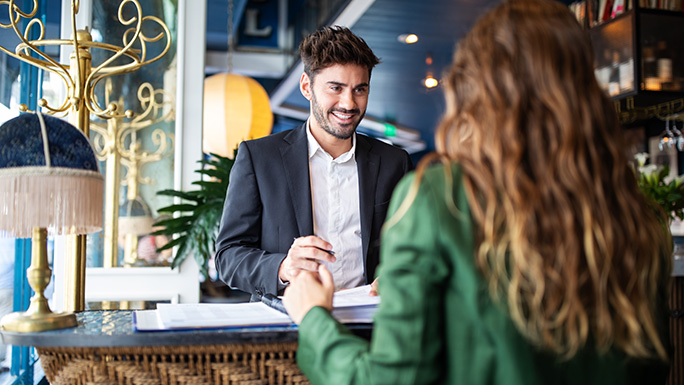 A hotel manager must have excellent customer service and leadership skills, sound operational knowledge, sales expertise and financial acumen.
It's a good idea to start working on developing these key skills:
Customer service
Excellent customer service skills are key in this role. You'll be dealing with guests and customers every day and will need to be able to resolve issues as effectively as possible. A hotel manager needs to be emotionally intelligent to enable them to communicate with guests on their wavelength and easily listen to and understand customers' needs.
Leadership
You must demonstrate good leadership skills to create a positive work environment and increase productivity for a hotel to run smoothly. You should be able to motivate their teams, listen to staff feedback and provide constructive suggestions to solve critical issues.
Communication
Exceptional written and oral communication skills are crucial in hotel management. Hotel managers must be able to communicate effectively with their employers and customers.
Teamwork
As a hotel manager, you must be both a leader and a team player. You need great teamwork skills to collaborate with staff at all levels to ensure the smooth running of the hotel.
Financial management
Whatever the size of a hotel, good budgeting and financial oversight is crucial to a successful hotel, so you'll need to develop good financial management skills.
Technology literacy
As with most jobs today, you'll need to be highly proficient in hotel management systems and administrative software such as MS Office.
How long does it take to become a hotel manager?
How long it will take to be a hotel manager depends on what type of hospitality degree programs you choose and where you are in your journey towards a career in hotel management.
Most undergraduate hotel management degrees last between three and four years, depending on the period of work experience.
Most graduate programs are between nine months and a year.
Although if your program includes an extra specialisation or an internship, it may take longer to complete.
What degree do you need to be a hotel manager?
While you can start your journey to becoming a hotel manager with an entry-level position and work your way up the industry, gaining a degree in hotel management is the quickest and most effective route to a thriving hotel management career.
Studying for a hospitality management bachelor's degree will give you an excellent foundation for working in the hospitality industry.
Qualifications required for hotel management
It is possible to enter hotel management without a degree or similar qualification.
Today, employers put a lot of emphasis on the importance of relevant experience.
However, working up to a management position by taking external qualifications and on-the-job training will take longer to achieve your goal.
A postgraduate qualification may be beneficial if your degree is not in a hospitality-related subject or you lack work experience.
How do I choose a hospitality management program?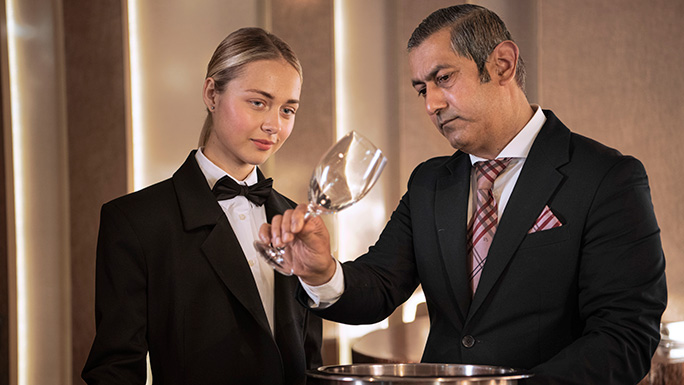 While hundreds of institutions worldwide offer hospitality or hotel management degrees, not all offer the same quality of learning as you'd get from a school like Les Roche.
When choosing a hospitality management program, make sure it offers you:
Plenty of practical training
Strong academic content
A connected alumni network
Internships or placements to experience the real world of hotels
Strong links with the industry
A good careers department
State-of-the-art practical learning facilities
Technologically equipped classrooms for academic learning
Well-stocked libraries
What is the salary like for a hotel manager?
Starting salaries can range depending on the local and size of the hotel. Managers at a chain or larger independent hotel in the city can earn upwards of six figures if they work in a large and prestigious hotel.
What's the outlook for travel and hospitality?
Travel and hospitality experienced the biggest economic decline of all industry sectors during the COVID-19 pandemic. However, it's successfully bouncing back with travel demand in 2022, expected to be just 20% below pre-COVID levels compared to a 62% drop in tourist arrivals to Europe in 2021.
Advance your hotel management career with a degree from Les Roches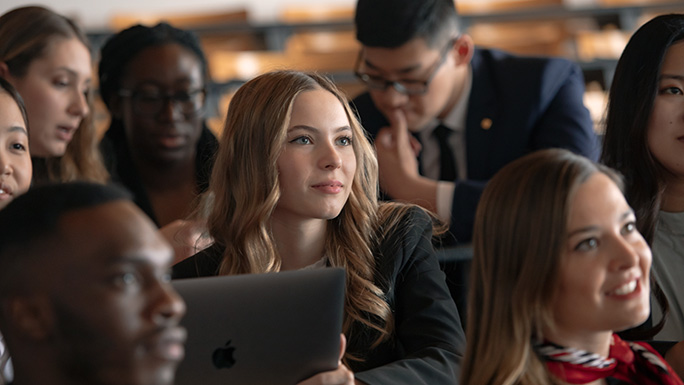 If you are interested in jumpstarting your career in hotel management, you can begin today by enrolling in a hotel management degree with Les Roches.
We are one of the world's top higher education hospitality schools and provide a first-class learning experience that will prepare you for an exciting and rewarding career in hospitality.
By deciding to study with us, you can look forward to building the experience and know-how to be a successful hotel manager.
Look at our Bachelor's in Hospitality Management to learn more about our hospitality programs at Les Roches.
Become a hotel manager
Gain your Bachelor's in Hospitality Management with Les Roches