A career in hotel management can be one of the most diverse and rewarding hospitality careers.
You could have a career as a revenue manager for a luxury global hotel brand, or a restaurant manager for an independent beach resort – with hotel management there are endless opportunities.
The possibilities for exciting travel, professional growth, and varied management opportunities make working in hotel management a flexible and enticing option.
Whether you've already got a great hospitality degree like a Bachelor's in Hospitality Management, or a non-hospitality qualification but want to move into hotel management, an MBA in Global Hospitality Management is the perfect choice to take your hotel management career to the next level.
How to manage hotels effectively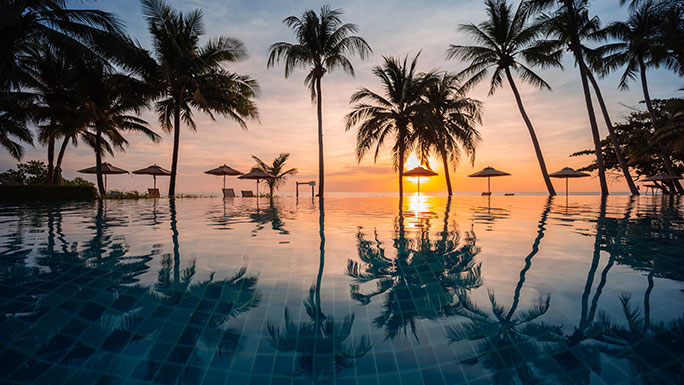 Effective management of a hotel is all about making sure your guests have a safe, pleasant, and first-class experience.
Great customer service is paramount, but it's not just about being a friendly and welcoming host.
There are many vital hotel services and interlinked moving parts that all need to work together to create that all-important fantastic customer experience.
To be an effective hotel manager, you'll need to keep everything running smoothly.
You'll need to be great at multi-tasking, and working under pressure, be an excellent communicator, a stickler for the finer details, and a first-rate problem solver.
What are the types of hotel management?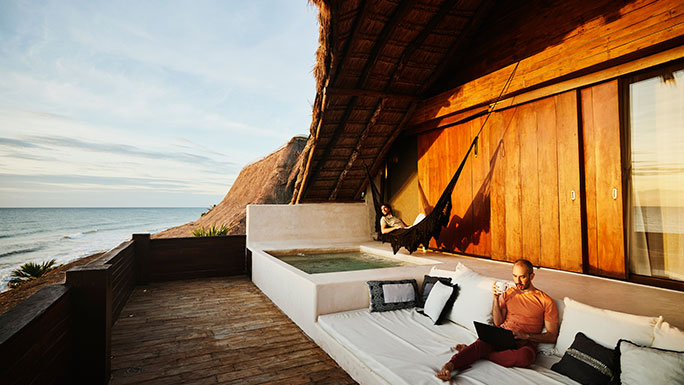 Most hotels will have several departments, each with a different specialist area, but which all need to work together to achieve the best customer experience possible.
Each hotel department will usually have its own manager to oversee the operations and staff within that particular area.
Here are some of the main types of hotel management you'll find in many successful hotels:
General manager
As a hotel general manager, you'll have overall responsibility and oversight of all hotel operations.
As one of the most senior team members, you'll have ultimate responsibility for the quality of services and safety of guests and staff.
Part of your role can include managing a group of departmental managers and overseeing budgets, sales targets, recruitment, customer complaints, building maintenance, housekeeping, and all licensing and health and safety regulations.
Revenue management
In hotel revenue management, you'll be responsible for optimizing hotel revenue.
This includes analyzing performance data to predict customer behavior and creating pricing and distribution strategies.
Property management
The property management market is likely to reach $23.63 billion by 2026, so taking on a role in hotel property management is a great way to futureproof your career.
Property managers oversee the day-to-day operations of the hotel and are ultimately there to make sure the accommodation and facilities are up to standard.
They'll oversee business maintenance, deal with contractors, housekeeping and resolve any property-related customer complaints.
Marketing manager
For any hotel to be successful, it needs to have a well-targeted marketing strategy.
As a hotel marketing manager, you'll maximize revenue through intelligent marketing campaigns.
You'll lead market research to understand customer demographics, competitors, and understand your hotel's appeal. T
his information will help you devise marketing and social media campaigns and special offers to reach new guests and encourage return customers.
Sales management
In sales management, you'll focus on securing business and maximizing revenue for the hotel.
This might involve reaching out to new contacts to try to secure new accounts or maintaining great relationships with existing clients to secure repeat business.
Often this might mean negotiating discounted rates or additional services (like free breakfast) for certain business customers that commit to regular stays.
Housekeeping manager In larger hotels, you might find a dedicated housekeeping manager.
As a housekeeping manager, you'll take on the important responsibility of making sure all rooms are cleaned and maintained to optimum quality standards to ensure consistent service and experience for all hotel guests.
Ready to become an exceptional hotel manager?
Take a look at Les Roches' world-leading Master's in Hotel Management.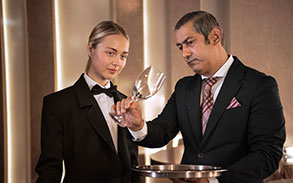 What is hotel restaurant management?
Restaurant management is closely aligned with hotel management and is a common business function in lots of hotels.
Most hotels, even small ones, will have their own in-house bar and restaurant.
As a restaurant manager, you'll oversee the successful running and profitability of the hotel's restaurant in order to offer a top-class dining experience.
This is likely to include organizing staff rotas, coordinating front-of-house teams, managing stock and inventory, dealing with any customer complaints and making sure all quality standards and health and safety regulations are adhered to.
6 ways to manage your hotel's business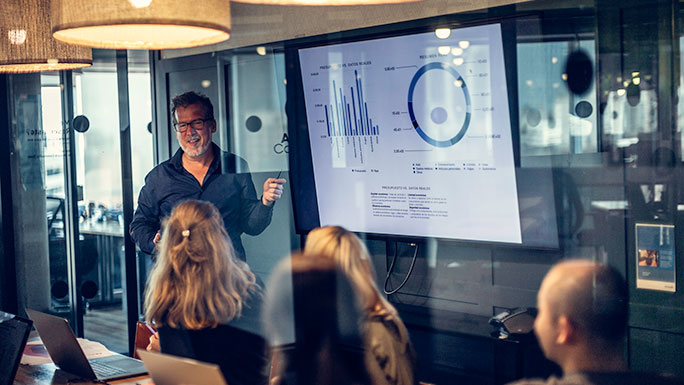 Effectively managing your hotel business is always about creating a high-quality customer experience, whether it's through the team you hire, the high-quality standards you set, or how you lead, manage and communicate with your staff and guests.
Here are six ways to get the best out of your hotel business:
1. Hire and train the best people
As with any business, the people make or break it. You can have the most beautiful, luxurious hotel in the world, but if you don't have the right people with the right skills and attitude, your guests won't have a good experience.
Make sure you hire staff that fit with the values and culture of your hotel and that they have a good base-level skillset to build on.
Once your team is in place, it's important to make sure you're providing proper ongoing training and development opportunities to help each member perform well and keep growing with the business.
2. Customer service centric
In hotel management, everything is about top-quality customer service.
When making decisions about services, facilities, and operating procedures, keep in mind what the ultimate aim of any hotel business should be – making sure your guests have a fantastic, comfortable, pleasant and enjoyable experience.
Put your customers first and never lose passion for providing excellent customer service.
Make sure your team receives regular training and reminders about high-quality service and that every customer is treated with a friendly, polite and personal touch.
3. Dedicate time to the business
Hotel management is extremely rewarding but it also takes time and dedication.
This means making sure you're at the top of your game and investing in developing your own professional leadership, communication, financial and management skills so that you can lead effectively.
Spend time with different parts of the business and get to know the hotel inside out, how your team interacts, how processes work and where there's room for improvement.
Be modern and innovative and introduce the right technology and analytics to increase efficiencies and maximize revenue.
Advance your knowledge of technology in hospitality
Explore our Master's in Hospitality Strategy and Digital Transformation.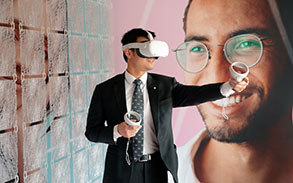 4. Focus on leadership
Employees take cues from those at the top, so if you want your hotel to thrive it's important to be a present, inspiring and confident leader.
Be visible in the hotel and communicate openly and honestly with your team.
Make sure you're providing regular updates, welcoming staff feedback, and keeping your team motivated with clear goals, progress updates and recognizing and rewarding staff for great work.
As a great leader, it's also important to take responsibility for any problems and tackle issues head-on.
Whether it's problems between staff, or a customer complaint when you act quickly, take responsibility, and communicate well your team will trust you and guests will be impressed and grateful for your efforts in resolving the problem.
. Communicate, communicate, communicate
Did you know that poor communication can cost a small business an average of $420,000 a year?
Good communication is not just helpful to your team, it is vital to the company's bottom line.
Great internal communication is critical for operations and services to run seamlessly together and provide the best guest experience.
Make sure you communicate clearly, honestly, and regularly with staff through:
Team meetings: regular group sessions make sure there's clear and consistent messaging, everyone is in the know, and staff have an opportunity to give feedback and ask questions.
Communications training: train and upskill your team so that they know how to better communicate with each other, clients, and customers. Internal social media channels: having a forum for employees to engage with each other fosters better communication and knowledge sharing between the team.
Face-to-face time: while there are great online tools to help communication, it's important to spend face-to-face time with your team, too. It helps you get to know people, have a better feel for morale, and helps you be a more trusted manager that your staff will come to for support.
6. Listen to your guests
According to TripAdvisor, 81% of online customers take into account online reviews before booking a hotel.
So what your guests say about you matters to potential customers and makes a huge difference to the success of your business.
Aim to get feedback from every hotel guest, whether through email surveys following their visit or feedback cards left in rooms or restaurant tables.
It can be tempting to be defensive when someone criticizes your hard work but be open to the good and the bad feedback – it helps you understand what's working well and what you can improve to make your hotel experience an even better one.
How to run a hotel business with success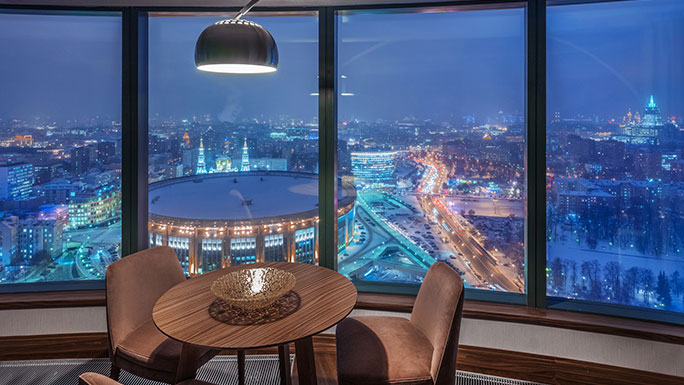 As with any business, it's important to know what you're aiming for to run your hotel successfully.
Whether it's customer satisfaction scores, conversion rates, occupancy or monthly profits, it's important to have clear goals and targets that you and your team can work towards. One of the most important factors in running a successful hotel is measuring how much your guests enjoyed their stay.
Always put the customer at the center of any business decisions, seek and respond to customer feedback, and focus on achieving the best reputation possible. The ultimate measure of success for a hotel is your guests leaving happy — they'll recommend you to friends and family and want to come back again.
How to accelerate your hotel career
It's possible to work your way up to more senior hotel management positions, but the best and most direct way to fast-track your hotel management career is to invest in further study and gain real-world, practical experience.
The best hospitality management courses will provide you with all the theoretical business management knowledge and prized soft skills that you need to push your hotel career forward.
What do you need to study to become a hotel manager?
To be a world-class hotel manager, it's important to invest in building the right set of skills and expertise.
You'll need all the essential business knowledge in areas like finance, marketing, economics and leadership, alongside practical skills that hotel businesses love: flexibility, attention to detail, problem-solving and great communication and interpersonal skills.
If you're completely set on building your hospitality career within the hotel sector, then a Master's in Hotel Management could be a great option.
You'll get to enhance your people management, operational and financial skills and gain practical experience interning at a top hotel brand.
A Master's in Global Hospitality Management offers great flexibility
If you're looking for further study that gives you greater flexibility and keeps your options open, while setting you up for success in hotel management and other business industries, then an MBA in Hotel Management is a perfect choice.
You'll do a deep dive into all the essential business areas: leadership, financial analysis, consumer insights, strategic marketing and hospitality economics.
You'll also undertake a real-world consultancy project and an immersive international field trip to cement your practical learning.