Not content with becoming a hotel General Manager (GM) at the tender age of 29, Alan Kodzasov has his eyes on even greater career success. That's why he's chosen to pursue an MBA at Les Roches. He shared his top tips on how to reach the GM's office before your thirtieth birthday.
"If you are not willing to risk the unusual, you will have to settle for the ordinary." – Jim Rohn
That quote sums up the question you have to ask yourself every time you plan to step out of your comfort zone. How you answer this question will define your career path.
In the hospitality industry, and especially in hotels, we all share one common goal: to become a General Manager. This is the title that we dream of and the one that motivates us the most. Let's be honest, it has the status that we all crave. As a GM you are finally the decision maker, and that usually comes with the highest paycheck. What else could you ask for?
A few decades' back, if someone was asked to define a hotel GM the first things that would come to mind were: A 50 to 55 year-old man with a heavy hospitality background and years upon years of experience. We would stick to this stereotype for a long time (if not forever), until one day we finally become one.
The good news is that this stereotype is in the past. Today's GMs are in their mid-thirties, and you don't need to wait until you turn 50 as long as you constantly move, learn and develop yourself. And if your current company has more conservative beliefs and is still stuck with ideologies from the 1980s and 90s, my advice would be: Move. You are not a tree. Don't be afraid of change!
Below I will share with you my story of how I became a General Manager at the age of 29, working for a boutique hotel in one of the most popular and demanding destinations of the world – the famous island of Mykonos, Greece.
Step one to becoming a hotel General Manager: get into hospitality
My first role in the hospitality industry was a part-time job while studying International Economics in Athens University of Economics and Business in 2005. Since my studies were not in the hospitality field, today I realize how lucky I was to have as my first employer one of the largest hotel chains in the world, the Accor Hotels Group.
The 'part-time job' turned into a 'full-time' career opportunity very quickly. My personality and social skills developed into exceptional communication skills, while my general interest towards the hospitality industry became a true passion.
Step two to being a General Manager at a hotel: discover the world
During my 10 years at Accor I was able to experience different brands, such as Novotel and Sofitel, as well as different countries, namely Greece and Italy. I met and learned from Area Directors, constantly enlarging my experiences and trying to improve my skills.
Starting as a waiter back in 2005 at the age of 18 and going through different positions in the food & beverage department, within three years I had the opportunity to switch to the front office department as a Night Auditor. At the age of 20 I was managing a 196-room property during the night shifts at Novotel Athens Hotel.
Working in the front office, I learned how to deal with people and all sorts of complaints. It was a huge step forward for me, although I couldn't see it at the time.
Don't compromise on your career
For intensive, immersive management study, choose the only full-time MBA offered by a top-rated hospitality business school.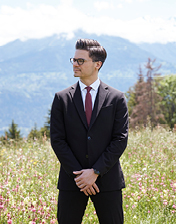 Step three to being a hotel General Manager: keep taking the promotions
After graduating with my bachelor's degree, I got promoted to Shift Leader in the same hotel. Working in daytime operations was completely different from what I was used to. I was no longer a solo player and I had to be in a team of people, having the ability to work with my colleagues and lead some of them. It was something new for me and I enjoyed being in a healthy competitive environment.
As a result, in 2014 I won an internal competition, which gave me the opportunity to go on a one month business trip to Rome, to work with the Area Director – at that time – Mr. Ettore Cavallino.
Returning from Italy with my bags full of new experiences and broader views into hospitality, I felt confident for new beginnings. In fact, I felt ready to leave the safe, multinational company environment and step out of my comfort zone.
Step four on how to be hotel General Manager: venture into the unknown
At the beginning of 2015, I decided to try something new, more demanding, and much more personalized: a boutique hotel. The Rocabella Mykonos Hotel & SPA is located in a high-end destination with a very demanding audience. My time at Rocabella allowed me to build on my passion, and I achieved extraordinary successes.
I started as a Front Office Manager. After my first season, having shown some great achievements — such as gaining the #1 hotel ranking on TripAdvisor for the whole island of Mykonos — I became Operations Manager.
Step five on how to become a hotel General Manager: be ready to grasp the opportunity
At the end of 2016, and after being awarded 'Best 4* Hotel in Greece' by Trivago, I was promoted to General Manager. In that role I developed further as a professional, while achieving some excellent financial and operational results, including awards in Greece, Europe and worldwide.
Step six on how to become a hotel General Manager: strive for more!
Then, just when you think that everything is working at its best and it seems that you can't ask for more, you suddenly understand that you want to go further. We all know that "no two days are the same in hospitality".
I knew I wanted to expand my network; I knew I needed a change to step out of my comfort zone for a second time. And the best way to do this is to invest in yourself. To gain further education from the gurus of the industry. And to have a 'passport' for almost every possible opportunity out there within the hospitality industry… welcome to the Les Roches MBA!
To conclude, knowing how fast the tourism industry is growing globally; today we should feel lucky to have chosen this industry as a profession. There are so many opportunities out there for everyone. The only thing that can keep us away from our goals is staying in our own comfort zone.
"Be brave. Take risks. Nothing can substitute experience." – Paulo Coelho
Alan Kodzasov, MBA Student Ambassador