Have you been looking at changing your career path and want to explore the world of food and beverage management? Within hospitality, food and beverage services are some of the most common.

Go down any street and you are likely to see cafes, restaurants, and bars. But how do you get into managing these establishments?

In this article, we'll cover everything you need to know to kick-start your career in food and beverage management.
What is food and beverage management?
The food and beverage industry, also known as F&B, is everything from restaurants to bars to catering. Basically, it is anything related to providing people with food and drink. Of course, management goes beyond just serving food or pouring drinks. An F&B Manager needs to oversee the whole of the business. In larger companies, there might be different managers who manage individual aspects of the business, but in smaller establishments, the manager might be responsible for a much wider range of duties.
What does a Food and Beverage Manager do?
Managing a hospitality venue is varied, like most careers in the hospitality industry. However, most of the day-to-day duties of a Food and Beverage Manager include:
Assigning staff duties according to the strengths of the team

Handling rotas for team members

Ordering food and drink supplies

Communicating with both clients and team members

Designing menus in collaboration with kitchen staff

Assisting with the front of house and kitchen duties when needed

Greeting customers

Providing additional help to customers with special needs or disabilities
Food and Beverage Manager responsibilities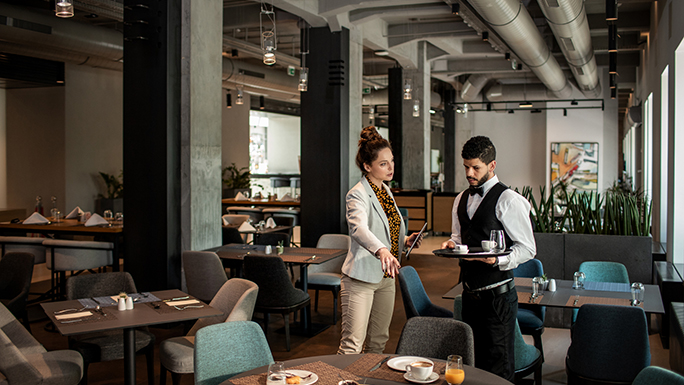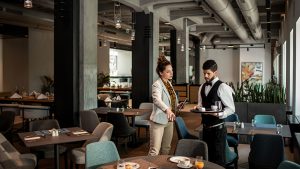 Of course, there are also many more responsibilities that come with being a manager for a food and drink establishment, beyond the day-to-day operations. This can include:
Recruiting for more staff as needed, including writing job descriptions, interviewing, and selecting candidates

Handling customer complaints and trying to resolve issues that arise

Handing team member issues, including mediating, serving warnings, and correcting problems

Ensuring that health and safety requirements are met

Sticking to budgets and keeping financial records

Set targets for team members and ensure that they are reached.
Many of these tasks will be familiar if you have considered a hospitality management career before, though the nature of food and beverage services makes it slightly different from other hospitality sectors. F&B can be an exciting, challenging career that requires you to adapt daily.
Qualifications for a Food and Beverage Manager
Different companies require different qualifications to work as a manager in F&B. While it is one of the many careers you can get with a business degree, consider also specialized hospitality degrees to help give you the skills and know-how you need.
Other qualifications that can help include studies in communications or computing, as these are both useful skills that are transferable to any type of hospitality management role.
Top 4 ways to become a Food and Beverage Manager
There are plenty of different ways to get into the management of food and beverage venues. Some of the most common ways are:
1. Hospitality studies
One of the best ways into F&B management is to study. If you are looking at changing your career, you can find diplomas to help you get into a new field of work. Are you wondering why study hospitality and tourism

 It is a great way to get industry-specific knowledge, alongside developing the necessary soft skills and knowledge, such as leadership skills, problem-solving skills, and employee engagement. All of these are transferable to other roles if you later decide to change your career path.
Step into the fast-paced world of food and beverage management
With Les Roches' fast-track course, you'll receive a world-class education with the hands-on experience and expertise you need to manage a food and drink venue.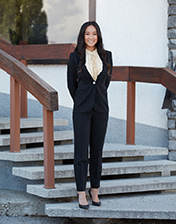 2. Hospitality internships
Hospitality internships will give you hands-on experience in what it takes to run a food and beverage establishment. You can aim for an internship in the kind of place you want to run, such as a bar or a restaurant. This can also be very helpful in case you don't have much experience in hospitality, as you can put the internship on your CV. Some hospitality degrees will include internships to help give you a varied learning environment.
3. Build your skills
Building your skillset is useful if you are looking to work as an F&B Manager. Most of these are people skills and personality traits, but you can build on them with the proper education and practice. Great skills to have include:
Communication skills, both written and verbal

Time management

Teamwork

Team management

Problem-solving

Adaptability

Good work ethic
4. Get experience
Gaining experience working in hospitality will help you get to your goal of F&B management. Most places will prefer applicants who have previous experience in the industry, even if from entry-level roles.

This is because it helps give you a better idea of what the role involves, which can help you manage a team in F&B and understand each team member's role and responsibilities and how best to support them.
Summary: how to become an F&B Manager
The food and beverage industry is one of the biggest sectors of hospitality. It focuses on everything from bars to world-class restaurants, to simple dinners. There are a lot of similarities between F&B and other hospitality sectors, such as being customer-focused, fast-paced, and very variable on the day-to-day. However, there are also some additional challenges like the fact that food needs to be accurately ordered to ensure minimal wastage.
If you want to reach your career goals and get into food service management or work in the food industry, the most popular way is by studying hospitality management. Incorporate internships, build your skill set and gain valuable experience in the field with a postgraduate diploma from Les Roches in Hospitality Management.