Upon arriving in the
Dominican Republic
I knew right away I was going to have an amazing time during my six month internship
. Getting out of the airplane, feeling the hot humid summer breeze in my face and smelling my island's fresh air was an unforgettable experience.
I was to start working a week after my arrival, so the Friday before I went to Human Resources to make sure everything was in order for my entry. I made sure I had everything prepared for Monday in order to get off on the right foot.
The hotel I am currently working at is called Occidental Hotel El Embajador, an iconic 278 room five-star hotel located in a residential area close to shops and businesses in Santo Domingo. Since this hotel is known for its demanding business and leisure travellers, employees are expected to always have a smile on their faces and always be willing to help with anything the guests may request. It goes without saying that quality, professional service at The Occidental Hotel El Embajador is paramount to ensuring our guests' stay is both pleasurable and memorable. Guests of the hotel are offered various facilities that cater to their specific needs, including:
• Los Porches Restaurant
• Restaurante El Jardín
• Lobby Bar
• Bar Las Cotorras
• Swimming pool
• Spa & Massage Center
• Business Center
• 7 Meeting Rooms
• Executive Floor
• Royal Floor
• Casino
Consequently, the hotel offers many internship opportunities in different departments which include : Front Office, Business Center, Banqueting, Accounting, Food and Beverage, Rooms Division, Sales & Marketing, and more. Fortunately, I was offered a unique opportunity to cross-train in several of these departments.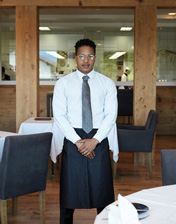 Upon reporting for work the first day and receiving my schedule, I was delighted because I knew I was going to have the opportunity to develop my skills in various areas of the hotel business. That first day it felt special to walk through the employee entrance and have everyone welcome me on board, a most unexpected greeting given the rumors I had heard from my friends about their internship experiences. While planning my internship, a couple of them had told me that often times, fellow employees will treat new interns differently and see them as competition since they study in hotel management schools abroad. However, for me it was totally different than that. Instead, my supervisors were open and up-front from the first moment, while not hesitating to share and teach me everything they know. I even had the opportunity to personally meet with the General Manager, Mr. Ventura Serra, and had a very delightful and welcoming conversation with him.
My first job during the internship was in the hotel's reception. From the outset, I learned how to assist guests upon check-in and check-out, gave assistance in the inconveniences of the guests' rooms, answered telephone calls, gave information about Santo Domingo's restaurants, and up-sold plenty of spa massages and taxi services. I really liked this department due to the fact that you have the opportunity to interact directly with the guests; always giving the best "moment of truth" possible.
I am currently working in the Business Center Department. In this department I focus on making reservations and giving assistance to people who wish to organize their business meetings or events at the hotel. Moreover, when I'm not working in the Business Center, I also sell products in the Gift Shop and balance the cash register to calculate the profit made each day.
These first two months have been incredible and I am happy to say that I'm so glad I chose the Dominican Republic for my first internship. Although I am very busy, I hope to keep you updated with my further experiences in different areas of the hotel's operations throughout my internship.
(Cristina Reynoso is a Les Roches Marbella Student Ambassador. To learn more about our Student Ambassadors, please read the article here.)
Related articles: My First Hotel Internship Experience, Part 2