Ekaterina Borisovskaya began studying a Bachelor's in Global Hospitality Management at Les Roches Marbella in autumn 2020. In this student blog, her seventh entry, she recounts her experience training in the two a la carte campus restaurants as part of the practical arts training classes.
Hello everyone. I am more than happy to be back with my blog. I wouldn't lie, the past two months have gone crazy fast, but if you think I gave up on my blog, it is not true at all! I am back to tell you how my last weeks before the Christmas holidays went and what my days now look like. I have so many things to tell!
Let's start with the experience I gained by working in the Service and F&B departments of El Olivo restaurant. The weeks we spent learning the ins and outs of El Olivo were much more challenging and more interesting than the previous ones. The exposure was much more in-depth since we worked 2 shifts each day and had Oenology classes (wine classes) in between. I would say each member of our group learned different skills during the lunch and dinner services. The two dining concepts were completely distinct from one another, starting with distinctive supervisors who each have their own way of teaching and finishing with the original styles of serving exclusive dishes, of setting up a restaurant, and of offering a daily set menu.
Learning formal dining protocol
I learned several new techniques from our morning teacher, Mr. Shah, by serving business lunches and a special event banquet. Protocol for business lunches is a standard process to provide guests with timely and appropriate food & beverage service. It was hard to work in the morning shift because it was hectic with so many guests and orders. Following the lunch dining service, we were obliged to prepare the restaurant for the next shift too. As for me, I was impressed most by a unique and unexpected event in which we were tasked to prepare – a simulated wedding reception banquet. This day wasn't a usual day by any means. We rearranged the tables especially for the newlyweds and their guests, festively decorated the restaurant, and made wedding napkins designed to let us place reception menus inside of them. During banquet service, dishes are not served in the same fashion as standard a la carte dining. Instead, we served in a cloche style and the most difficult part was to be synchronized with the other servers. At the end of this course, we had an unusual exam where we had to demonstrate 5 different creative napkin folding designs for decorating a silver plate. (I want to mention that after having surpassed this practical test, when I was at home in Russia with my family for Christmas break, I even organized a master-class for them and my friends on a creative festive table setting.)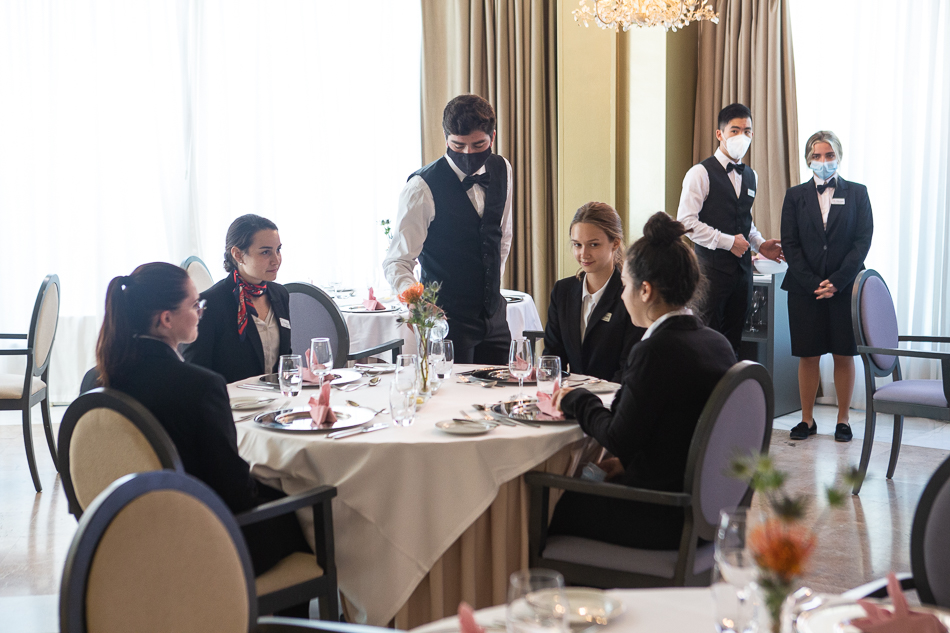 Later, during the evening shift with my other teacher, Mr. Merino, I gained valuable protocol skills in setting tables for a formal dinner service. During dinner service, we were tasked with creating a different atmosphere, one that was more relaxed and friendly while still maintaining a formal etiquette. By working directly in El Olivo restaurant, I now understand the difference and importance between three completely unique formal dining set-ups. (thesouthafrican.com) As a future manager, I know I have to understand that and this experience has helped me to consider every detail. We learned so much during this practical training period that we could not have experienced with textbooks.
"Oenology classes were a unique chance to discover new types of grapes, peculiarities of wine-producing regions, and other interesting knowledge about wine."
Although the uniforms differed between the two daily dining services, our "Mis en place" (MEP) kit that includes a lighter, wine opener, pen, notebook, and marker did not. The MEP tools aren't simply required by the course instructions, we really put them to use during these practical lessons. For example, I managed to master the corkscrew wine opener during the dinner service and I am sure I will exercise this skill for many years to come in both my professional and my private life. I also enjoyed applying my Oenology classes' knowledge on the theoretical and practical aspects of the wine culture by offering and serving wines, champagne, and different spirits offered in El Olivo. Oenology classes were a unique chance to discover new types of grapes, peculiarities of wine-producing regions, and other interesting knowledge about wine.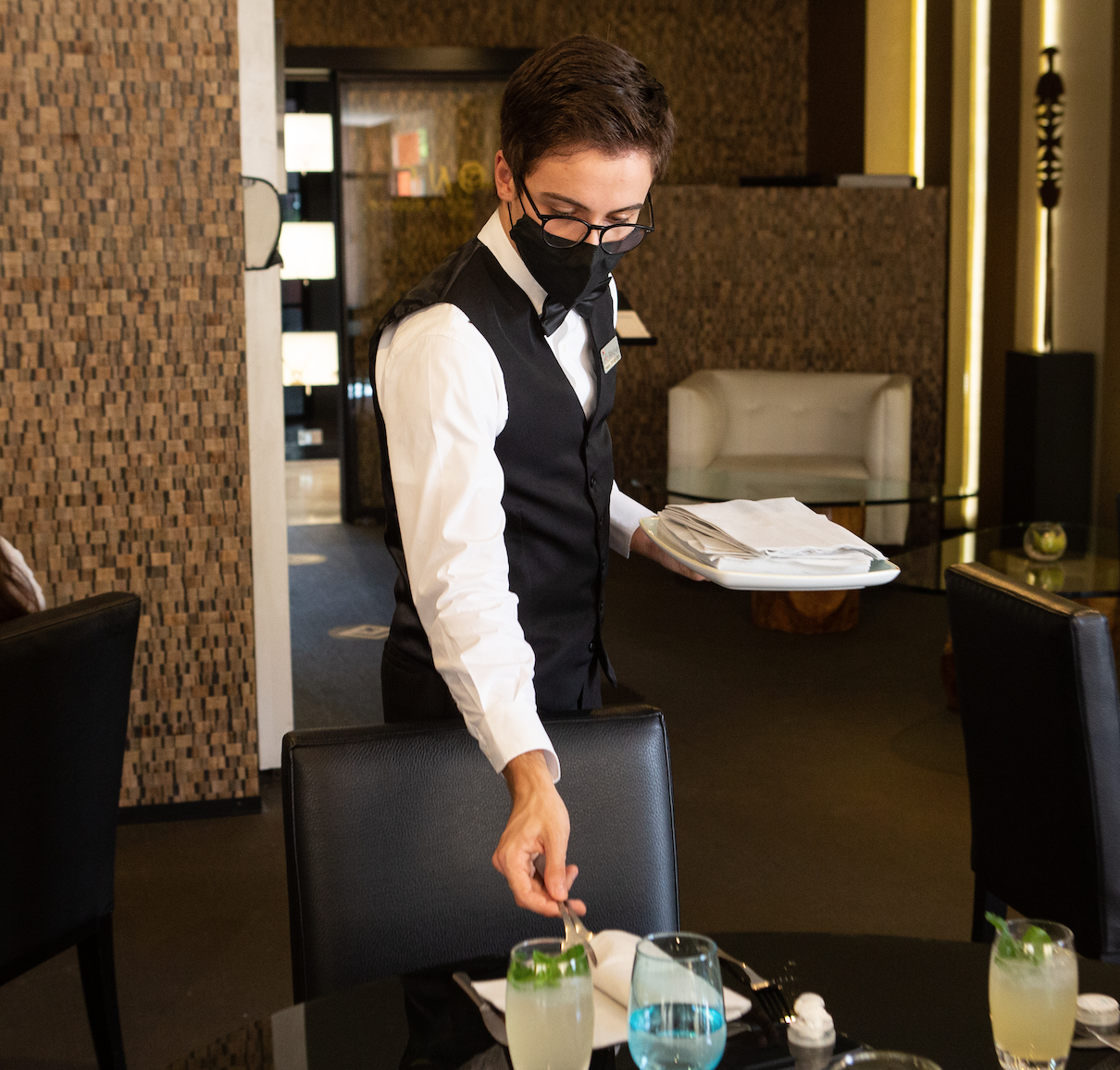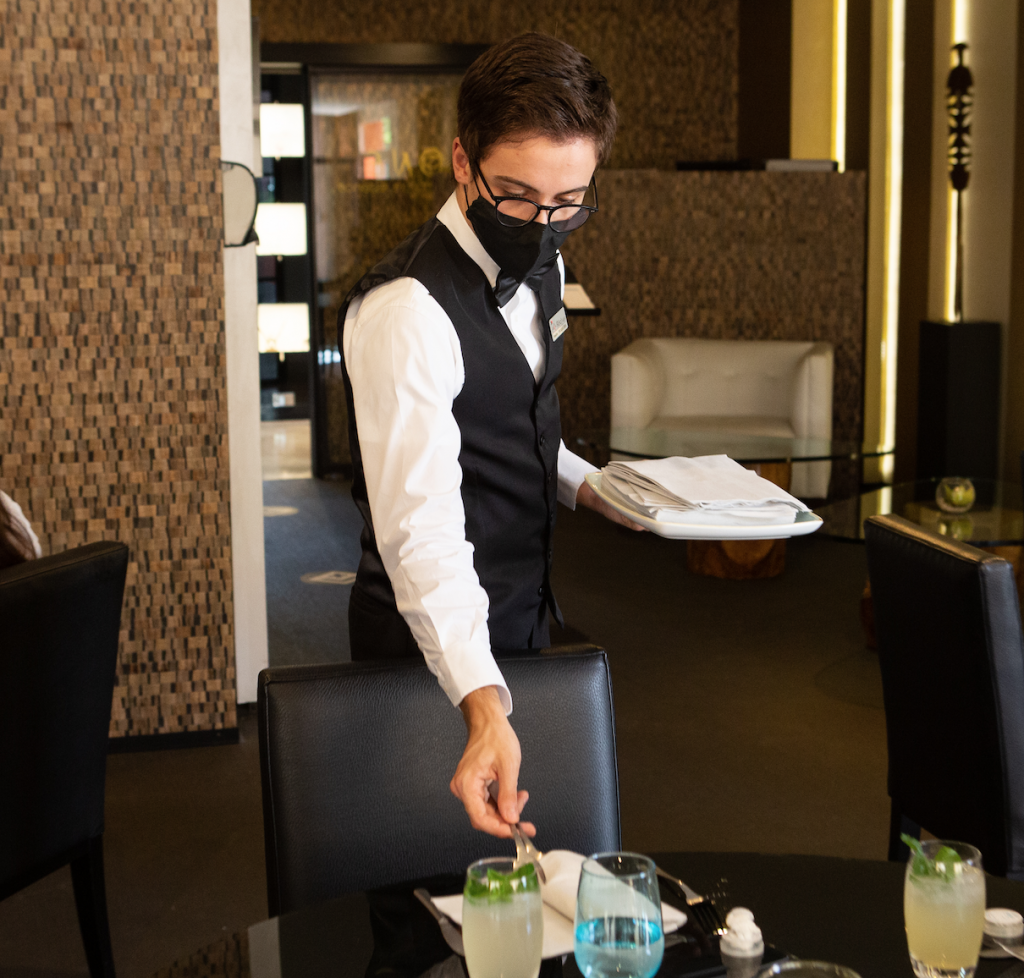 Starting 2021 in ONE-style
After a warm Christmas break spent with my family, I returned to campus in January and started my first weeks of the second half of BBA1 with another new experience. This time the adventure was in ONE restaurant, which again is totally different from the Bistro and Olivo dining concepts that I had previously been exposed to. During this practical arts training week, every day we became more experienced as team players by working in different positions, helping each other, and working together to achieve common goals. As for me, I liked training in ONE for its unique atmosphere that appears relaxed at first, but maintains a very professional business lunch service protocol. I was fortunate to have the chance to serve a large variety of different guests from other first-year students to special guests that included Hospitality professionals invited by the school. It was a pleasure to host them and to create unique restaurant vibes for them to take away from their experience.
Concluding my previous blogs on my practical F&B classes, I'd like to say that this experience is quite unique and valuable for our careers in Hospitality. I'm grateful to all of my teachers, tutors, and teammates for such an interesting challenge that we overcame together. I loved the chance we get to work weekly in different departments, learning new skills and making our own observations. This is why Les Roches Marbella is a unique place to learn and all of these emotions and lessons will be never forgotten.  
Check out my previous blogs, here: