I am really happy to be back on with my blog. For the past three weeks, my life has been really hectic. First, there were two weeks of online learning as a precautionary measure to fight the Covid-19 pandemic. During this period, my group had a few exams and we are completing our first block of studies in Resorts Management, Business English/Business Communication, Accounting for Hospitality, and we continued learning Spanish, German, and French languages.
Today, I want to share five tips for making the best out of the intermittent remote learning periods during Covid. Hopefully, some of these tips will help you advance your studies in hospitality while being able to transition back to in-person learning without missing a beat.
1. Be involved
My personal tip for passing exams successfully is to attend all lectures, whether they are online or face-to-face, to make colorful and understandable notes, which are personally yours. Another tip on the exam period is to visit the university's library, it is full of different useful resources to help you find additional information for any subject. There are some vital skills I would recommend developing: manage your time according to deadlines, know how to use paraphrasing techniques, find reliable and relevant academic sources, and make appropriate references. However, there is nothing to be afraid of since university staff is very open to any of your issues and your peers are ready to help you too. Don't be shy, just ask for help.
2. Stay on track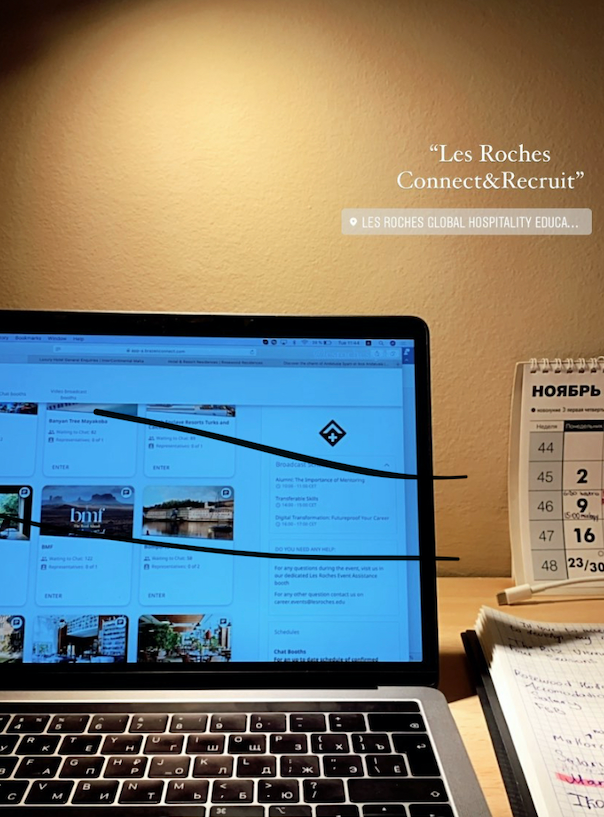 During these two weeks, we had an interesting experience of online learning being inside the university on campus, which has brought me different emotions, from which, I won't lie, were some positive and some negative. The difference between online and offline studying is, first of all, the location. It is a big difference whether you wake up early to refresh yourself, pack your bag, and catch a bus to your university or wake up 30 minutes before the actual lesson. From my personal experience, I have already tried online learning before COVID. I have been studying abroad for three years now, and during these years my Russian tutors helped me, but I have created my own way of learning more effectively, taking the right notes, and managing my time efficiently. Later, the skills I gained helped me to study remotely with no issues.
What I would recommend to people who don't know how to stay on track is to settle down and write a plan of what you'd like to do for the next week, it could be, for instance, deadlines, tasks or exam preparation. You need to allocate the time to meet all the requirements. I would say that planning is the best tip for young students to cope with all deadlines and exams.
3. Be Proactive
One of my other tips is to be pro-active, both with lecturers and classmates. When we are attending lessons physically, we don't use our chances to interact with teachers a lot. While we are intermittently online students, we can set up a skype/zoom meeting with our teachers to clarify any type of issue. Since LRM's teachers are always willing to help us, we can always write them an email or set up an online meeting. Therefore, each of us can have close, one-to-one relations with our university lecturers. This is an opportunity to have direct contact with tutors to get feedback and necessary help while working on projects and trying to manage to study targets. Also, there is a very effective tool that saves records of lectures, which are at our disposal at any time.
I discovered that some of my friends have noticed they are more disorganized with this style of online studying and living. But on the other hand, the efficiency of online learning brings us a wide range of opportunities: I had plenty of things to do, I continued to improve my working efficiency and tried to become a more motivated learner.
4. Work through the negatives
However, despite the advantages of online studying, there are some negative issues to it. Mostly they are just inconvenient and non-effective situations, such as the occasional technological issues concerning delay of transferring sound and picture data, and a feeling of less teamwork and live communication than when we are all together in an actual classroom. Thus, there are pros and cons of learning online, but my main advice is to shape your life by yourself.
"I find sports in my life to be really useful in order to have a clear mind, to calm down, and build my future plans."
5. Care for your health and wellness
The academic part of life at university is really important, but there is something equally important for you – to look after your own health and your way of life. Every day I try to find free time to exercise in the gym or go jogging to the beachside. There are so many places in Marbella to do exercise even in the open air, it has a lot of open space areas with exercise simulators and they're free. As for me, I find sports in my life to be really useful in order to have a clear mind, to calm down, and build my future plans. During sports, you can listen to music or an audiobook, also, you can enjoy the sound of the waves as you run along the beach promenade. I would recommend this type of activity for all students. But, of course, it is not the only activity which is at your disposal. (Follow my next blogs  and you will get updated on things to do in Marbella!)
And lastly, the hospitality industry is the best place to be open-minded and to be interested in getting acquainted with new people. I love this university for the opportunity to communicate with students from all over the world and learn about different cultures, religions, and backgrounds. For instance, at lunchtime, we are able to sit daily with different cultures, talking, and getting to know each other. That's why I am suggesting to be as friendly-oriented as you can and it will become your advantage in the future.
Check out my previous blogs, here: