This blog was written by Les Roches Marbella student Ekaterina Borisovskaya, who is currently studying our Bachelor's in Global Hospitality Management.
I have already gotten to know a lot of BBA1 students on Instagram, I have identified the main requests from you and I want to help you get packed and ready for your new semester to start your amazing journey at Les Roches. Last year I was in the same place where you are now, confused and stressed but at the same time so excited. I didn't have anyone to advise me on how to get ready. But you are lucky with me, because I am here to help you begin your journey into hospitality management education. Based on my experience during BBA1 – I am ready to compare my blog from last year.
Let's start from my top request everyone has asked me about which is uniforms. Last year I named this paragraph "Uniforms are a vital part of learning". Today I want to make a small adjustment.
Advice 1: Uniforms as a sign of professionalism
Professionalism is defined as the competences or skills expected of a professional. That is exactly the meaning of studying Global Hospitality Management. It is an open door to a successful future career in any industry.
Uniforms represent professionalism in Les Roches, and they help to emit confidence and trust in the working professional. The official business colors of suit are black, dark blue, brown. These colors should be accompanied by same-colored shoes and bags. Ladies and gentlemen were provided by official Les Roches emails on the rules of choosing the right type of shoes. As I remember, ladies should be wearing heels no higher than 5cm, loafers and other type of official business shoes are welcomed. As well as the importance of a make-up: ladies should have only natural make-up, not more, no bright or provocative manicure. Follow the saying "Less is more".
There are a lot of practical classes, and you will be given different uniforms (housekeeping, food and beverage, stewarding). Personally, my advice for you is to think over about what will be your underwear for the uniforms. I would recommend to bring at least 3 pairs of underwear as well as consider bring long-sleeve t-shirts. Keep in mind that you will need to bring black or dark blue pairs of shoes for your practical lessons, you will be wearing them for 6-7 hours in a day, so it is better for you to buy comfortable and suitable shoes, preferably without heels if possible.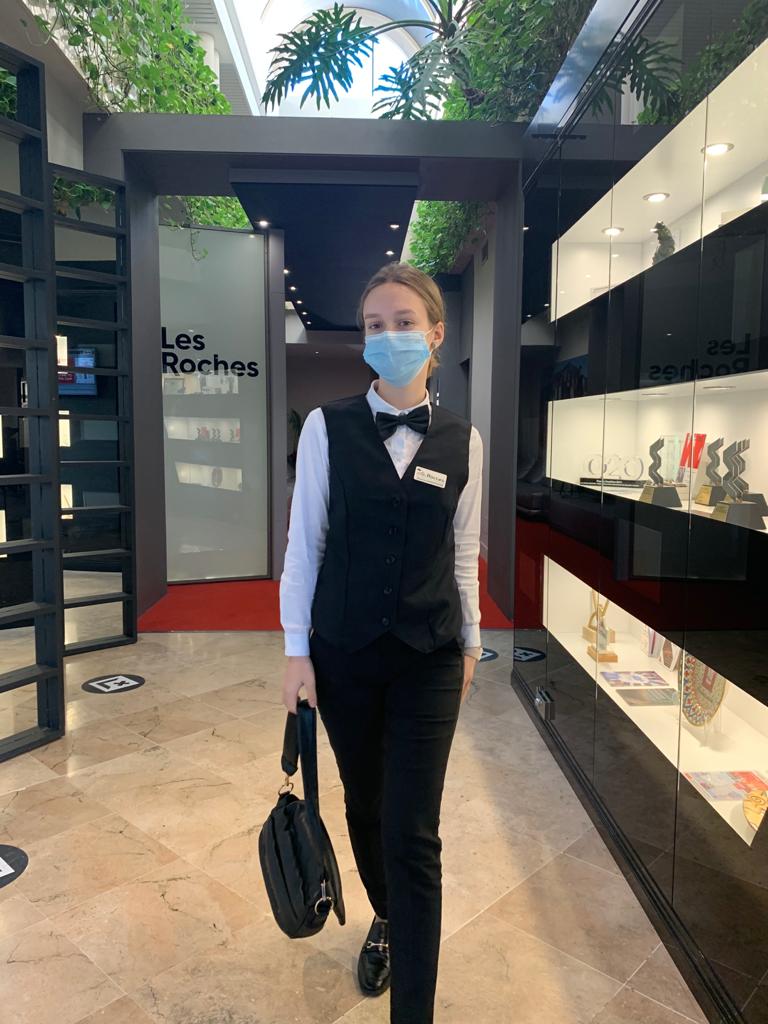 If you are interested in my opinion about trademarks/brands where to find suitable professional clothes including suits and shoes, let me know and I will go into more details. Also you can check my previous blog where I go into detail about how to prepare to study abroad.
If you have any other questions, please be open to ask me in my Instagram (@bbyykaty). I am ready to set up an online meeting with new students and everyone who is interested in these topics.
I would like to highlight that Les Roches is not only about uniforms and high standards of hospitality, but it is about special way of life with such values as Teamwork, Solidarity and Excellence.
Advice 2: The importance of an introduction week
As soon as you arrive on campus you will start your semester with a very important and most exciting and easy-going week which is an Introduction Week. As many of you have been wondering what goes on during introduction week, I will briefly go through the most important details.
First of all, introduction week has been designed for students to get to know each other better, to have the chance to get acquainted with the university facilities (such as auditoriums, classrooms, meeting halls, etc.), go around the town and just have amazing time at the university. For me, it was exactly like this. From the first day- the day of registration, I flew over to Spain for the first time, I was met and accompanied by university transfer from the airport straight to the doors of Les Roches (if you need to book a transfer, it is better to tell university in advance). Registration day is the day when you arrive on campus and provide all the necessary documents (look at the Pre-arrival package) and you receive your badge, notebooks, iPad and other study materials.
When arriving on campus you will have a lot of help offered from our teachers and university staff regarding any issue. Everyone is very open-minded and kind. Also, I will be greeting and welcoming BBA1 students on campus on the 21st of September, so if you need any help, I will be there for you!
However, introduction week is not only about fun and entertaining staff. You will have exams in 3 subjects: language, English and mathematics. You don't need to worry about that a lot, but I would recommend that you do a quick revising on these subjects before coming. The results you will get will affect your determination to a specific group where you will study in for the whole semester.
Of course, despite all the factors, I really advise you to keep on track and be as active as possible. The more people you get to know, the better. Also keep in mind that students are not the only people you should be communicating with.
Advice 3: Open-mindedness, gratitude and friendship
Teachers, staff and other people who are a part of Les Roches are the ones who you should consider communicating with. To tell the truth, after the first semester I got to know the university staff better and I can tell you for sure these people are high-level professional who you can always contact for advice or help. If you need any support, they will be only happy to help. Even when I just started creating and posting my blogs, I received so many positive feedbacks from my teachers and staff that I could not believe it. I got more energy and desire to continue writing my collection of blogs, and thanks to you all I am now here continuing creating posts for you in the official website of Les Roches and on my Instagram page.
I would also advice that you get information about your roommate before coming to your first semester. As an example, during my first semester I made really good friends with another girl and we decided to live together. However, we later found out that she was not allowed to live on campus like me since she is from different semester than me. A lot of students from my semester knew about their roommates from the group chat, they shared their room numbers and the roommates found each other, and it is one of the ways to know about your roommate. The other option, which I personally used was to find out about my future roommate from the university directly. I wrote an email to the Housing Platform and they provided me with the details about the room number and a person who would be living with me. So, you can easily get to know the person more before coming, and it is actually a good skill for future job openings.
Once you are at Les Roches and you have been already divided into groups, you can see who you will be studying with. This group of people will be your partners in easy and hard times, in sad and happy moments. It is vital for you to build good relationships with your group mates so be mindful about your actions and words. Teamwork and solidarity are important in the first semester!
Advice 4: Discipline
Discipline is a key factor of successful BBA1 pass. BBA1 is called a practical semester, so as you can imagine this means you will have a lot of practical classes as well as theoretical ones. You will have morning and night shifts with classes in between. The hectic routine of this semester makes you feel exhausted and tired every night. So, my personal tip for you is to make a tight schedule and keep to it. Getting enough sleep is essential, so make sure to get 8-9 hours of sleep and not less – it is important during the first semester.
Talking about nutrition; I would really like to advise you to eat as much as possible, never miss out your breakfast, lunch or dinner. Also, if you do feel hungry during the day, don't hesitate to talk about this to your supervisor/ teacher since a lot of factors will depend on your wellness. I totally understand your uncertainty and fear as you are a first-year, everyone feels the same, but remember that teachers are usual people like you. They are your guides and supervisors, they are here for you to help you as well as to teach you. But if you still feel you need to talk to someone your age, you always have the chance to contact me.
I would like to stress out that we are all here to study, get new knowledge and experience for future life and career, that's why you shouldn't feel sorry for yourself and try to do your best in meeting high requirements and fulfilling serious duties of Les Roches Marbella's' rigorous studying process.
Ekaterina would like to help students get acquainted in Marbella – she so much experience both as a foreign student studying in the city that she is practically a local! She is organizing a meet and greet for students, if you would like to book a place make sure to contact her via her IG handle (@bbyykaty).
Want to read more from Ekaterina?