Recent Master's graduate Jade Thiburs believes the Les Roches combination of practical experience and opportunities to meet people from all over the world has given her the ideal launchpad for a career in hospitality.
Currently five months into her Management in Training position at La Petite Maison (LPM) restaurants in Dubai, Les Roches Marbella Master's graduate Jade Thiburs is immersing herself in the deep end of the hospitality industry. 
With 50-hour-plus weeks and consistently high levels of expectation, it's a stiff challenge in comparison to the academic life, but it's one Jade is relishing as she embarks on a voyage of discovery that she hopes will lead to a management role in the future.
Despite the tough conditions, Jade is confident she is honing the practical skills she developed while studying her Master's in International Hospitality Management at Les Roches – skills that she knows she will need to progress.
"One of the main reasons I chose Les Roches was because I knew there was a strong practical aspect to the program," she says. "My Bachelor's in France was largely based on theory, whereas the Master's in Marbella was much more practical in that we would directly apply the theory we had learned in class to concrete examples in the hospitality sector."
A practical foundation
Jade was no stranger to the practical side of the industry, having spent two spells at the Hôtel Regina in Wengen, Switzerland, plus an internship at the Belmond Mount Nelson Hotel in South Africa.
But she knew she wanted to study further; so began searching for a school that could give her the edge in her career.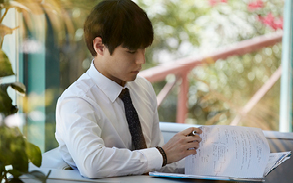 "I wanted to find somewhere I could take classes in English and study with people from different nationalities," she continues. "I'd heard about Les Roches because of its reputation in the industry and I noted there was a campus in Marbella, which interested me because I speak a bit of Spanish. I requested a brochure and, just a couple of days later, I was contacted by the administrator. I found out more about the program, which I fell in love with, and really clicked with the person in charge of the applications process. So I decided to go for it!"
From the moment she was accepted on to the program, she knew it had been the right decision.
"Once I was accepted, I was added to an online group, which meant I'd already had the opportunity to connect with people," she says. "When I arrived on campus, it was great to actually meet them in person.
"When classes started, I felt confident the teachers had our best interests at heart, had an incredible depth of knowledge and were keen to share as much of it as possible with the students. The content itself was similar to my Bachelor's, but in more detail. The fact that I was familiar with it meant I could also spend time getting to know the people there."
Upping the intensity
If the first semester was all about finding her feet and getting acquainted with her fellow students, the second was much more intense.
"It was only three months long compared with six months for the first semester; and we had to complete our applied business project, which added to the stress levels," she says. "However, it was good to be attending classes in person again after having to do most of them online due to Covid restrictions."
In fact, Jade's experience of her applied project was ideal training for the challenge of her current management program in Dubai.
"I started doing something on the effect of vegetarian and vegan diets on F&B trends," she says. "It was going well at first, but by the time the exams came around, my tutor told me the topic was too general and that I needed to make some changes. Immediately after the exams was our business field trip to Dubai, so in the end I had only 10 days to do it.
"What made it even more challenging was that I contracted Covid at the time as well. But with hard work and a lot of input from my supervisor, who wasn't shy about telling me whether something was wrong, I managed to achieve a good result."
It was this kind of diligence through adversity, one of the many soft skills Les Roches students are famous for, that helped Jade land her current trainee position.
"To be honest, I was struggling," she recalls. "I was applying on LinkedIn and through the Les Roches job search facility, Simplicity. I also attended the careers day, but nothing concrete came of any of it. Then one day I found the LPM role on Simplicity, so I applied. Two hours later I got an answer from HR and, without knowing anything about the restaurant, I did the interview.
"After being accepted on the training program, I got the opportunity to meet the LPM manager while on the Master's business field trip to Dubai. She showed me around and made me feel welcome, and I realized then I'd made the right decision."
New horizons
While Jade is thoroughly enjoying her role and life in Dubai, she still plans to broaden her horizons.
"I initially chose hospitality because I want to travel," she says. "I'm not sure what I'm going to do after this program, but I'm still young and have so much more to discover. What's great about Les Roches is that you meet people from all over the world, so wherever I choose to go, there will be someone I know. For me, the Covid situation wasn't completely negative, because it meant I forged really strong friendships with my fellow students.
"In the end, Les Roches is all about the people. It's about the relationships with those who become your friends or colleagues and with the teachers you can call on for help and advice. That has made such a difference for me."
Keep reading about Les Roches: