For those that have their eyes and mind open to new pathways, there is always opportunity in adversity. When covid-19 hit, Indian alumnus Ankit Sondhi had every reason to panic, but instead he proved to himself and those around him that he could handle the heat of the kitchen, quite literally.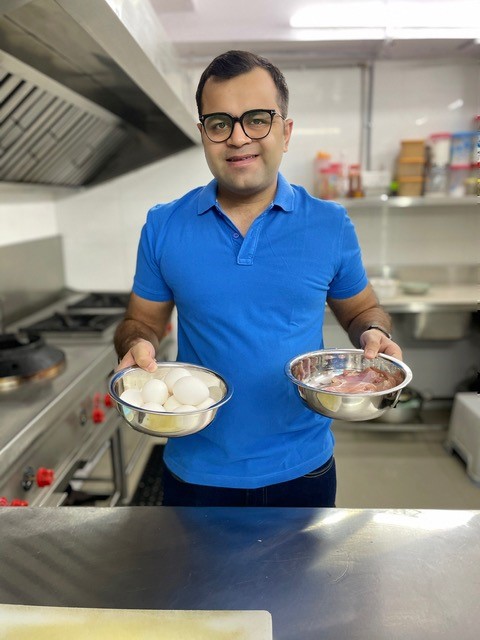 Rewind to late 2019, life was normal in India and it was business as usual for Ankit and his company Kwality Catering Services. Then everything changed. "When COVID hit globally, we saw a 30% decline in our sales per month from December onwards", he says. "The pandemic hit us hard, my wife was pregnant and I was really tense because of the performance of my business."
As the world entered lockdown, India soon followed, which gave Ankit time to consider his next move. "At the end of March when the lockdown began, we closed the unit for some time and we had time to think. For 15-20 days I was just sitting wondering what we were going to do. I was checking out freelancer websites, I was looking at Instagram, I saw people doing small things from home, and that's when I got the idea. 
"I decided to cook something, and trust me I really can't cook well, in fact I didn't know I could cook until I actually entered the kitchen a year and a half back! The first thing I did was ghee roast chicken from a YouTube recipe and it came out to be a very nice dish. I gave it to my parents and they fell in love with it."
"One day we were doing Mediterranean, the next we were doing Chinese…"
Little did he know it at the time, but cooking his first meal would lead to a whole new venture for Ankit, with a little help from his hospitality-minded family. "We started a small cooking competition in our house, which was taken very seriously as we have a family of hoteliers, and my cousin attended Les Roches as well!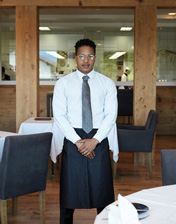 "We made some dishes and posted them on Instagram or WhatsApp and we were sharing six or seven photos a day, then it went mad! One day we were doing Mediterranean, the next we were doing Chinese, then we were doing South Indian dishes. So I said, okay, let's just start cooking, and my sister in law and my wife said 'why don't you start selling from home'."
From a competition to a company
When lockdown in India eased in May 2020, Ankit's idea became a fully fledged business with orders and a brand name. "In the first week of May I got a call from a very close friend of mine wanting to order some non-veg food, which he loved and he started posting on Instagram. The word spread and we were inundated with orders, and a few of my friends who own restaurants also started ordering from me.
"Giving the business a European touch made people want to inquire more."
"When it came to coming up with a name, my parents and I chose MangerbyAnkit. Some people didn't understand why I was using French word, but in Hyderabad two of the biggest brands, Labonel and Concu, are French.
"Giving the business a European touch made people want to inquire more. It also acted as an education for my customers, I taught them what the name and the brand means. They know the story especially well now, as we've been published in five or six magazines and newspapers."
Just take the first step
In little over 12 months, Ankit went from declining sales and financial pressure on his growing family due to the pandemic, to a thriving new venture that has brought his loved ones along for the ride. "Me and my mom run the entire show with a couple of chefs, we take care of everything in-house, which is amazing. This is without a doubt my greatest career moment."
Ankit's inspiring story is proof of what's possible when you combine passion and hard work, even in the most challenging of times. We wish him, his family and MangerbyAnkit the very best of luck and we're sure local alumni will be trying out the delicious ghee roast chicken!