When you're working with celebrities, you get used to managing high levels of expectation. But for Les Roches alumnus Waldy Torres to continue moving forward in that level of ultra-luxury service, a Master's in International Hotel Management was key.
World-famous artists are notorious for their extravagant demands when touring, so when Waldy Torres started his journey in hospitality working as hospitality coordinator for some of the biggest stars around the world like J-Lo, Daddy Yankee, Marc Anthony and LMFAO, he was the man tasked with exceeding their expectations. It was an introduction to an upper scale level of service that was to set him on his current career path.
"From a very young age, I had a strong passion for hospitality and making friends and family feel welcome and at home when they visited our house," he says. "That's where my desire to go for a Bachelor's in Hotel Management was born back when I lived in the Dominican Republic, where I spent a great part of my childhood. But even after making that career decision earlier on in my life, it was not until my first job in the industry with Mynt Entertainment that my passion for hospitality and truly personalized experiences was reaffirmed and I knew that this was where I wanted to be."
After graduating, Waldy spent several years working for The Walt Disney Resort in Orlando, Florida, initially as a concierge intern before working his way up to become assistant front desk manager. Already harboring ambitions to become a hotel general manager, Waldy then transitioned to housekeeping and public areas management.
"It was not until my first job with Mynt Entertainment that my passion for hospitality was reaffirmed."
"While my heart lives at the front office because it involves being face-to-face with guests every day, I really valued my time in housekeeping and wouldn't change that experience for anything in my life, because it unlocked a whole new level of leadership that goes beyond exceeding guest expectation but also at the same time go above and beyond in motivating every day a very hard working housekeeping team ," he says. "I think it's while working on both sides of the operation and gaining that insight that I realized that I would need to develop a more strategic outlook if I really wanted to get to the next level in my career."
The role of Les Roches in creating a professional
That's where Les Roches came in. Waldy wanted to transition towards the more personalized ultra-luxury hospitality and experience a more elevated level of service. And to get there , he wanted to complement his professional experience with a higher professional qualification from a reputable institution with worldwide industry connections.
"I searched for schools all over the world and eventually found Les Roches, which seemed very promising in opening new doors and opportunities," says Waldy. "When I read through the Master's in International Hotel Management program in Marbella, I fell in love with it – it was exactly what I needed. But what clinched it, was the relationships the school has with so many big hitters in the industry, particularly in the luxury segment. Seeing they partnered with hotels such as Rosewood, Mandarin Oriental, Four Seasons and Ritz-Carlton was so important and really influenced my decision because that's the direction I wanted to go in."
For Waldy, it was the combination of academic rigor and real-world experience he found rewarding and ultimately made the difference after graduating.
"I searched for schools all over the world and eventually found Les Roches, which seemed very promising in opening new doors and opportunities."
"During the first semester, we covered quite a lot of practical topics, including food and beverage, room operations and property management systems, while the second semester was much more of a deep dive into the strategic aspect of hotel leadership and business development," he says. "While quite different, both semesters complemented one another.
A life changing field trip
"But for me, it was the business field trip to Dubai where everything came together. The school provides you with this amazing opportunity to learn from hotels such as the Ritz Carlton, The Taj Dubai, J.W Marriott, The Atlantis and the Intercontinental. You meet industry executives who are taking time out of their busy schedules to tell you how they run their operations. It's such an incredible opportunity not only to learn from them but also because of the networking opportunities. A lot of my colleagues landed their roles in Dubai as a result and they are now putting into practice what they learned in this Master's."
Now Assistant Director of Front Office at Rosewood Sand Hill in the San Francisco bay area, Waldy reflects on the doors that Les Roches opened that enabled him to secure his current position.
"Being a part of the Master's program and especially taking part in the trip to Dubai meant I was able to make some great connections, not only with my peers but also with top hotel executives," he says. "The Les Roches Marbella careers department was extremely helpful too, going out of their way to ensure there were opportunities for all of us in what were challenging times. In fact, it was them who pointed me in the direction of Rosewood."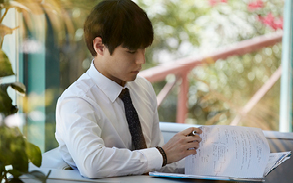 It's one thing to open the door, but it's quite another to seal the deal. Fortunately for Waldy, his Master's experience saw him undergo something of a transformation.
"Although I had many years of industry experience before I did this Master's, My professional roles were very focused on the day-to-day operations of larger scale hotels," he says. "The Master's taught me how to be decisive and  how to strategically lead the operation with a business mindset. For me the Master in International Hotel Management at Les Roches was a truly unique experience that has changed the way I look at hotel operations and I strongly believe that as I continue to grow within the industry, it will be a key driver to success."
Keep reading Les Roches success stories: