For a private banker with a lifelong ambition to open a boutique hotel, there was only one place offering a path to make his dreams a reality. New hotelier and Les Roches graduate Pedro Oliveira reflects on his experience of our unique Executive Master's program.
When the historic Hotel des Bergues in Geneva was undergoing a refurbishment some 15 years ago, Pedro Oliveira bought some of the cutlery it was selling off and has been using it daily ever since. It's a measure of his passion for hospitality, which has been with Pedro since childhood. A passion that has seen him swap the world of high finance and private banking to follow his dream of hotel ownership.
"Apart from some of the technicalities specific to each, banking and hospitality have a lot in common," he says. "Obviously, there is the service aspect, but to really succeed in both, attention to detail is paramount. And it was on the detail I would need to focus if I wanted to realize my ambition, which is ultimately why I chose the Executive Master's in International Hotel Management."
Changing careers can be daunting at the best of times, but when you are already working in a busy, high-pressure environment, the practicalities can deter all but the most persevering job switchers. What Pedro needed was an opportunity to learn about all aspects of his chosen industry in a short timeframe and with enough flexibility that he could fit study around his already hectic schedule. Les Roches was the only place on earth to offer this.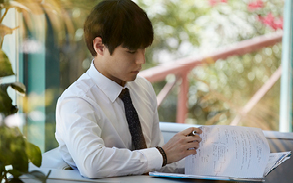 "I was looking for something really specific," he recalls. "It had to cater for someone with no real experience in the industry and it had to fit around my professional life. And to really chime with me, it required an entrepreneurial element to it as well. I looked at a lot of schools and courses, but in the end, only the Les Roches Executive Master's gave me what I needed.
"Of course, living in Geneva, I was already aware of the Les Roches name, which is the reference for hospitality in Switzerland. But what really impressed me was when I visited the school's stand at FITUR, the international tourism fair in Madrid. The people there were enthusiastic, helpful and highly professional, but what also shone through was the culture and the sense of belonging – they clearly wanted to be a part of the Les Roches brand."
An immediate immersion in hospitality
Pedro got to grips with the operational side of the industry from day one, taking part in the optional Hospitality Immersion Program for two weeks of intense, hands-on food, beverage and rooms experience. This was followed by two semesters of study that incorporated subjects as diverse as revenue management, advanced hotel operations, finance and budgeting, data analytics and leadership and organizational behavior.
"All were really interesting and targeted perfectly to what I needed to learn," he says. "And the structure was ideal too. Most courses were delivered online, which helps when you're balancing living in two cities, holding down a job and looking after children. But I also spent a week per month on campus in Marbella, which was great for taking advantage of the amazing facilities at the school, networking and getting to know the other people taking the program.
"It became like a family and was a really rich and diverse community excited to share opportunities, achievements and ideas. Being part of it was hugely rewarding and helped build a real sense of belonging, which I think is an important part of the overall Les Roches culture."
N

o time to intern!

Following his academic studies, there was an opportunity for Pedro to apply the learning to a real-world scenario in an internship; but since he is now living between Madrid and Lisbon and trying to open a hotel, it was something he had to pass up.

"I'm sure it would have been great to take part in, but I'm just too busy juggling things and working on the grand opening," he says. "What has been useful is that the course tutors are really open to me reaching out to them to ask questions while I embark on this new venture. Not only do I feel secure I can apply what I learned academically to my new hotel, I also know I can count on expert advice as I start my own business."
Now his attention is fully focused on opening Hotel das Amoreiras, a four-star boutique hotel in a small, historic garden square in his native Lisbon. Meanwhile, Pedro is still in regular contact with his classmates.
"Everyone has been really supportive," he says. "They keep asking when I will be opening and giving me tips, which is great. I'm genuinely looking forward to welcoming some of them here when I finally open and hopefully they can provide me with some valuable feedback."
Want to keep reading about Les Roches? We recommend: