Sometimes, you have to leave your home country to realize how much you love it. Class of 2014 Alumna, Elena Fabbrini, has worked around the world since graduating, but for her, there's no place like home. In fact, her love for all things Italy is the 'why' behind her hospitality start-up, Nest.
"I graduated in 2014 in Les Roches Marbella, since then I've lived and worked in New York, Barcelona, Ibiza, Miami, Los Angeles, London, Dubai, and Australia. Seeing the world made me realize how much I love my country", she says. "We have everything from food and fashion, to arts, our only problem is we don't know how to sell or own country. So I decided to go back to Italy and use my international knowledge and what I learned at Les Roches to sell what we have."
Elena's drive and ambition resulted in Nest, a start-up that captures the very best of Italian hospitality, culture, and products, delivering unique experiences that are proudly 'Made in Italy'. She explains the concept.
"Nest is the point of reference for Italian hospitality, with the aim of creating unique experiences purely Made in Italy. If you want to come to Italy, you can check the Nest website (or in the future download the app) and if you want to see something from an artistic event, you can do it through Nest. If you want to book a villa in Sicily or a chalet in the mountains, you can go on Nest. This one is called Tavolata, which is about 'experiencing Italian food in the Italian way'. It works very similar to a Supper Club by dining around an intimate communal table to enjoy a seasonal menu by great local Chefs, with the opportunity to meet new people and make interesting connections. It's available also for private events.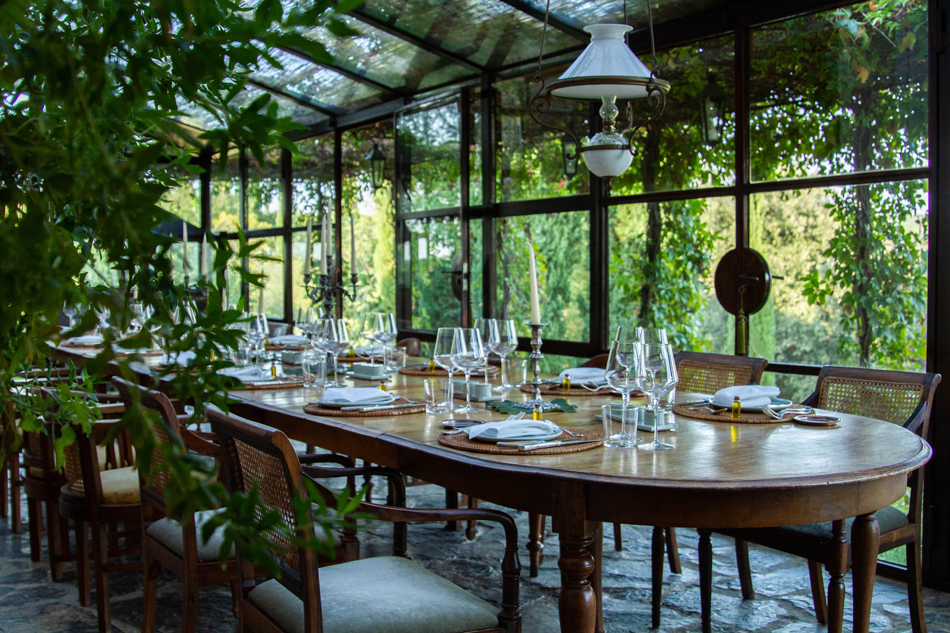 To conclude, we will even have an online shop selling excellent Italian food and beverage products, and NestCellar, hosting important wine research, and a portfolio of great local wines. I have also recently discovered we have great Italian gin, I recommend to check our shop online if you want to try it!"
Around the world in 9 years
Since graduation, Elena has lived in some of the most exciting locations in the world, holding enviable positions with leading hospitality brands. But it might not have happened if it wasn't for a chance meeting as a high school graduate.
"I was living in New York in 2010 when I met this guy. I'd just finished high school and didn't know what you want to do. He said 'I'm doing hospitality at this university, you can travel the world, you do six months theory, six months practical, you can study so many different things, business, food & beverage, you will not get bored!"
"After that conversation, I had a feeling that Les Roches was the right place for me. So I decided to go to Australia to gain a foundation in hospitality, then after one year and six months, I started at Les Roches Marbella."
"I met so many interesting people, Woody Allen, Donald Trump, Diane Keaton, the Rolling Stones"
Following her three-year Hotel and Restaurant Management diploma and graduation, another chance meeting, this time with Arrigo Cipriani, the owner of Cipriani group, set Elena on a path to a leadership hospitality career. "He basically became my mentor. After an internship in Ibiza and Venice, the first historical restaurant of the brand, he promoted me to Restaurant Manager in Miami. Then I moved to New York and worked at Harry Cipriani on 5th Avenue in a challenging union environment. I learned a lot and met so many interesting people, Woody Allen, Donald Trump, Diane Keaton, the Rolling Stones, it was great."
"After that I moved to a hotel project in Los Angeles, then London for two years, all with Cipriani. Then I got a job as the Deputy Director of Operation for Sketch, a food and art destination in Mayfair. After six months a friend from Les Roches suggested I help with the opening of Treehouse hotel in Marylebone (part of the famous 1 hotels group). Then COVID happened and I decided that I wanted to build something on my own. So Nest was born.
In It(aly) Together
Creating a brand that delivers the best of a nation requires a lot of research to capture hidden experiences, beauty spots, and homemade products in every corner of the country. Something Elena had no problem taking care of.
"I have to travel a lot. I've realized that if you want to build a partnership and connection, you have to do it. Whenever there is an event for hospitality or where I can meet more people, I do it. I also send a lot of emails explaining what I'm doing and to help people understand that this is another way to promote our country and that we must do it together because of this crisis."
"It's having a great positive impact, everyone is loving the brand. It's a company built by a woman, and so empowering women entrepreneurship!"
A 24/7 'experience' service
With a similar proposition as luxe Airbnb, Nest is operating in a proven space, but Elena is passionate about how her business offers customers so much more than the international hospitality giant.
"What makes Nest different, is that we are offering Italian experiences organized and followed by Italians. If you usually search for a similar concept in Italy, you will always find a +1 or +44 in front of the number. That's because agencies like Airbnb are not Italian. We are, and we operate and sell in an international way."
"I will work as a 24/7 concierge myself for a while, it'll be me responding to all the inquires, then I will have someone in each region of Italy, available for each client, able to answer phone calls, make all the bookings, support the pre-arrival of the clients to the departure. A client can rent a villa and then add on packages or services at an extra cost. I've built partnerships around it."
"We have in our portfolio properties in Lake Como, Tuscany, and Sicily that have been also promoted in famous magazines such as Elle Decor and Conde' Nast for example. Two of these are lighthouses converted In luxury properties facing the beautiful Sicilian sea."
"It's even more difficult when you're a woman, as automatically we are seen as too sensitive."
Throughout her career, Elena has encountered and embraced challenges that have seen her learn and rise through the ranks.
"When I was working for Cipriani Venice, it was a very important moment for me because I was building my career. And then I lost my father. It wasn't very easy for me, but I kept working as I'm a very proud person. It was appreciated by my employers and they promoted me to move to the United States."
"In these challenging moments, where let's say you're facing that situation and dealing with somebody from the union and they go against you or say something nasty and you really want to cry, how do you get out of that? What do you tell yourself? You're gonna get through this!"
"You have to just be very careful in what you say as it can be taken as a weakness if they see that you are touched by something. It's even more difficult when you're a woman, as automatically we are seen as too sensitive. I'm learning to take things less personally. I'll even go and do something else for a while and get my energy back. It's very important that you maintain the control of things, especially when you are a leader."
Advice for budding entrepreneurs
COVID has brought unexpected downtime for almost everyone in the hospitality industry, right around the world. Elena shared her five tips for fellow professionals that have spent this unprecedented period thinking about starting their own business.
1. It has to feel right – "When you want to start a company, it has to be the right moment for you. I always wanted to do something with my own vision, but, for example, two years ago wasn't the right moment. You'll know when it's right."
2. Ask for help – "Always be humble and open-minded. If you don't know something, ask others for help."
3. Think about your connections – "Don't to be shy, reach out to your network to build and promote your start-up."
4. If you love what you do, others will feel it. – "Know that if you have a concept that you feel passion for, this will be the key to your success."
5. Just do it! – "If you really want to do something on your own. Be positive. Do it. At least try. Because if you never try, you'll never know."
Like us, I'm sure you wish Elena every success with Nest, and if any alumni are interested in listing their properties in Italy with her or could assist her, then please get in touch with her at nestitaly.com.