If you're looking for a career path in the hospitality industry that's full of challenges and variety, you may have considered event marketing. The event industry is a growing and dynamic field, so it can be a highly rewarding option when looking at hospitality careers.

An Event marketing manager plays a pivotal role in the success of a wide range of events, requiring the right blend of skills and knowledge to excel in this field.

In this article, we will discuss the definition, qualifications, and strategies required for successful events. We'll also look at how you can prepare for an exciting event marketing career path.
Definition of event marketing manager
Unsure exactly what an event marketing manager is? Or wondering about the role of marketing in event management? Event marketing managers are responsible for the planning, execution, and promotion of events.
The kind of events they work on can vary, ranging from trade shows and conferences to galas and fundraisers. Some event marketing managers will focus on a particular type of event, while some will work on all the events being hosted at the venue where they're employed.
Event marketing managers liaise with a variety of stakeholders, including event planners, sponsors, and attendees.

They must have a strong understanding of marketing, event planning, and social media. Most of these skills can be gained from a degree in marketing or another relevant hospitality degree.
Overview of role and responsibilities
Event marketing managers take responsibility for all the marketing needed to ensure a successful event. This includes:
Developing and executing marketing plans for events

Managing social media marketing campaigns and email marketing

Working with event planners to ensure the smooth execution of events and to ensure all information can be communicated to clients and customers clearly

Negotiating with sponsors and implementing sponsor acknowledgment

Tracking and analyzing event data and gauging marketing success

Thorough overview of marketing strategies
Why become an event marketing manager?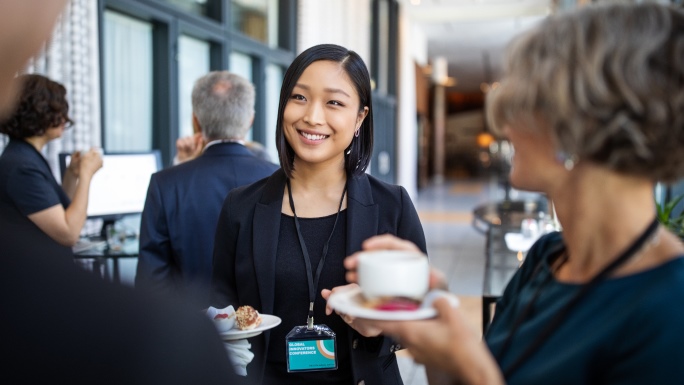 Being an event marketing manager can be a highly rewarding career. Not only will you get to work in a fast-paced and constantly moving environment, but you'll also be in a field where you can use your creativity.

There are plenty of options for deciding what kind of career you want too. You could work as part of hotel management, aim to join one of the top hotel brands, or even start your own event marketing business.
What do I need to become an event marketing manager?
If you're interested in finding out how to become an event marketing manager, you first need to look at the essential requirements. To be an event marketing manager, you will need certain skills and specific qualifications.
Soft skills
Soft skills are usually transferable between different jobs and they will be useful in many careers. Some of the soft skills you should work on for a career in event marketing management include:
Excellent written and verbal communication skills

Strong organizational and time management skills

An ability to work independently and as part of a team

Project management skills

Strong analytical skills

Dedication

Team leadership skills for working with marketing teams

Problem-solving techniques

Decision-making competencies
Industry-specific skills
In addition, you'll need some skills more specifically focused on the marketing of events, such as:
Strong understanding of the event planning business

Mastery of marketing strategies

Proficiency on social media platforms and in hospitality digital marketing

Knowledge of how to appeal to and engage different customers

Ability to track the market and adjust communications and strategies accordingly
Qualifications
It's also important to have respected qualifications for event marketing. Just like if you want to become an events manager, a good starting place is to get a degree in hospitality. After this, you can focus on a master's degree that will help you refine and expand your skills even further.
Master marketing with the best
Blending expert industry insights with practical experience, mentorship and opportunities for networking, our master's degree is the launching pad that will take your events marketing career to new heights.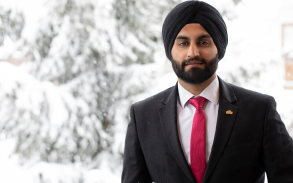 Experience
It can also be beneficial to have experience in hospitality and the hotel industry. If you choose one of the best hospitality management degrees, you'll have access to professional internships that mean you get real-world experience working as part of the marketing departments of leading hospitality venues.
Strategies for successful events
Being successful in event marketing means being aware of many different strategies. The following are some of the key strategies event marketing managers use to plan and execute successful events.
Developing effective marketing strategies
Effective marketing strategies target the right audience and make use of audience segment insights. Your marketing approach can be adjusted using data from previous marketing plans.
It's essential to get feedback and data from vendors, attendees, team members, and people who chose not to attend. This will help inform decisions that will shape future marketing strategies.
Creating targeted marketing campaigns
A major part of marketing management for events is creating targeted campaigns. This means getting to know your ideal audience for each event and working out the best ways to attract their interest.
Planning ahead with detailed event strategies
All manner of things can affect events, so you need to plan ahead using detailed event strategies that account for all possible scenarios. This will help avoid any issues that may crop up and affect your event. You can also work closely with event planners to ensure the events go as smoothly as possible.
Salary range for event marketing managers
The exact salary you can expect as an event marketing manager will vary based on your experience as well as the qualifications and responsibilities you have. Additionally, you can find different niches that offer higher salaries. For example, working in event marketing in luxury management for luxury resorts or hotels will often mean a higher salary than working for middle-market hotel companies.
As a rough guide, the field of event management and marketing offers an average salary of more than $100,000 per annum in the US. You could earn significantly more with an excellent education and great marketing skills.
Types of events that event marketing managers work on
There are many different events that marketing managers can promote, including:
Trade shows

Conferences

Galas

Fundraisers

Product launches
Working in any of these areas means you'll need knowledge of how these events operate and the type of people who attend these events. It can help to work closely with the event manager during the planning stage.

Understanding your product will help you create a better marketing strategy that integrates well with the event strategy.
Future of event marketing
As with every other marketing field, there are plenty of trends you need to stay up to date with to ensure continuing success. Keeping an eye on current and future trends will help make sure your marketing campaigns yield the best results possible. Here are some trends that may help define the future of event marketing:
Virtual events may lead to new event types, changes in target audiences, and new marketing needs, drawing on digital marketing.

Data analytics will become increasingly important. With better analytical tools and the ability to gather more customer data easily, there is much to be learned from analyzing audiences, competitors, and event success.
How can a hospitality school help you become an event marketing manager?
Studying at an internationally respected hospitality school can help you get ahead in event marketing by providing the skills and qualifications you need and the opportunity to meet leaders in the field. Excellent qualifications will help propel you into roles at prestigious hotels, resorts, and other venues.

They will also give you the background to be an entrepreneur if you want to start your own event marketing business.
Finding a school that offers exclusive professional internships will help you become familiar with specialist areas, such as resort management, as well as marketing specifics. You need both hospitality and marketing knowledge to make an impact in event marketing.
Conclusion 
Event marketing management in the hospitality industry can be highly rewarding. It involves working closely with event planners to make sure events are promoted in the most effective way and potential customers are kept informed and engaged.
This can be a dynamic career in which you get to use your creativity and analytical skills to develop the best marketing campaigns possible. To be successful in this field, advanced study is important to build a foundation of skills and knowledge that can be combined with marketing experience for the most effective promotion of events.

If you're ready to take the next step in your career, see how a degree from Les Roches can take you there.
Photo Credits
Main Image: Portra/E+ via Getty Images