With more than 700,000 hotels and resorts worldwide, the hotel industry is a growth-focused industry that's interesting and vibrant and offers endless career opportunities as well as immense job satisfaction.

With opportunities for different career paths, training, and growth, plus the potential for international travel, the hotel industry is an enticing option for anyone looking to start their career.
Whatever fulfilling hospitality career path you take within the industry, you could find yourself working at a luxury hotel brand in an exotic location or kick-starting your career at one of the world's leading hotel chains.

Let's look at hotel brands and chains in more detail and explore how to pick the right hotel to begin your hospitality career.
What is a luxury hotel brand?
Luxury hospitality is all about making guests feel special and brand's top priority. A luxury hotel provides deluxe accommodation experiences to guests and is priced at the higher end of the market.

Any accommodation may describe itself as luxury, including high-end B&Bs, resorts, and boutique hotels. While there are no set standards to be considered a luxury hotel, it's common for 5-star hotels to describe themselves in this way.

Luxury hotel brands such as Hilton Hotels, typically provide an intelligent booking system, fantastic service, outstanding dining experiences, designer interiors, state-of-the-art technology, and luxury bedrooms and bathrooms.

It's also common for luxury hotel brands to provide a great choice of guest amenities and activities, such as laundry service, concierge, pool, and spa treatments.
How do hotel brands work?
A hotel brand is an identity that unifies a group of hotels under one umbrella and differentiates them from their competitors. This is the image that the hotel wants to portray and encompasses everything from its unique experiences to the font used in its advertising. A hotel's brand encapsulates its identity, personality, values, and customer perception.

Many hotel brands don't operate their own hotels but instead franchise the brand to hotel owners. The brand will set the standards of the hotel and be responsible for controlling the quality and consistency of the guest experience.
What are chain hotels?
A hotel chain manages several hotels with the same name but located in different areas. All hotels that form part of a chain will use the same branding and usually offer the same products and services. Some companies will operate or own multiple hotel chains and these firms are often described as hotel groups.

The advantage for guests booking with a chain hotel is that because most chain hotels offer standardized quality and services, guests know what to expect before arriving.
Large hotel chains are often popular with people just starting their hospitality careers, as multiple locations and large numbers of customers mean a greater demand for staff throughout the year.

It's also common for large hotel chains to offer competitive wages, professional development, and flexible locations, including potential opportunities to train or work abroad.
How to pick the right hotel chain for you for your career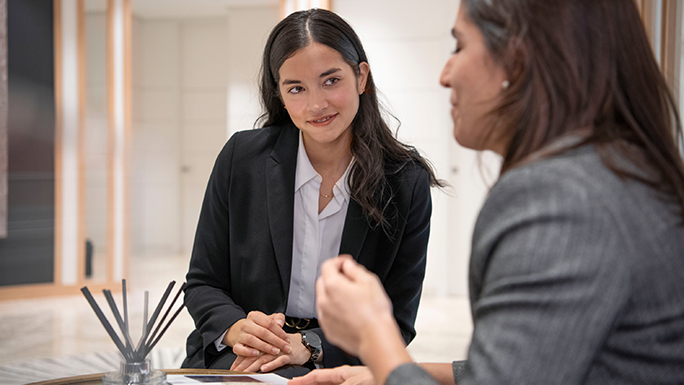 If you are just starting your career in the hotel industry, thinking in advance about which hotel chain you'd like to work for and why will help you maximize your chances of securing the right position.

Review the hotel's website, social media, employment review websites, and other resources to learn about the hotel chain's management structure, culture, and benefits. Here are a few other things worth considering:
Consider different types of hotel
It's a good idea to consider the type of hotel you want to work at. Most hotels fall into these categories; business, meetings, conference, leisure, resort, airport, independent, boutique, city center, or hostel. The type of hotel impacts the type of guest who stays there and influences what it will be like working there, job responsibilities and what scope there is for growth.
Training and development opportunities
Some big hotel chains are well known for offering some of the world's best training programs. For instance, Hilton provides employees access to development programs to advance their careers, partially through Hilton Worldwide University. This is great if you're ambitious and want to advance your career in the hospitality industry while working.
Reviews and feedback
Research what people say about working for the hotel chain and what guests say about their experience. It should give you a general idea of the positives and negatives of the hotel chain so you can decide whether it sounds like somewhere you'd want to work for and what to expect.
What is the top hotel chain in the world?
The world's top hotel chain is Marriott International. As the largest in the world by the number of rooms, it encompasses 30 brands with more than 6,500 hotels in 131 countries and territories. Marriott's portfolio comprises luxury and premium brands and those providing longer-stay accommodations.

Its vast portfolio of top hotel brands has earned it several industry awards, including 12 platinum awards at the 2022 MUSE Creative Awards. In 2022, Fortune ranked Marriott the 20th best large workplace for women and 23rd in the 100 best companies to work for. It also ranked Marriott as the 22nd most admired global company.
Top hotel brands in the world to work for
If you're looking to kick-start your career in the hotel industry, here are the top 10 global hotel brands to consider working for.
1. Hilton Worldwide
The Hilton group employs around 62,000 people worldwide. It's well known for world-class training programs, high compensation packages, flexible work hours, extended parental leave and discounted travel programs. Many of the properties within Hilton's portfolio are located in popular travel destinations so it's a good choice if you want to work in a major city or busy environment with plenty to see and do.
2. Accor S.A.
Accor S.A. is an international hotel group that owns several successful hotel chains, including Novotel, Mercure, Pullman, Fairmont, and Raffles. Accor is responsible for over 5,000 accommodation properties in more than 100 countries while operating several other hospitality businesses. While it's recognized for its diverse workforce, in 2021, it was also ranked the 12th best large workplace in the Bay Area, California.
3. Kimpton Hotels & Restaurants
Kimpton Hotels and Restaurants is frequently recognized as one of the leading hospitality companies to work for. In Fortune 100, the hotel brand was ranked the 44th best company to work for in 2022 in recognition of its employee support, diversity, and flexibility.
Kimpton employees enjoy several perks, including reimbursement for telecommuting and college tuition, fully paid sabbaticals, and online fitness centers.
4. Hyatt Hotels & Resorts
With more than 1,000 properties in over 70 countries, Hyatt primarily attracts the business and luxury markets, making it ideal if you wish to work for, or learn to deliver, a high-level hospitality experience. The company is often recognized for its caring culture towards staff, flexible working, training schemes, mentorship, and a strong record of internal promotions.
5. Marriott International
Marriott is an international hotel brand known for offering employees great benefits packages, including support from the TakeCare foundation, which helps employees if they have an injury, illness, or have had a baby. The company is also committed to hiring military veterans, which saw it recruit over 1,000 in 2019, providing tools and resources to help veterans match skills with available jobs. Marriott also has several perks for working families, including a positive work/life balance and competitive parental and adoption leave.
6. Four Seasons Hotels & Resorts
Alongside winning numerous industry accolades for its guest-focused services, Four Seasons Hotels & Resorts is ranked 23rd on Fortune's list of 100 best companies to work for. The brand's ranking recognizes its commitment to inclusivity and taking a proactive approach to ensure employees feel part of the Four Seasons community. Employees enjoy perks like referral programs, career development opportunities, and complimentary rooms.
7. Wyndham Hotels & Resorts
Wyndham Hotels & Resorts is a hotel group that owns some of the biggest hotel chains in the world, including Wyndham, Days Inn, Ramada, La Quinta, and Travelodge. Wyndham. Over 9,000 hotels under the Wyndham umbrella include budget accommodation, extended stay, and luxury resorts. With guest accommodation properties worldwide, Wyndham is a popular hospitality brand among job seekers.
8. IHG Hotels and Resorts
With more than 6,000 hotels in over 100 countries, IHG Hotels and Resorts offers many opportunities for ambitious leisure industry professionals. The brand has over 325,000 employees worldwide and prides itself on being a people-centric company with a truly inclusive, diverse, and collaborative culture.
9. Jin Jiang International
Jin Jiang International is a Chinese state-owned hotel group operating several hotel chains and individual hotels. It also owns several European brands like Royal Tulip and Golden Tulip. With over 10,000 hotels in over 100 countries, workers from the hospitality sector and related fields are always in high demand.
10. Best Western International
Best Western owns a number of hotel chains. Alongside its main brands, which carry the Best Western name, it also owns the WorldHotels brand. With 5,000 hotels under its umbrella, Best Western offers plenty of potential career opportunities to anyone looking to kick-start a career in hospitality. Its myriad of employee perks include health insurance, flexible working, paid floating holidays, and discounts.
To embark on a career with one of the world's top hotel brands, start with a Hotel Management degree from one of the world's leading hospitality schools, Les Roches. Whether you're interested in working at a luxury brand hotel or for one of the world's largest hotel chains, a Hospitality Management bachelor's degree will equip you with the knowledge, skills, and experience you need to excel in whatever role in the hospitality industry you choose.
Start your hospitality career today
Study at world-leading Les Roches for an exciting career in hospitality