After Ticino, Interlaken and the Jungfrau region, it's time for former MBA student ambassador – and now alumna – Sandhya Rao to share her fourth and final staycation around Switzerland. This time she takes us on a journey to the amazing region of Graubünden.
Want to know one of the many reasons I fell in love with Switzerland? It's because I got to make my way across this country exclusively by its fantastic public transportation, which connects almost every major attraction and is reliable because it operates on "Swiss Time" (code for never late)! In fact, some of the transport systems are indeed attractions themselves!
For my last travel blog I'm focusing on Graubünden, the canton in eastern Switzerland known for its amazing Alpine scenery and winter sports.
My top recommendations for Graubünden:
1. Chur (1.5 Hrs. from Zurich; 4.5 Hrs. from Bluche by train)
Chur is the starting point for the Bernina Express and is also Switzerland's oldest city. The best way to get to Chur is via Zurich. For those who live further away from Zurich, such as Valais, the best thing to do would be to travel to Chur the day prior and spend the night there. I recommend trying to arrive in Chur by midday, which gives you the opportunity to see the town, as well as explore nearby areas. Enjoy walking on the streets of the old town amidst church bells and do not miss out on the freshly roasted chestnuts sold by numerous vendors near the station. Put in "Haldenhüttli" on your maps and follow a short trail that leads you to a postcard view of the city amidst vineyards.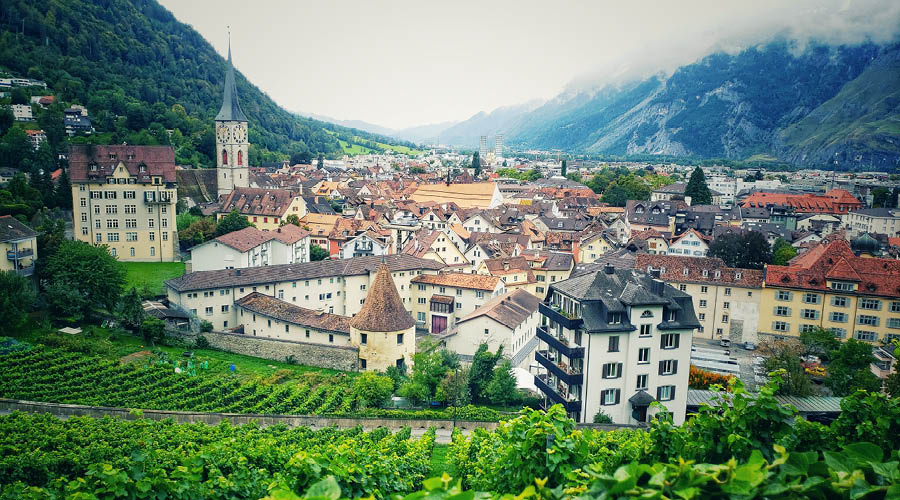 Tip: Chur is very well known for its shopping district. Most stores are immediately outside the station and the pricing for winterwear that I observed in most stores is extremely reasonable by Swiss standards. If you are moving to Switzerland from a tropical country, it is worth it to make a trip out to Chur just to stock up on some winter essentials.
2. Flims (40 min from Chur by bus)
Flims often pops up on Instagram because of its famous ski resorts and the picturesque forest lakes, Caumasee and Crestasee. Both lakes have nearby bus stops, but accessing the lakes does entail a 20-minute downhill trail from the main road. Caumasee, also known as the Pearl of Flims, is a well-known lake for a relaxing swim in the summer. It is equally beautiful when visiting in colder seasons, because of its clear blue-green waters. There are several hiking/biking trails around the lake, one of which leads to Crestasee within an hour. Crestasee, while much smaller, is a hidden gem with its perfectly still waters reflecting the surrounding deciduous trees and mountains in the horizon.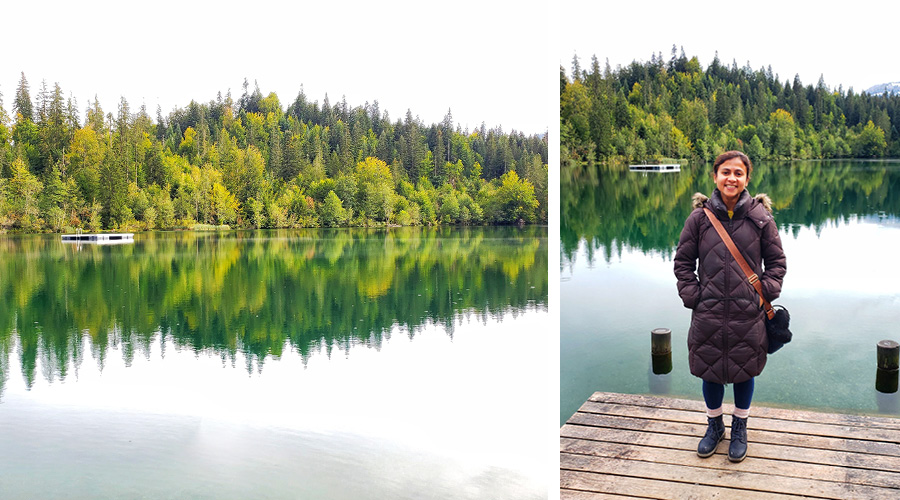 Tip: I recommend going to Caumasee which is further away from Chur and making your way backwards to Crestasee on foot. The trail down to Caumasee is much steeper than that to Crestasee making it easier to do downhill rather than uphill if you are as lazy as me! There is a lift that can take you down to the lake, but it is not operational in all seasons.  Also, carry some food and enjoy a quiet lakeside picnic! Both lakes have a restaurant; but again, these outlets are seasonal.
3. The Bernina Express (Chur to Tirano; 4-hour journey)
Typically, the last stop of the Bernina Express is Tirano, Italy. However, I chose to end my journey at the last stop in Switzerland, Campocologno, to avoid crossing the border during the pandemic. Both the Bernina Express and Glacier Express run on the same track from Chur to the Engadin valley and both trains require you to pay a seat reservation fee in addition to the ticket fare. The Bernina Express however, has a lower seat reservation fee and goes further beyond the Engadin valley making it the better choice in Graubünden.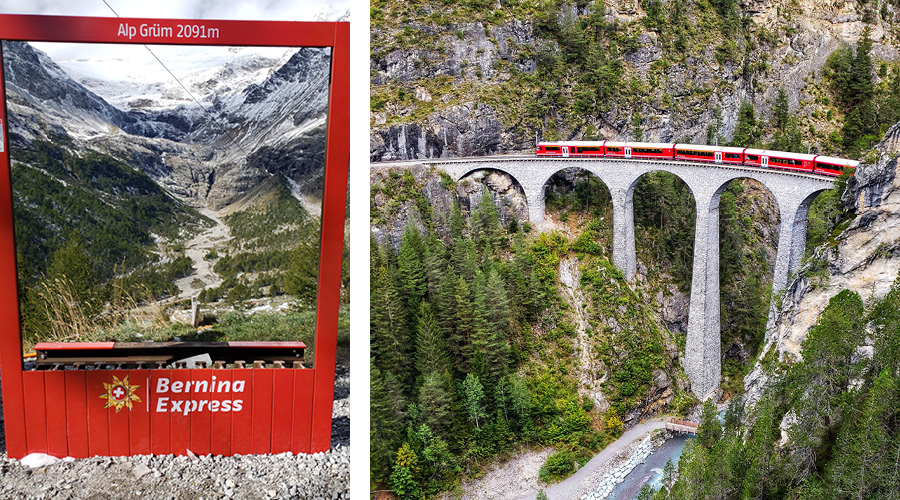 What makes this train ride so magical is the changing altitudes & landscapes along the way. If you take the train during a shoulder season, you can experience lush green valleys then be riding through snowcapped glaciers within a matter of minutes! Although I was in awe through most of the journey, my favorite highlights were the iconic Landwasserviadukt, Lago Bianco, Val Poschiavo and the Kreisviadukt.
Due to the reservation fee for the train, it is best to stay on the train and only get off at recommended photo points. On your return journey, you do not need to take the Bernina Express back. The regional train, Rhätische Bahn follows the same route back to Chur and you can get off and explore your preferred stops this way. I chose to stop at Filisur on my way back to get a closer view of the Landwasserviadukt!
Tip: When reserving your seat from Chur, pick a seat on the right hand side of the train in the direction of travel. The views for majority of the landmarks appear on the right. Additionally, try to book a seat in the first/last wagons – watching the train make all the bends on the route is very scenic and great for photographs!
4. St. Moritz (2 hrs. from Chur by train; 2.5 hrs. from Campocologno by train)
Located in the gorgeous Engadin valley, St. Moritz is often rated as one of the best ski towns in the world. Instead of heading back to Chur after taking the Bernina Express, you can find several trains that go to St. Moritz instead – it's a halfway point to Chur. While I have seen numerous Swiss railway stations, St. Moritz is truly unique because a fantastic view of St. Moritzersee greets you as soon as you step out of the train! Grab a coffee and enjoy a long, pleasant walk around the lake!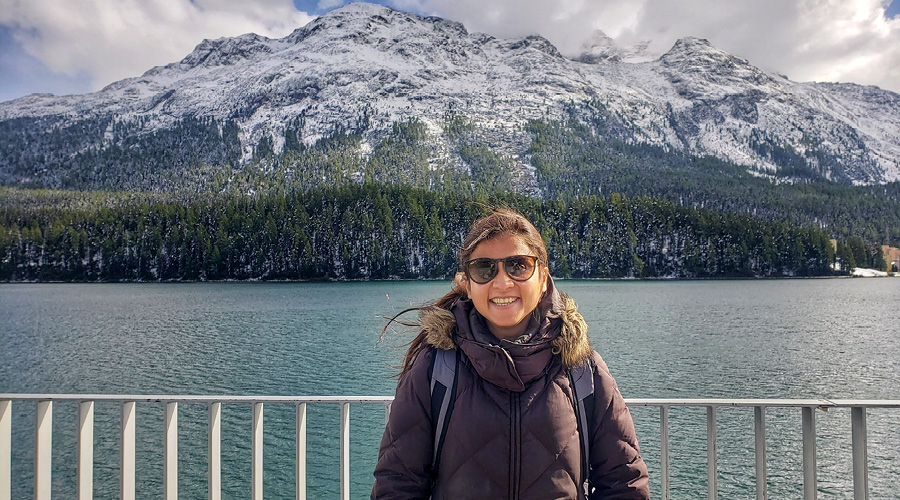 Tip: The negative part in Engadin was that the Swiss Pass cannot be used on any transport such as cable cars and funiculars to summit areas. This makes travel very expensive and limited for a non-skier like me who just wants to enjoy a beautiful view. The best option is to head to the viewpoint at Muottas Muragl which operates between June and October. The sunset from this peak is absolutely gorgeous and the fare is half-off after 6pm, making it the most affordable option of all.
5. Ruinaulta/Rheinschlucht/Rhine Gorge (30 min from Chur)
The three names of this attraction correspond to its Romansh, German and English names. Also known as the Swiss Grand Canyon, the gorge is a result of a major landslide in Flims thousands of years ago. The Rhine River flowing through gigantic limestone rock formations is definitely VERY different from your average Swiss landscape. The gorge is also one of the key highlights on the Glacier Express from Zermatt to Chur. However, similar to the Bernina line, you can experience this stretch on the Rhätische Bahn as well without having to pay the premium. The train itself takes you into the heart of the canyon and drops you off on the riverbed at the Versam station. And when I say riverbed, I mean it literally – for a second, I thought that the train doors had accidentally opened in the wrong place when I did not see an actual platform. The view at the station itself can be underwhelming but the best way to see the gorge is from higher access points which do involve a bit of a hike.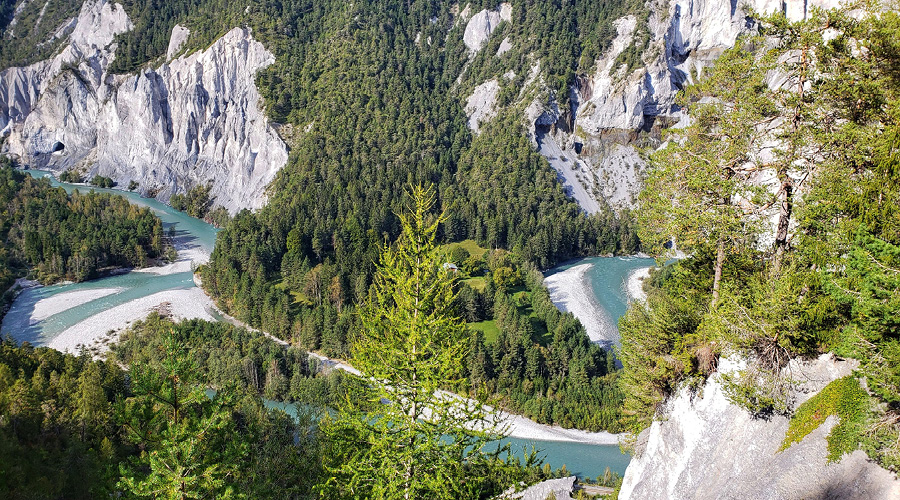 Tip: There are a few viewing platforms to see the gorge, making it confusing when you type in Ruinaulta/Rheinschluct into Google Maps (Rhine gorge will direct you to Germany!). If you enter Ruinaulta into your map it will most likely direct you to a spot near the Versam station which gives you a flat view of the gorge. Type in "Islabord" instead, which is a 30-minute hike (or 10-minute bus ride) from Versam station to a viewing platform. Most of the other platforms are mainly accessible by foot/bike only.
Having left Switzerland after my graduation, I miss this gorgeous country terribly. I am certainly no blogger but writing this travel series over the last few months has let me relive some of the most magical experiences during my student life.
I hope to visit Switzerland again someday and I am sure that even a lifetime is not enough to see the paradise that lies in every nook and cranny of what appears on the outside to be a very small country! If you found these tips helpful, do check out my guides on the regions of Ticino, Interlaken and Jungfrau – safe travels!