Missing the buzz of travel and seeing new places? After her trip to Ticino, MBA student Sandhya Rao shares the story of her second staycation to one of Switzerland's most famous villages, Interlaken.
Every tourist visiting Switzerland for the first time will have one thing in common: a visit to Interlaken, a small town located in the canton of Bern. As its name suggests, it is literally an area between two very beautiful lakes – Thunersee and Brienzersee (See = German for Lake).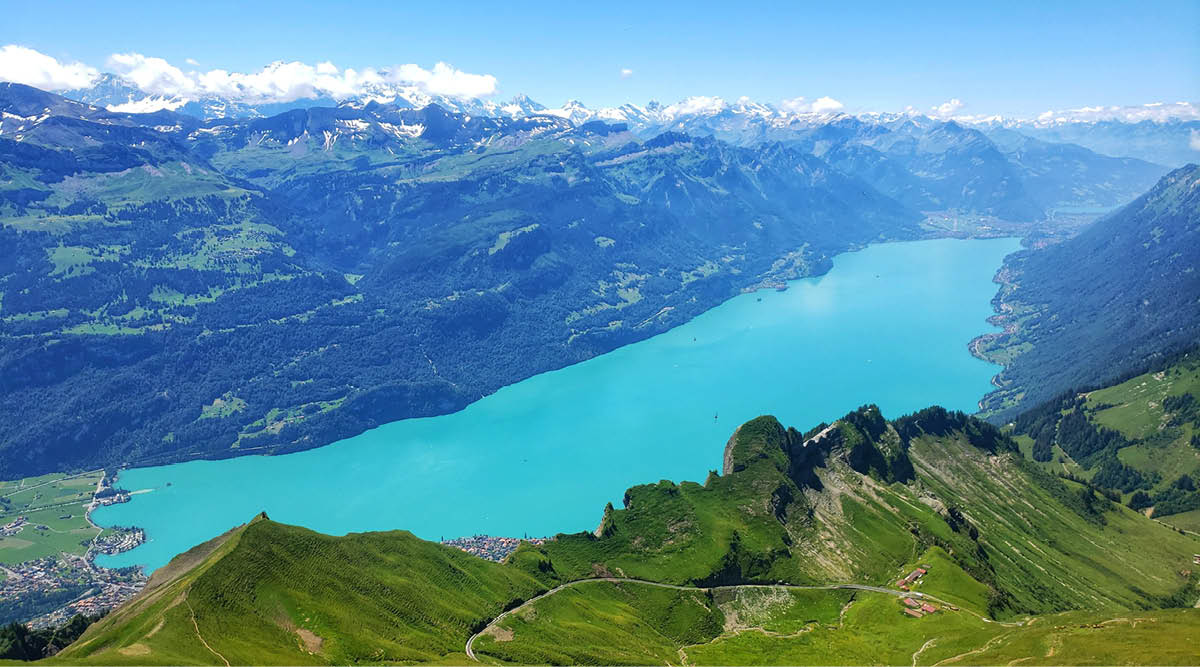 How to get to Interlaken
Interlaken is a 1.5-hour train ride from Sierre, and has two train stations – Interlaken West and Interlaken Ost. Interlaken Ost is on the east side of the town and is the hub for the majority of the trains and connections into the Jungfrau region of Switzerland.
Tip: The distance between both stations is a straight 20-minute walk. For first timers in Interlaken, I recommend getting off at Interlaken West and walking through the main street, Höheweg, to Interlaken Ost.
What to do in Interlaken
Höheweg is now home to Switzerland's largest Ferris wheel, which is a very nice way to get an aerial view of the town and sneak peak of both lakes.
Stop by Casino Interlaken to admire the well-groomed Kurssaal gardens. Bollywood fans, look out for the statue of Yash Chopra!
Visit Harder Kulm – Top of Interlaken, a 10-minute funicular ride from Interlaken Ost. If you feel like hiking down, there are multiple trails that come down to Interlaken and neighboring towns from the top. Interlaken's best attraction, the Harder Kulm, offers beautiful views of Thunersee to the right, Brienzersee to the left, and the Aare River in the center.
Take a boat ride. There are two boat stations in Interlaken:

Interlaken West – Boat rides on Thunersee (Last stop – Thun)
Interlaken Ost – Boat rides on Brienzersee (Last stop – Brienz)
Although both lakes are gorgeous, I am completely biased to Brienzersee. Its turquoise color that is attributed to glacier salts is simply out of this world! The main attraction about this journey is the classic Belle Epoque steamboat, Lötschberg, the distinct horn of which can be recognized immediately.
My top 5 recommendations in the Interlaken area
1. Iseltwald (25 minutes from Interlaken Ost by bus or 40 minutes by boat)
Sitting on the south bank of Brienzersee, this postcard-worth village is probably the place I have visited the greatest number of times in Switzerland because I simply cannot get enough of it. The water of Brienzersee is glass-like on sunny days making it perfect for water activities. Head to the Strandbad Iseltwald to rent a kayak, paddleboard or just for a swim.
Tip: Brienzersee is fed by glaciers. Even in the peak of summer, the water is COLD! I have been accused of threatening the lives of my dramatic friends whom I supposedly did not give fair warning to upon recommending this lake, and one of them is Canadian, so enter at your own risk!
2. Lungern (1 hr. from Interlaken Ost by train)
This village is my second favorite spot in Switzerland after Iseltwald. Although I have only had the opportunity to visit it once, I would go back in a heartbeat. What attracts me the most about this village is that, despite being so picturesque, it is not as crowded as most places in Interlaken. The views of the emerald Lungernsee are fabulous and I recommend doing any of the trails that point up to Turren. Lungernsee is also much warmer than Brienzersee and ideal for swimming and water activities.
Tip: The trail that goes down to Lungern from Turren has magnificent views of the lake. If you prefer walking downhill, take a one-way ticket up and walk back down to Lungern, which takes 1.5 hours.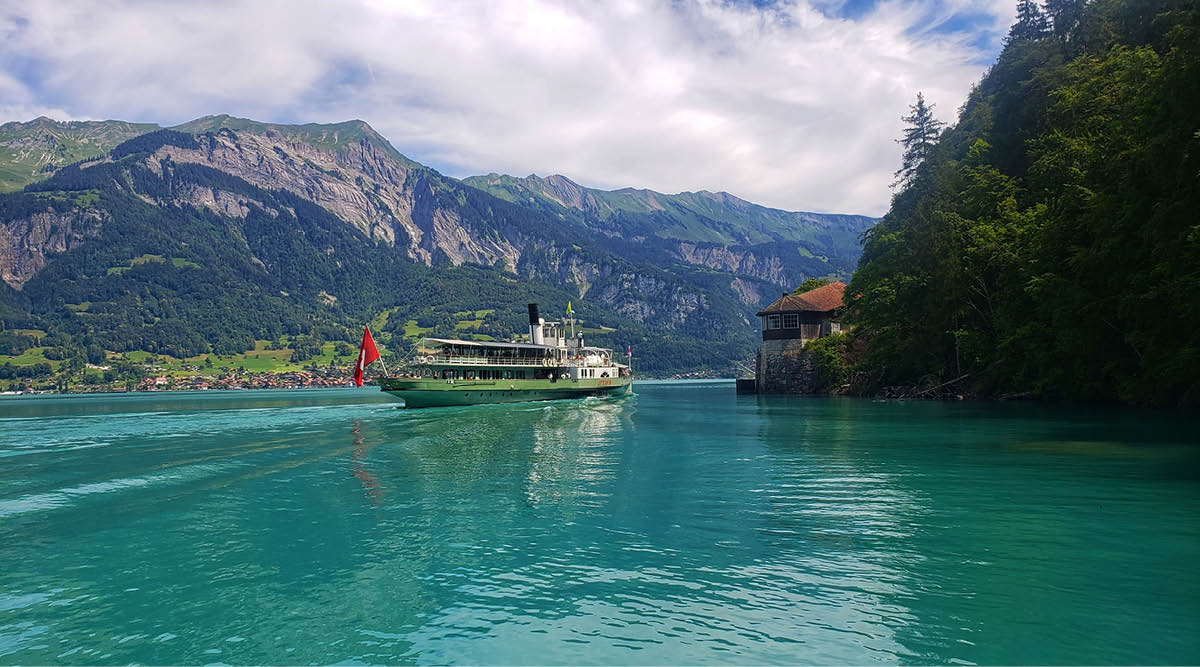 3. Brienz (20 minutes from Interlaken Ost by train)
Located at the tip of Brienzersee, Brienz is a charming little village. Its primary attraction is the Brienz Rothorn Bahn, Switzerland's only (and possibly slowest) steam train that goes from Brienz up to the Rothorn summit. The views of Brienzersee as the train climbs up is simply magical. The summit offers unobstructed views of the Bernese Alps and miles of Brienzersee. There are several hiking options in the area including hiking down to Brienz. The hike can be tricky due to loose rocks and takes almost four hours for beginners – proper shoes are advised !
Tip: Arrive early at the station to get a window seat on the train and make sure you have earphones! The echo of the train moving through tunnels is really deafening.
4. Aare Gorge (1 hr. from Interlaken Ost by train)
Located in the Meiringen area, this unique canyon-like gorge transports you into a Steven Spielberg movie. If you are ever stuck in Interlaken on a cloudy day, this is a good option to explore as it looks magnificent regardless of the weather. Note that this is a seasonal gorge that closes off in winter, therefore plan your visit between April and November. The gorge has two entrances – Aareschlucht West and Aareschlucht Ost. I recommend going in through the West entrance, mainly because you start off with cave-like passages that gradually open up as you walk toward the east, which is quite refreshing.
Tip: The Aareschlucht Ost train station is one of the oddest stations I have seen as it is literally in the middle of a tunnel. If you do not see a platform, you are in the right spot. You should see a sign that says "Aareschlucht Ost Bahn" with grey doors and 2 buttons indicating "Meiringen" and "Innerkirtchen". Press the button for Meiringen and when the train arrives, the doors will open magically into a platform in the tunnel!
5. Sigriswil (45 minutes from Interlaken West or 25 minutes from Thun by bus)
As I mentioned earlier, I am very biased to Brienzersee. This is probably the only spot in my recommendations that is on Thunersee. Sigriswil is a very small village known for its Panoramabrücke or hanging suspension bridge. It offers a panoramic view of Thunersee, the Bernese Alps as well as the village of Sigriswil. "Crash Landing on You" fans, your Swiss itinerary is incomplete without a visit to this bridge!
Tip: The bridge is also a halt that you can make before arriving at Interlaken as it is closer to Thun. This will give you a chance to walk around the charming town of Thun.
If you found these travel tips useful, check out my staycation guide on the region of Ticino and stay tuned for my next blog on the Jungfrau region of Switzerland !