Missing the buzz of travel and seeing new places? Let MBA student Sandhya Rao take you on an armchair vacation to Switzerland's Italian-speaking canton, Ticino.
This has been a strange year for people around the world. The most difficult part for those of us who managed to stay COVID-free has been giving up on day-to-day things that we love. For me, it was traveling. I have been in Switzerland for a year now and, up until mid-March, I could count the number of weekends I spent on campus without traveling on one hand!
As lockdowns were imposed worldwide, all I could do was selfishly pray for the day that Switzerland would recover. Luckily, by mid-May, the situation here had already improved drastically in comparison to the rest of Europe and normality was starting to "resume".
The first staycation I planned was to the lovely canton of Ticino in the Italian-speaking part of Switzerland. It is funny how a change in language can make you feel like you entered a whole other country. I chose to make Lugano my base, which is also known as the "Balcony to Italy" as you can literally see the Italian villages by Lago di Lugano without crossing the border.
Getting to Lugano
Getting to Lugano via public transport from Sierre is a five-hour journey with three to four changes depending on the route chosen. The main routes going to Lugano are via Zurich or Andermatt. I chose the Andermatt route because it was shorter and quite scenic.
Tip – Leave early to arrive in Lugano by mid-day. The route from Brig to Andermatt overlaps with the Glacier Express route. Try to make sure you do NOT get onto this train unless you have a special reservation for it, which costs an additional CHF 33. Note that wearing a mask is mandatory on all public transport in Switzerland!
Magnificent viewpoints to admire Lake Lugano
Lugano has two amazing viewpoints for miles of views of the beautiful Lago di Lugano – Monte San Salvatore and Monte Brè. Both points are accessible by funicular. While these rides are not covered on the Ticino Ticket, they do accept the half-rate card.
Monte Brè is known as the "sunniest mountain in Switzerland". While the view is not as magnificent as from Monte San Salvatore, I highly recommend hiking down from the top of the mountain to the little village of Gandria as the views are unbeatable. The hike down is fairly easy and takes around one and a half hours.
Must-do activities in Lugano
Go for a swim! On a hot sunny day, Lago di Lugano looks especially appealing with its teal tinge. Head over to Parco Ciani's mini beach area for a quick dip between Italy and Switzerland. If you want to avoid crowds, I recommend you go after 5:00 pm.
Watch the sunset at Piazza Rezzonico as all the lights start to turn on alongside the lake. Beautiful!
Take a boat ride to Morcote. Morcote is a little village on the southern side of Lago di Lugano which is a fifty-minute scenic boat ride (discounted by the half-fare card) from Lugano. Enjoy a stroll by Parco Scherrer in Morcote and walk up to Chiesa di Santa Maria del Sasso for a gorgeous view of the village and its lake.
Visit the Swissminiatur Village – The park is located in Melide, which is a 20-minute train ride from Lugano or on the way to Morcote by boat. Architecture in Switzerland never fails to amaze me but seeing everything in a miniature form blew my mind away. See how many landmarks you recognize!
Other beautiful places to visit in Ticino
Bellinzona (30 minutes from Lugano by train)
Bellinzona is a historic town, and capital of Ticino, which is famous for its three beautiful castles – Castelgrande, Montebello & Sasso Corbaro. My favorite is Castelgrande with its beautiful lawns and vineyards. An ideal amount of time to spend in this town is 2-3 hours.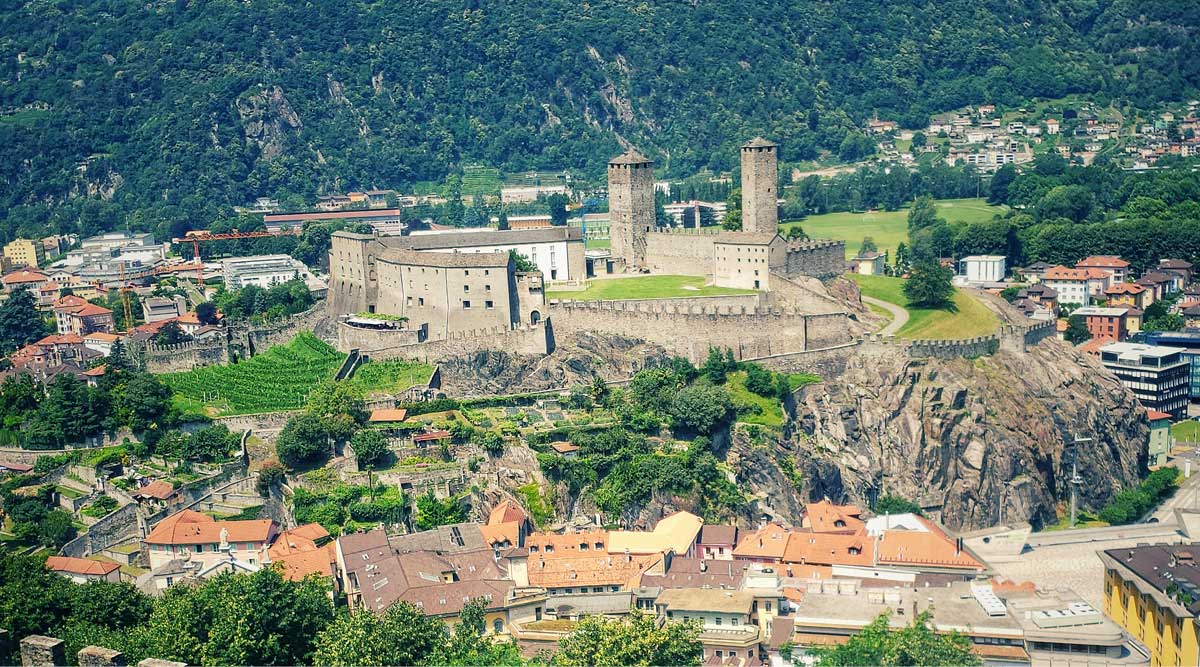 Castelgrande in Bellinzona
Tip: If you are not a big history fan, I recommend just heading up to Castello di Montebello which overlooks the city and offers a great view of Castelgrande. Both Castelgrande and Montebello are a 15-minute walk from the train station while Sasso Corbaro is much smaller and higher up.
Locarno (1 hr. 15 minutes from Lugano by train)
Locarno is on the Swiss side of Lago di Maggiore. Having been to the Italian side of the lake before, I spent limited time in this town but found it perfect for a stroll on the lakeside. I found this shore of the lake to be significantly more modern and cleaner than the south shore of Baveno.
Tip: Locarno is better connected to numerous tourist spots in Ticino via trains and buses and can easily be made a base instead of Lugano when visiting Ticino if you are not a fan of spending too much time on transport.
Valle Verzasca (2 hrs. from Lugano by train and bus)
99% of the pictures you see of Ticino on Instagram are likely taken at the famous Ponte dei Salti bridge in the Lavartezzo area of this valley. The bus to Valle Verzasca is available from Tenero or Locarno and is a very scenic bus ride, changing from lakes to dams and beautiful emerald waters of the Verzasca river. This was undoubtedly my favorite experience in Ticino, and I spent an entire day by the river.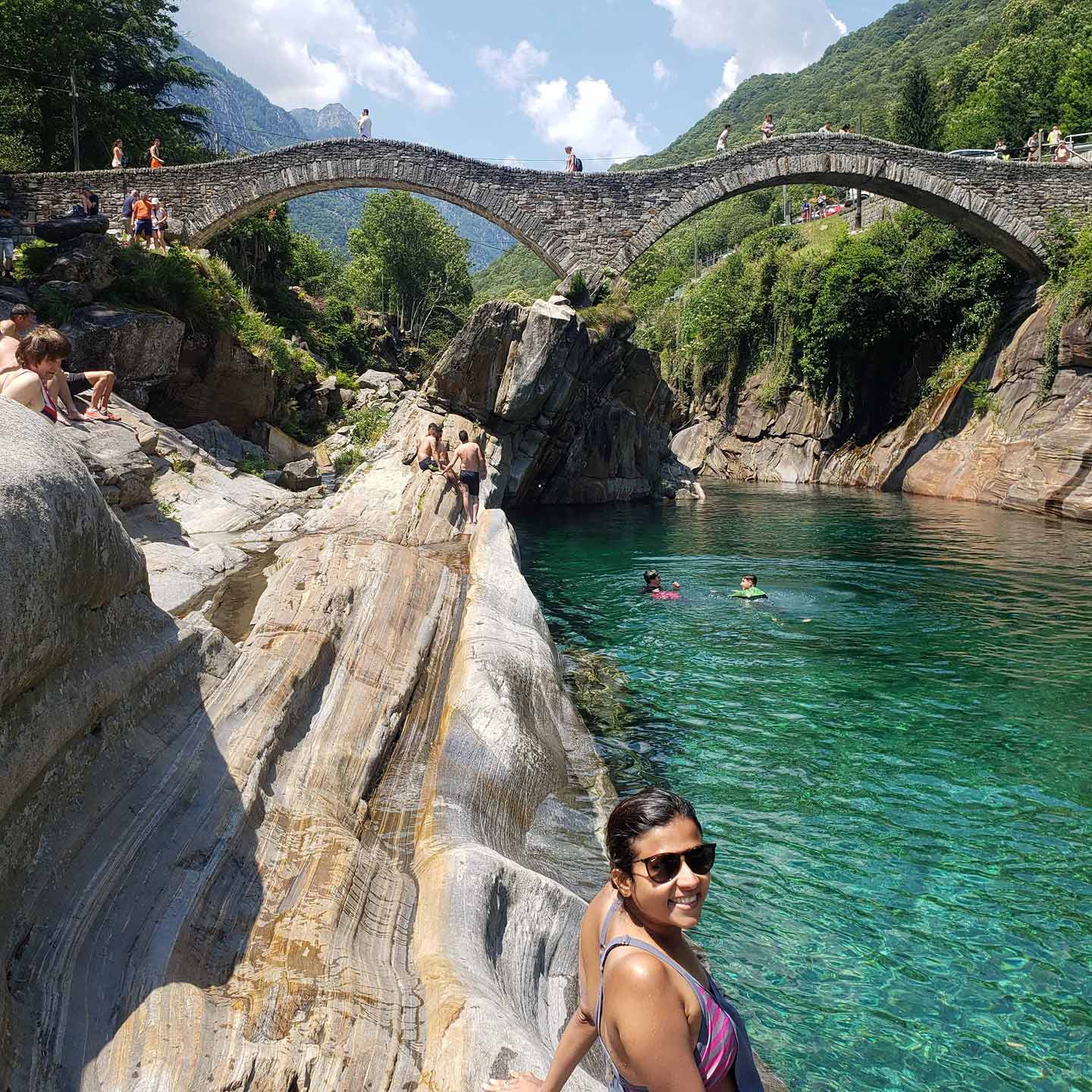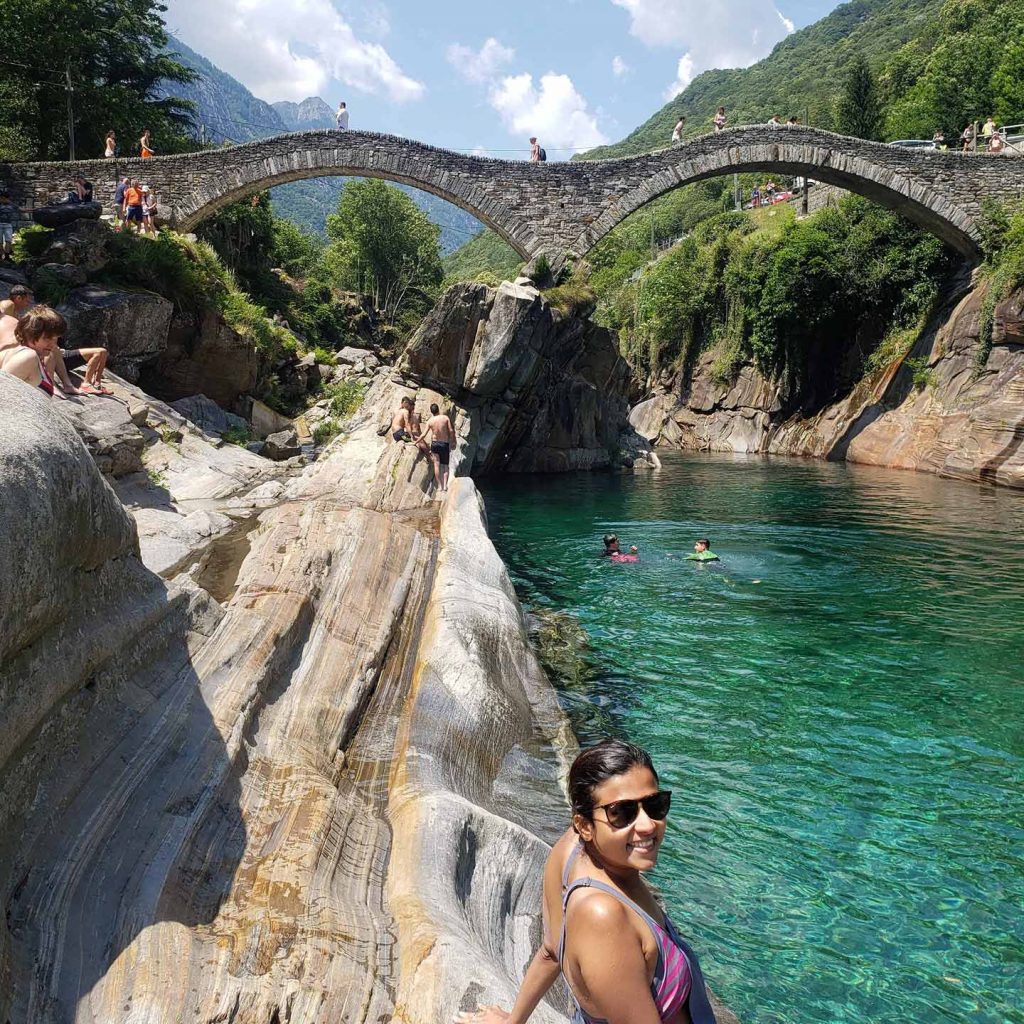 Sandhya at Ponte dei Salti bridge
Tip: Arrive early and avoid weekends as this place can get very crowded. Beware of the rocks as they can be quite slippery in certain areas. As for the gorgeous water, brace yourself – it is practically melted ice even on the hottest day, and watch out for currents if you are not a strong swimmer.
Maggia (2 hrs. from Lugano by train and bus)
Maggia is a cute village located 30 minutes away from Locarno with beautiful stone houses, hiking trails, and home to the Instagram waterfall hotspot – Cascata del Salto. The advantage over Lavertezzo is that the crowds tend to be a more local audience.  
Tip: Do NOT follow Google maps for the waterfall unless you want to take a steep hike that leads you to an empty tragic spot in the woods where Google announces "You have arrived at your destination". Follow Google maps until it leads you to a church by the bus stop. From here, take the trail adjacent to the vineyards. This leads you through some residences before signs for the falls start appearing.
I consider myself fortunate enough for being in the "right place at the right time" compared to many of my friends and family who had not been able to leave their house for days. I hope that this article gives everyone in Switzerland some inspiration for safe travel and for those of you who are unable to travel yet, I hope you can see this beautiful country through my eyes until you can.