Missing the buzz of travel and seeing new places? After her Swiss trips to Ticino and Interlaken, MBA student – and now alumna – Sandhya Rao is back to share her third staycation to one of Switzerland's most famous places: the Jungfrau region.
What makes the Jungfrau region so special? Home to the most fantastic alpine views of the "Swiss Skyline", this region also has some of the most scenic walking trails, pristine flower meadows, postcard-worthy towns and it offers the opportunity to explore historic modes of transportation such as mountain cogwheel trains.
All the attractions in the Jungfrau region are accessible by train from Interlaken Ost Station. If you plan to spend a few days in the Jungfrau region, several passes are available to help you save on transport.
My top recommendations for the Jungfrau region
1. Schynige Platte (1.5 hours from Interlaken Ost by train and cogwheel)
A visit to Schynige Platte, Top of Swiss Tradition, encompasses a scenic cogwheel journey from the town of Wilderswil. This attraction operates from May to October. Visitors are welcomed by a live musical performance by Swiss Alphorn players. Plenty of photo opportunities follow, including an alpine garden with numerous Edelweiss flowers, Swiss bells, and a life-sized photo frame with the alps in the background. The most astounding thing about this attraction is the contrasted view – on one side, you can see the white snowcapped alps with the Big Three Peaks – Eiger, Mönch & Jungfrau – while, on the other side, the views open up to a lush green landscape overlooking the turquoise waters of Lake Thun and Lake Brienz.
Tip: As with any major Swiss attraction, try to get on earlier trains from Wilderswil to avoid crowds and get a window seat for the best views. Note that the cogwheel is the only mode of transportation to the Platte. If you miss the last train down, you will have no choice but to walk down a very steep 1,500m which is painful on the hamstrings! I recommend planning to back in Interlaken by 3 pm so you can pair up this trip with one of the smaller towns around the Interlaken region.
2. Lauterbrunnen (30 minutes from Interlaken Ost by train)
Fun fact, Lauterbrunnen is a valley town. It became quickly clear to me that majority of the pictures I had seen on Instagram were taken by a drone, or from the uphill car-free towns of Wengen and Mürren which are accessible from Lauterbrunnen. Both these towns have gorgeous views of the valley and are the main stations for other major attractions such as Jungfraujoch and Schilthorn. If you are not planning a trip to Jungfraujoch or Schilthorn, I recommend taking the cable car up to Mürren or a short train ride up to Wengen to enjoy a nice sandwich with the views.
Tip: In Interlaken, a single train leaves for both Lauterbrunnen and Grindelwald. Make sure you are sitting in the coach marked as Lauterbrunnen as this train splits into two separate routes midway with one half going to Lauterbrunnen and the other to Grindelwald.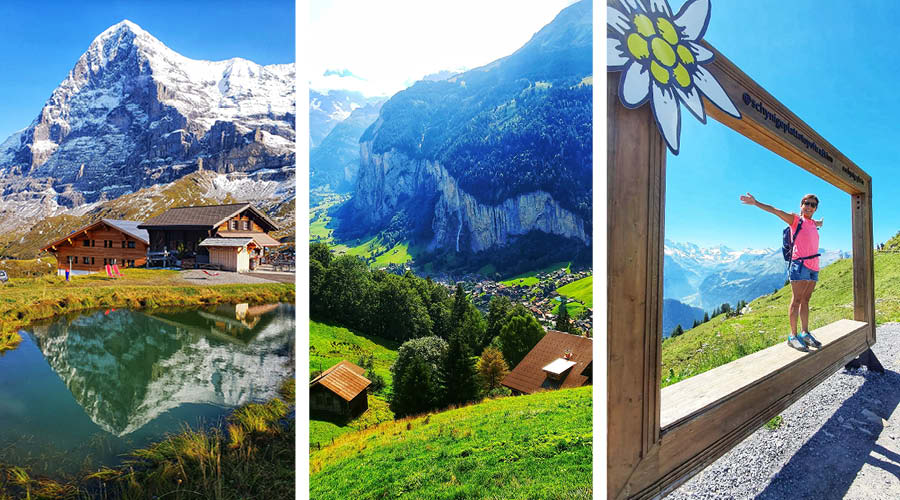 3. Schilthorn Piz Gloria (2 hours from Lauterbrunnen by cable car or train + cable car)
The Schilthorn summit is by far the most breathtaking viewpoint I have experienced in the Jungfrau region. At an altitude of almost 3,000m, you get crystal clear views of the Swiss skyline. This attraction is known for its connection to James Bond as it was a major filming location for On Her Majesty's Secret Service in the '60s. While I am not personally a Bond fan, those of you who are can enjoy various clippings, a walk of fame, trivia, and take a picture with a life-size cutout of George Lazenby, who played Bond in that movie. An experience not to be missed is doing a fun thrill walk at the cable car station right before Schilthorn, Birg.
Tip: There are two ways to visit Schilthorn. Either by a 1.5-hour cable car ride from Stechelberg bus station in Lauterbrunnen, or by taking a cable car to Grütschalp, changing to a train to reach Mürren and back to a cable car from Mürren. Having done both, I personally found the latter to be more convenient, scenic, and comfortable.
4. Grindelwald (40 minutes from Interlaken Ost by train)
I will admit it – the reason I wanted to visit this town was to see if J.K. Rowling got any inspiration for her character from it. While my studies were mostly inconclusive, this is one of my favorite towns in the Jungfrau region because of its intimidating views of the Eiger mountain. Similar to Lauterbrunnen, Grindelwald is also a valley. To maximize your experience, I highly recommend taking the cable car up to Grindelwald First where you can experience a stunning view while doing a cliff walk, which is far less frightening than it actually sounds unless you have vertigo or acrophobia.  
Another option is to also take the cable car up to Männlichen from Grindelwald Terminal, which does not have as many activities as Grindelwald First but still offers some stunning views and easy trails.
Tip: There are several fun rides that you can participate in, such as gliders, when at Grindelwald First. For a huge saving, buy the adventure package that includes the cable car and rides. I recommend doing the rides first as they queue up heavily in the afternoon, especially during ski season.  
5. Jungfraujoch (2.5 hours from Interlaken Ost by train and cogwheel)
And last but not least, Jungfraujoch. Nestled between the mountains of Jungfrau and Mönch at 3,463m, this is Europe's highest railway station, earning it the nickname 'Top of Europe'. It can be visited via cogwheel from Lauterbrunnen or Grindelwald. While the route from Lauterbrunnen is more scenic, I recommend going up via Lauterbrunnen and coming down via Grindelwald as it is included in your ticket.
This is perhaps Switzerland's best known attraction and comes with a very hefty price tag of over CHF200 without a Swiss Pass. So, is it worth it? Yes and no. If there was only one place you could visit in the Jungfrau region, Jungfraujoch is worth the money as you get to see Lauterbrunnen, Wengen, Kleine Scheidegg, Eiger Glacier, Jungfraujoch, Aletsch Glacier, and Grindelwald in a single day. But if you have seen the other attractions, then Jungfraujoch is quite underwhelming and highly touristic. 
Tip: Make sure you reserve a seat for the Jungfrau Bahn for an additional CHF10. You need to switch trains at Kleine Scheidegg to a smaller cogwheel, which is quite small. Do not forget to pack sunglasses – the snow is blinding on top!
I leave you with my most important tip for your visit to the Jungfrau region: do NOT buy tickets for any of the attractions without looking at live webcams before going. Most of these trips are expensive and visibility can be zero on cloudy days at high altitudes; so try to buy your tickets on the day!  Stay tuned for my next blog on the canton of Graubünden!