This group of Les Roches Alumni are prepared to lead the restart of luxury travel and tourism in Spain's capital, Madrid, through their leadership roles at the newly inaugurated Four Seasons Hotel Madrid.
Despite the downturn luxury hospitality has experienced over the past year, Four Seasons Hotels & Resorts strove forward with the opening of its landmark luxury hotel in the trendy Canaletas neighborhood of Madrid.
The company did so knowing that its team of professionals were prepared to adapt to their guests' changing needs, while ensuring the hotel would be at the forefront when the industry eventually restarts.
After seven years of construction and historical rehabilitation of a block of seven buildings in Madrid's Plaza de Canalejas, the Four Seasons Hotel Madrid opened its doors in September 2020. The hotel boasts 22 private residences alongside 200 rooms and suites, the Galería Canalejas luxury shopping mall, and four luxury restaurants, including Dani by 3 Michelin Star chef, Dani Garcia.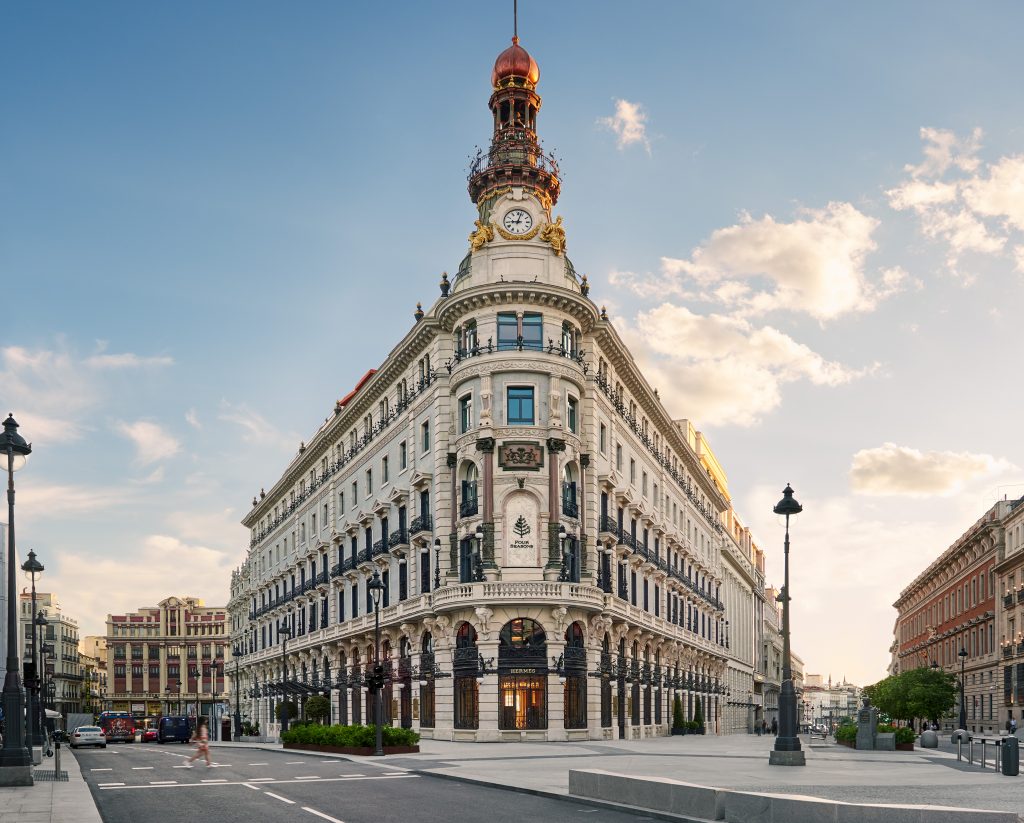 To recruit qualified professionals to lead the grand opening of this landmark hotel, Four Seasons looked to Les Roches graduates to take on the challenge and embody the future vision of the luxury brand. Among them are two graduates of the Bachelor's in Global Hospitality Management, Luis Ibañez, Hotel Assistant Manager, and Francisco Ipiña, Housekeeping Coordinator. They are joined by Sara Milla, People & Culture Coordinator and a graduate of the Executive Master's in International Hotel Management.
Les Roches recently interviewed them in their workplace to get their insights into what it is like working at a world-class hotel in 2021 (see video below).
Les Roches Alumni at Four Seasons Hotel Madrid
Upon graduating from Les Roches Marbella in 2016, Luis Ibañez joined the Four Seasons Management-In-Training (MIT) program at the Four Seasons Hotel Prague. Earning his Bachelor's degree at Les Roches with honors and distinction, Luis developed both the skills and work ethic that led to his career path as the Night Manager at Four Seasons Hotel Prague, eventually bringing him back to his home city of Madrid in 2020 where he now serves as Hotel Assistant Manager.
Joining Luis in the Four Seasons' MIT program was Francisco Ipiña, also an alumnus of the 2016 graduating class at Les Roches Marbella. Francisco obtained his training in Dubai, where he worked as Front Office Acting Supervisor and Guest Relations Ambassador. He also returned to Spain in 2020 to join the opening team of the Four Seasons Hotel Madrid as a Housekeeping Coordinator.
Sara Milla's path to her current position as People & Culture Coordinator took a different route, having graduated in 2015 from the Universidad Rey Juan Carlos with a degree in Tourism Studies. 
After building her career in hospitality with Meliá Hotels International over the next four years, Sara decided she wanted to gain a competitive edge in the marketplace for talented management professionals. She decided to enroll in the Executive Master's in International Hotel Management, after which she was recruited by the HR team from Four Seasons Hotels & Resorts.
Together, these three talented professionals are helping to shape the future of luxury hospitality in Spain and their dedication is paving the way for future graduates of Les Roches to follow in their footsteps.
Want to keep reading? We recommend these blog entries: