July 23rd, 2021 was a special day for the Les Roches Marbella community. On this day, more than 80 nationalities came together in Marbella's Palacio de Congresos to congratulate our graduating class of 2021. Watch the video below to get a glimpse of what that day was like.
To our graduating students, congratulations on this enormous achievement. You've shown us again and again the real meaning of outstanding. Remember that this is not a goodbye, it's a farewell.
Speeches and presentations
The Palacio de Congresos was chosen for this event due to its bigger size, in order to accommodate all our graduating classes, faculty and students' families – all while maintaining social distancing rules. Our Director of Operations & Student Services Manager, Mr. Emmanuel Soler, was our master of Ceremony for this event.
The event began with welcome speeches by Mr. Carlos Díez de la Lastra, Managing Director of Les Roches Marbella; Mr. Félix Romero, First Deputy Mayor and Delegate Councilor of Finance and Public Administration, Commerce, Industry and Public Roads of Marbella Town Hall; Dr. Ainhoa Otamendi, Undergraduate Program Manager; and Mr. Jon Loiti, Graduate Programs Manager Les Roches Marbella.
After a motivating speech by Ms. Maribel Rodríguez Gamero, Acting CEO of the WWTC (World Travel and Tourism Council), the event gave way to the Les Roches Marbella Awards 2021.
Les Roches Marbella Awards
The Les Roches Marbella Awards are our way of recognising people that have made outstanding and significant contributions to our community and to the industry. The awards were granted as follows.
The Hospitality Golden Key Award recognises professionals who have committed their lives to making significant and fundamental contributions to the industry, which have in turn have impacted our lives.
In the current situation that the industry is going through, the World Travel and Tourism Council has worked closely with companies and governments to restart the travel and tourism sector. Maribel Rodríguez Gamero received this award in representation of the WTTC.
The Inspiring Young Talent Award is given to companies that foster youth employment and career development. This year, the award goes to the Four Seasons Hotel in Madrid.
The Social Responsibility Award was granted to Cudeca, a non-profit organization that offers professional medical care to patients suffering from cancer or other advanced illnesses. Cudeca has helped thousands of patients and their families, all free of charge, since their beginnings in 1991. Ms. Esther Raéz received the awards, as well as a check for more than 2.700€ raised through the Les Roches Marbella Sustainability Club.
The Mentor Award was granted to Mr. Francisco Moya. Paco, as he's known to staff and faculty, has been a part of our community since 2015 and has been described as Les Roches Marbella's happiest and most hospitable employee.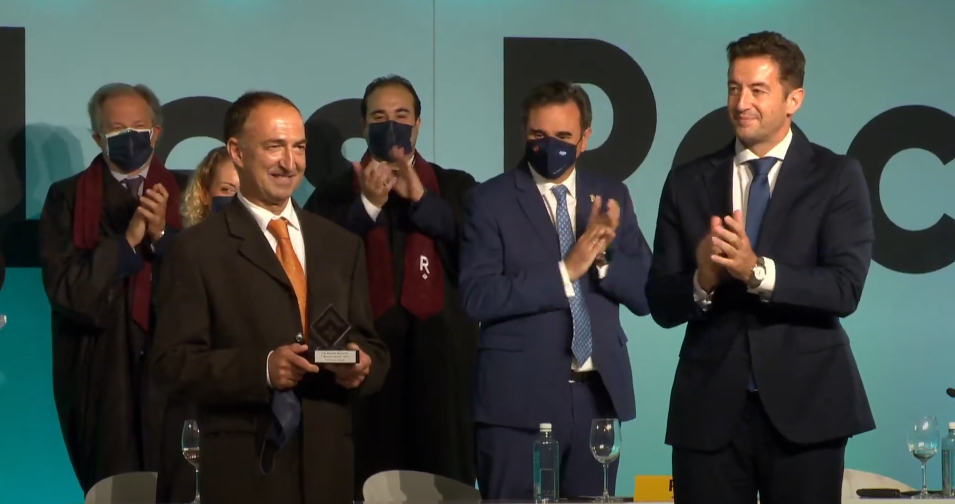 The Way of Life Award is granted to students who portray the essential values of the school, that is: the spirit of teamwork, solidarity and the spirit of service through passion and excellence. The Way of Life Award was granted to Diego Cascante, who has impacted the lives of many Les Roches Marbella students. Thank you Diego, for your commitment to our school.
Student Awards and Credentials
Ivan Sánchez-Jara Saez, on behalf of the I class of the Executive Master's in International Hotel Management.
"As I said, a new chapter starts today, a future full of opportunities, challenges, adventures, success, learning and growth – but especially passion for what we do: hospitality".

Ivan Sánchez-Jara (EMIHM)
Samara El-Khadri and María Cara Gilabert, on behalf of the I Class of the Master's in Marketing for Luxury Tourism.
Mauro Sonja Van Hemden on behalf of the III class of the Master's in International Hotel Management.
David Muñoz Alcázar on behalf of the VI class of the Postgraduate Diploma in International Hospitality Management and the V class of the Executive Postgraduate Diploma in International Hotel Management.
Marta Bertini Ferrari (valedictorian) on behalf of the XXIX class of the BBA in Global Hospitality Management.
"New places to remember will come, but the people I've met here will always be an important part of my life, and I'll always bring you all in my heart".

Marta Beritini Ferrari (BBA)
Watch the LVII Closing Ceremony
Interested in learning more about Les Roches? Keep reading: