July 2021 saw the Les Roches Marbella LVII graduation ceremony take place at Marbella's Palacio de Congresos. In this three-part series we're calling "Looking back but heading forward", we sat down with some students to reminisce about their time with us. Our third and final featured student is Diego Cascante, BBA in Global Hospitality student.
Ask anyone about Diego Cascante at Les Roches Marbella, and see a big smile to their face. Diego was awarded the Les Roches Marbella Way of Life 2021 Award, and with good reason.
We asked Diego to comment on what Les Roches means to him, his favorite moment and how his time with us has helped him to become a better professional.
Feelings ahead of graduation day
Graduation day is obviously the combination of almost three and a half years of studies, so once you walk through those hallways and into those classrooms you really feel nostalgic because you feel all you've grown and learned through those years.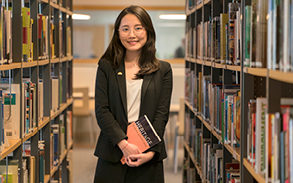 What would you tell your past self in BBA1
There's a reason why Les Roches is so strict on appearance and there's a reason why we focus on the small details. It's a process and you have to trust it, so trust the process. It's something that may be unnatural at first, but then it becomes second nature.
Internships and moving to a new continent
I think the biggest challenge at Les Roches is packing your suitcase and moving across the globe for 6 months (for internships). It's not a challenge in itself but it's obviously thrilling to have that new experience and totally move into a new continent. It's a rush you'll never forget.
Internships really put into practice what you've learned, but as much as any company will teach you to follow the rules, it really never prepares you for the unexpected. My favourite memory during my experience was when a guest arrived with a broken wheelchair. We took the wheelchair into the maintenance department free of charge. Being able to give back, and having every day be different is what makes hospitality so unique.
There's something about learning how to do things yourself.
There's something about learning how to do things yourself and then putting that into practice. One of the first things that became very clear to me in Les Roches was the importance of appearance. I learned how to properly iron my shirt, and that's something that I do everyday.
During internships you are provided with a uniform, so I had a feeling of appreciation towards the hotel employee whose task was to press my uniform every single day. It's about the little things and how they accumulate to the big things.
What the future holds for me
I think after graduation I'd like to take some time off to really think about what's next. The recovery period is starting so now, from a professional perspective, it's all about being amongst the best to stand out.
Keep reading about Les Roches: