July 2021 saw the Les Roches Marbella LVII graduation ceremony take place at Marbella's Palacio de Congresos. In this three-part series we're calling "Looking back and heading forward", we sat down with some students to reminisce about their time with us. Our first featured student, Benedetta Fenzi, is graduating from the BBA in Global Hospitality Management.
Benedetta has a long history when it comes to hospitality. Her family has owned a small farmhouse in Tuscany since 1932, which serves as a boutique hotel and restaurant. This has enabled her to be immersed in hospitality from a very young age, and to be surrounded by different visitors and guests from all over the world.
This year, she graduated from Les Roches Marbella. In this video she reflects upon her time with us, her favorite moments and what lays ahead for her future.
Feelings ahead of graduation day
It's a bittersweet feeling. I'm very happy because I'm going to move forward and see what the future is planning for me. But at the same time it's very sad to leave my friends, my teachers, Les Roches, Marbella and everyone else.
So I'm happy but at the same time very sad. It's hard to say. The teachers always tell us that we have to be happy and we have to appreciate what the future is giving us, so that's what I'm going to do.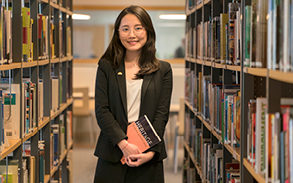 Biggest challenges
I think that for me my biggest challenge was to sit down and concentrate on my education. Living in Marbella is very fun, it's full of things to do and distract yourself. And in Les Roches everything is so dynamic and fast-paced. So for me it was a challenge to slow down and concentrate on learning one thing at a time.
Another huge challenge was adapting to a new world and to come to an international school and speak in a different language than my mother language. Learning new languages, and meeting new people was definitely my biggest challenge but also my biggest achievement at the same time.
What would you tell your BBA1-self
I have to admit something, the day before coming to Les Roches I was crying because I didn't want to come and I was scared that I would not make friends. You know, whenever you have to take a big step, you're always scared of change.
What I would tell myself is that I should go and have fun. I should not be scared because I would meet so many great people and make so many great friends that will be with me for life. I'd tell myself that I will be happy and enjoy this journey and I'm going to cry a lot when it's time to leave.
"There are chickens in the school!" – favourite anecdote
In BBA4, before the pandemic started, my best friend (who was my flatmate) and I did something crazy. We got two chickens.
They appeared at the reception at the school and Juan, the receptionist, told us "There are chickens in the school!" and our response was "…ok!". So we brought them home and we created a house with mosquito nets. We went around to the rural area to look for wood with my friends and it was one of the best experiences that I've had here.
My internship experience
I did my first internship in Hotel Lungarno which is located in the city center of Florence, in Tuscany. The hotel sits on top of the Arno river, which was amazing because while I was working and doing paperwork I had this beautiful view of the Ponte Vecchio. To this day, it's one of my favourite places in the world and I still visit my old colleagues when I go to Florence.
One experience that sticks out in my mind is my first day working as a concierge – completely alone. A guest came up to me and was very angry and said "I don't know why, but I don't like the plan that your colleague gave me!". The problem was that this guest in particular was leaving in one hour!
I had to reschedule everything for him and maintain my calm. I'm sure it was thanks to Les Roches that I was able to adapt quickly to the situation and manage my stress, if not I would have freaked out! In the end the guest was very happy and I got a very good tip, which was very much appreciated.
What lays ahead for your future after graduation
This is a very strange question for me because you know when you say something outloud, it means that it's real.
I'm going to Dubai to do an MIT as a sommelier in LPM Restaurants. I have a big passion for wine, I even developed it here in Les Roches when I was the head of Wine Club. I'm very sad to be leaving Les Roches but I will carry it with me in my heart always.
How Les Roches taught you to motivate yourself
Les Roches is not only classes, as I said before it's very dynamic. You have to keep up with a lot of stuff like academics, activities, being an Ambassador… So the motivation comes along because you want to show what you can do and you want to achieve the best results. There are a lot of people motivating you and pushing you including your friends and the teachers.
So there isn't like a clear class on how to motivate yourself to achieve your goals. Motivation is intrinsic when you interact with your classmates, when you're in activities and when you see your teachers leading by example.
If you want to read more about Les Roches we recommend: