We're back with a new Swiss Staycation Guide! This time it's Bachelor student ambassador Oishika Pal sharing her amazing trip to Spiez and the beauties that surround the town!
Nestled between the hills and vineyards making it stunningly picturesque, Spiez, on Lake Thun, is a really appealing destination. In this guide, I'll share what I've gathered about traveling to the enchanting town and what you can do there.
I'm not sure I'll ever be able to adequately express my admiration for Switzerland's natural beauty. Every time I go out and explore somewhat more, all I end up doing is falling even more in love with the beautiful scenery and natural surroundings. It makes me realize how fortunate I am to have had this opportunity during the course of my Bachelor's degree.
Recently, I visited a beautiful town and municipality on the shore of Lake Thun, in the Swiss Canton of Bern. To offer you all a quick overview of the town, the area between the Kander and Lake Thun is currently known as Spiez. What I think is interesting about the town is that it is small but charming, making it ideal for a day trip!
How to get to Spiez?
You may travel with a car through the Lötschberg Tunnel, which takes about 1 hour 55 minutes. Otherwise, you may also take the train to Spiez, which takes 1 hour 30 minutes. I would suggest to take the train because of the lovely scenic beauty which made me enjoy every minute of the journey. I traveled from Bluche to Sierre, then changed trains in Visp to get to Spiez.
Four things to do in Spiez
1) Take a stroll
The gorgeous view of the entire town hovering over the famed Lake Thun greets you as soon as you exit the station. Allow the panorama to awe you every minute as you walk down to the lake through lovely vineyards or mountainous roads.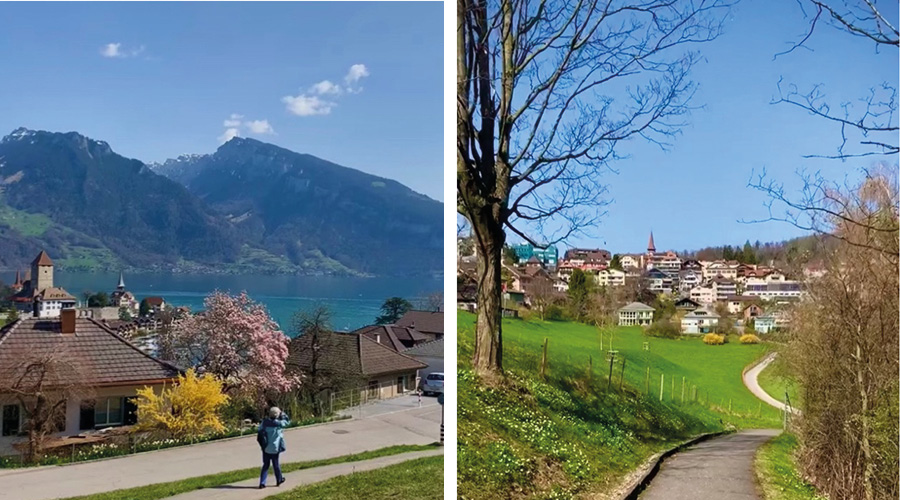 2) Grab a bite
I recommend grabbing a pizza from the "Riviera by Elio" Pizzeria, which is surrounded by other eateries and cafés. The pizzas are prepared directly in front of your eyes in a clay oven, making you drool and want to eat as quickly as possible. After getting my pizza, I decided to sit beside the lake and eat my meal while watching ducks swim across the water and, most importantly, enjoying the lake breezes.
3) Take a boat ride
As I walked along the lake's shore, several people were out on their sail boat. You can, however, hop aboard the local boat, which runs every hour and conveniently stops at both Interlaken and Thun!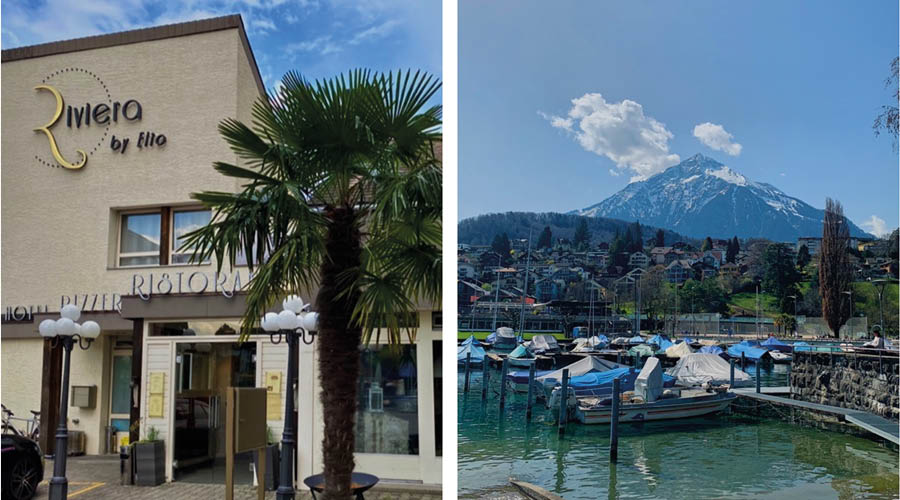 4) Explore the Castel and its vicinity
When walking right up from the Town Square, you can observe the majestic castle, which illustrates the transition from a medieval era to a patrician era. The grounds also include the early Romanesque Castle Church and a well-kept lawn, thus making it a charming and relaxing cultural and tourist destination.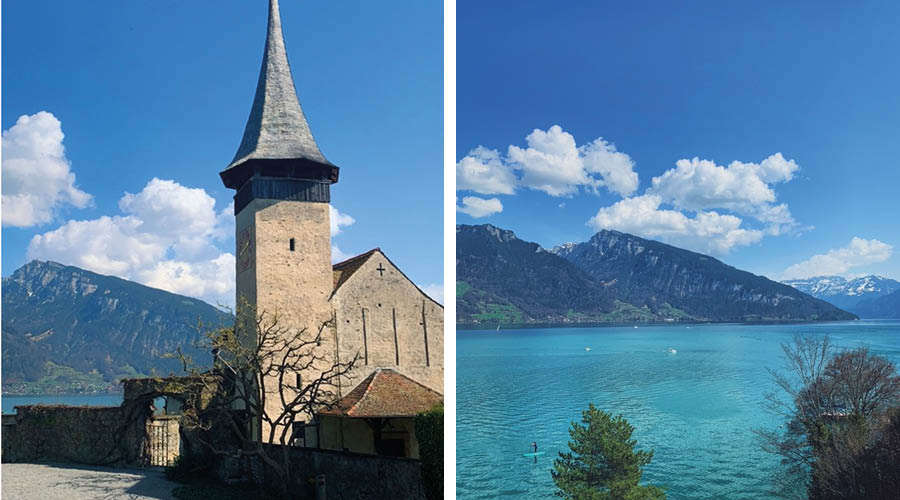 I truly believe that all parts of Switzerland – cantons, cities, and countryside – are breathtakingly beautiful, but I have a soft spot in my heart for small towns and municipalities, perhaps because of their rustic architecture or truly astonishing views. Spiez has always appealed to me throughout the years and I have always wanted to visit it. Therefore, you should all go visit the charming tiny town someday and enjoy your time there as much as I did.
Stay tuned! There will be Swiss Staycation Guides to come.
Want to keep reading? We recommend: