Our popular Swiss Staycation Guides are back! And for this semester they will be courtesy of MBA semester 1 Student Ambassador Patrick Finocchiaro. For his first report, Patrick provides a guide to Gstaad and its extraordinary Iglu-Dorf…
While studying in Switzerland, there is no doubt that travel across Europe is at your fingertips; however, beautiful Switzerland is often overlooked by Les Roches students. 
I have also been an offender: jetting off to Sicily, Mallorca, and Mykonos every other weekend; however, recent Covid-19 events have made us stop and say, "I live in Switzerland. Why not travel within this amazing country in which I study?" I did just that during this past Easter weekend.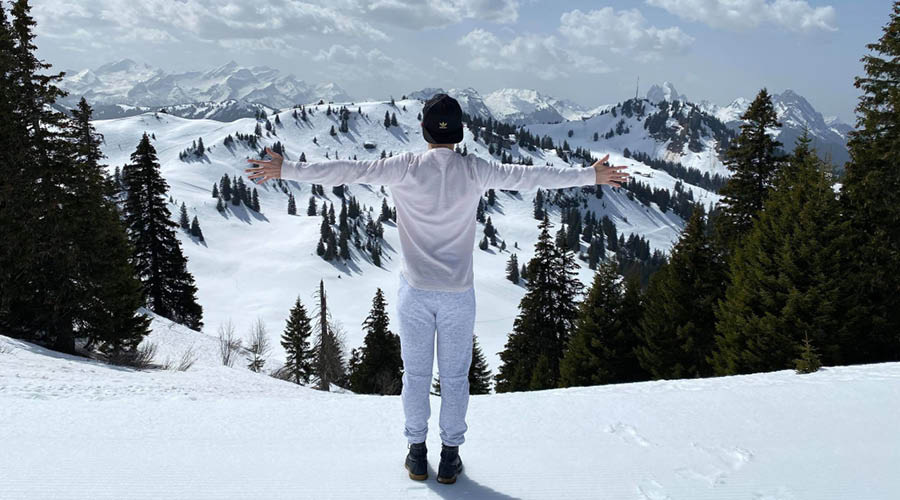 Logistics: let's go to Gstaad! 
It is difficult to get frustrated with European lockdowns when Gstaad is a picturesque train ride away! Gstaad, known for its posh shopping, incredible skiing, and eclectic, luxury resorts, is a German speaking city located in the Canton of Bern. 
With this itinerary, you will be passing Gstaad and stopping in Saanenmöser, a sleepy ski town with challenging slopes. You will then take an enclosed gondola from Saanenmöser to Saanerslochgrat, the mountain's summit. At this stop, you will be able to access Iglu-Dorf Gstaad, a resort made completely from snow and ice! 
TIP: When departing, book the three tier SBB train ticket from Bluche/Randogne to Saanenmöser. After arriving in Sierre from Bluche, via the funicular, you will board the IR train to Montreux. From Montreux, you will transfer to your final train; the Golden Belle, a classic locomotive experience that ascends from Montreux to Saanenmöser in what feels like minutes (you will be creating Instagram stories the entire time with the views!). 
Make sure you depart on the 08:19 funicular to reach Saanenmöser by 11:30am. This way, you will be just in time for a quick takeaway lunch from the supermarket across from the Saanenmöser train station.
First Stop: The Igloo at Saanenmöser   
Iglu-Dorf is not your average resort experience. If you are looking for a chalet ski lodge with crackling fireplaces, you will be freezing! In fact, Iglu-Dorf is located at the top of Saanenmöser's ski slopes where it reaches nearly -7 degrees Celsius in the evening to preserve the structure. Iglu-Dorf holds a patent for its unique construction, utilizing massive balloons to shape the igloo. The balloons are covered with snow, ice, and water before they are popped to leave behind the igloo itself.  
Your itinerary at Iglu-Dorf will include the following: 
An Aperitivo Hour (or three!): Check-in begins at 16:00, which allows you and your friends to enjoy some cocktails, take incredible pictures, and relax after a long week of studying! In the daytime, the sun is shining, and the temperature is warm (in April). We enjoyed the nearly three hours of free time, and some of us even took a quick nap! 
Snowshoeing: After check-in and a detailed tour of the resort, the wonderful staff will take you for a snowshoeing experience with all equipment provided! Merit and her colleague Merit (yes they have the same name!) will be sure to fit you with the right size snowshoes and poles for balance. After the fitting, they will explain the different mountains visible by eye in the surrounding cantons. 
Fondue anyone?: A weekend is not complete without traditional Swiss fondue! Anytime between 19:00 and 21:00, you and your group will be treated to fondue (included in your rate).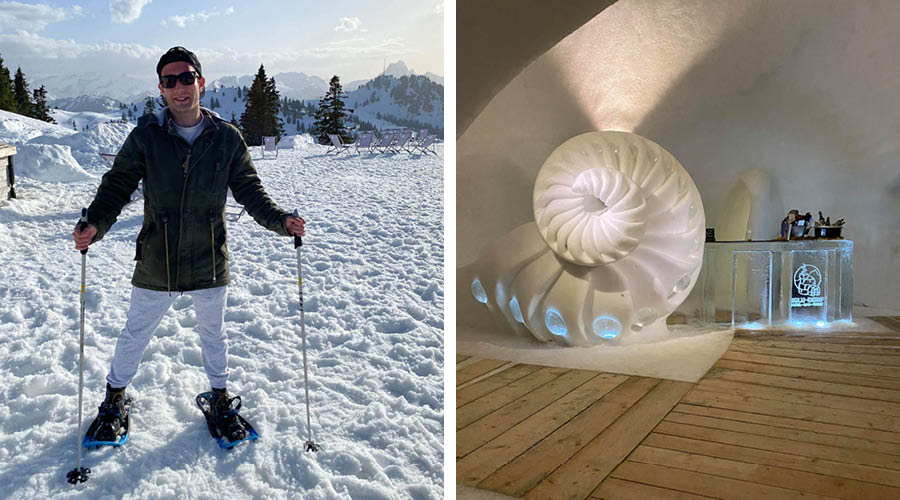 Hot tub and sauna: Due to covid-19, the resort is blocking off times per party to use the hot tub and sauna. Make sure you pack a bathing suit and towel. Since temperatures are low, ensure to relax in the sauna with a cup of mint tea for ten minutes after exiting the hot tub; this is healthy for circulation and will prevent you from passing out due to the stark change in temperature between the hot tub and outside. I would also suggest booking a spot at the hot tub and sauna before dinner, as you will surely be full after all the fondue! 
Sleeping (brrrr!): The evening will be cold! Make sure you pack two to three changes of WARM clothes in addition to your ski equipment. Sleeping is in thermal sleeping bags atop fur covered ice blocks. You might be thinking, "hypothermia"; however, you will be surprisingly warm. Wear thermal or spandex pants, a comfortable shirt, and a winter hat and you will be perfectly snug for an evening in the igloo! 
Good morning!: Breakfast is included! Enjoy pastry and local meats along with a cup of hot cocoa before descending the mountain via the Saanerslochgrat gondola. Once you arrive at the bottom of the mountain, take the train from Saanenmöser to Gstaad for the next stop on the itinerary.  
TIP: Arrive PREPARED. Ski clothing is HIGHLY RECOMMENDED, including ski pants, ski goggles, snow pants, and skis! I accessed in boots, sweatpants, and a winter jacket: DO NOT DO THIS! This made entry from the lift to the resort and slippery, as it is a steep, snowy path off to the side of a ski run. 
SEASONAL: Iglu-Dorf is opened from December until April, so plan your trip accordingly!
To book this incredible experience, visit Iglu-Dorf – Hotel · Bar · Events (iglu-dorf.com). 
Top three recommendations for Gstaad during Covid-19 
1) A Shopper's paradise on the Gstaad Promenade 
Louis Vuitton and Hermès are just two of the many luxury shops on Gstaad's main Promenade. Accessible just one block from the train station, the Promenade is the central attraction for Gstaad. Studded with patisseries, clothing stores, and take away restaurants, you can enjoy a relaxing afternoon getting lost amongst the traditional chalet architecture.  
TIP: Many stores are closed; however, some are open. Be prepared to wait to enter some stores, as the smaller boutiques are maintaining a five-person capacity.    
2) Drink and eat like a local at Bro's Coffee Bar and Apero Lounge 
I would highly recommend visiting the local hangout for some take-away beer, wine, or cocktails from Bro's Coffee Bar and Apero Lounge. This is a local favorite recommended by our dear friend Merit back at Iglu-Dorf. Try the Surf, a Gstaad favorite consisting of Coca-Cola and local alcoholic bitters made from herbs and clove. Once you receive your order, get lost on one of the residential side streets for a stroll, as the bar is located at the end of the Promenade. 
3) Cappuccino Gstaad 
Your afternoon pick-me up awaits at Cappuccino Gstaad. A posh eatery for breakfast, lunch, and dinner, Cappuccino Gstaad is a great destination for take away pizza before ending your day in Gstaad. The Pizza Cappuccino topped with Tandoori chicken and tikka masala was incredible, and I highly recommend! 
TIP: Ensure you visit Gstaad on a sunny day! Walking the Promenade during Covid-19 is one of the most exciting attractions of the city as many activities are closed. 
·      Want to experience more of Switzerland? I will be "staycationing" for the next year as I earn my MBA here at Les Roches. The next destinations will include Gruyere, Zurich, St. Moritz, Tolochenaz, Geneva, and many more!
Discover more Swiss Staycation guides: