MBA Student Ambassador Patrick Finocchiaro is back with a whole new Swiss Staycation Guide! This time, let's discover the wonders of the beautifully authentic region of Fribourg!
Since the last Staycation Guide, Switzerland has relaxed pandemic regulations, allowing patrons to dine outdoors on terraces and enjoy small outdoor gatherings. That is why my trip to Murten and Fribourg was well spent enjoying "apero" time, relaxing on the lake's edge, and walking the cobblestone streets studded with medieval architecture. If you are searching for a Saturday day trip, a visit to Canton Fribourg is certainly worth your time. Here are some recommendations to make the most of your trip.
First Stop: Murten
My first stop in Canton Fribourg was Murten, a quaint, German and French-speaking Medieval town tucked away on a small lake. Fifteen minutes from the highway, the small roads leading to the city allow views of small farms, grazing cows, and luscious fields of yellow rapeseed that bloom each year in May. A different perspective from the mountains of Valais that we see at Les Roches, Murten is the perfect getaway for a change of scenery from the classic ski resort.
TIP: Les Roches offers trips to wonderful cities like Murten nearly every weekend, and it's easy! You just need to visit the Les Roches Sports & Events on Moodle to see the weekend trip options. If you missed the signup, or you are just too excited to wait, Murten is still worth a visit via train. Check the timetable from Bluche/Randogne to Murten on the SBB app.
1) Medieval City Walls
The top attraction in Murten is the Medieval City Wall, offering the best aerial pictures of the city. It is a tight squeeze and can get your knees shaking if you are afraid of heights like myself, but it was worth the adrenaline! I was able to take some fantastic pictures and push myself out of my comfort zone. There is an option as well to ascend higher into a tower to get even better pictures, which my friends took advantage of!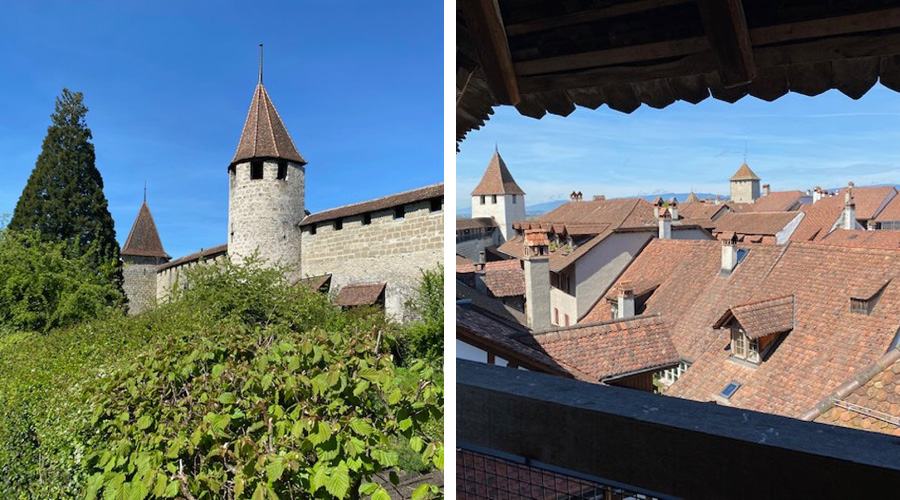 2) Patio and Terrace Dining
When in Europe, "apero" time is constant. Murten was no exception! The main cobblestone path affords a litany of dining options for breakfast, lunch, and dinner. All the restaurants are local and one of a kind! I enjoyed an espresso and quiche at a local eatery, while my friends ordered crepes, it was fantastic to sit in the sun and listen to the quiet sounds of clock towers striking the hour.
TIP: Consider making a reservation for patio dining at the height of lunch (12:30-15:00). If you see a place you might want to try in the morning, give them a call for a lunchtime table for when you are done touring the Medieval Wall!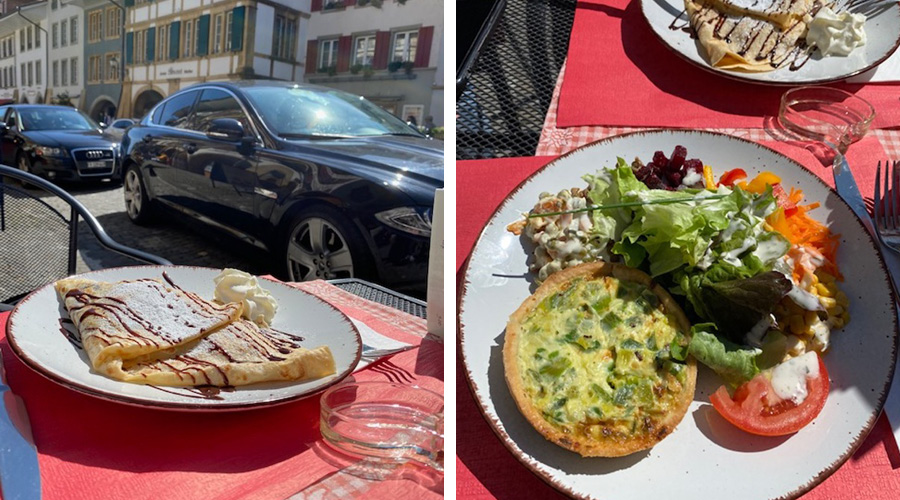 3) Lake Murten
Quaint and unique, Lake Murten is a peaceful oasis to sunbathe, chat with friends, and let time pass by. This is where my friends and I spent the most time, clocking nearly two hours chatting, taking pictures, and watching the swans float past. This is also a great place to see Murten architecture from afar.
TIP: If you cannot seem to get that table you wanted on the main road, head to Coop and pick up some cheese, wine, and beer and enjoy a picnic on the lakeside green. This is something I would do again when I return, and I was envious of the couple who had a pre-arranged basket with them!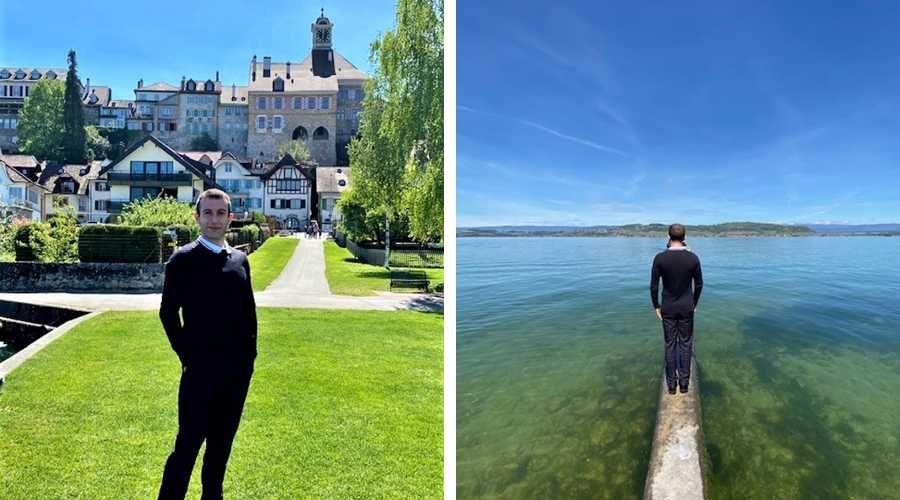 Second Stop: Fribourg
Fribourg, the main city of Canton Fribourg, is a nice contrast to Murten. Fribourg is a larger, Gothic city with a classical European feel because of the unique architecture and café lifestyle. The city has two areas: the Old Town and the main city. The Old Town has steep cobblestone streets and terrace bars, perfect for exploring leisurely and taking pictures. The main city maintains the same charm as the old town but is more industrial, with unpretentious retailers, ice cream shops, and outdoor patios to enjoy beer.
Here are my top three recommendations for Fribourg:
1) Strolling Through the Old Town
The Old Town is captivating. I love great architecture and old-world cobblestone streets, especially for picture taking! The Old Town of Fribourg is by far one of my favorite "old towns" I have visited in Europe. My friends and I walked through the streets and visited a local terrace bar for an Aperol Spritz. Though the Old Town is not necessarily rife with activities, it is certainly a place to enjoy the lifestyle and character of the city.
TIP: Be sure to wear comfortable walking shoes! The steepness of the streets and cobblestones are not ideal for dress shoes, heels, or flats. You will be most comfortable in light clothing and supportive footwear.
2) Holy Cow! Burgers
Take away and watch Fribourg go by was my motto when it came to dining. Though ice cream patios and bars were open for outdoor dining, there are not a large number of restaurants serving full meals. After many recommendations from others, my friends and I decided to get burgers from Holy Cow! I ordered a Maui Maui burger with pineapple, while my friends had vegetarian burgers; therefore, Holy Cow! appeals to any palate or dietary need (they also have chicken burgers!). After we received our order, we went to the Fribourg city center, overlooking the beautiful Cathédrale Saint-Nicolas, and ate our burgers at a public wooden table (1.5 m apart from everyone of course!).
TIP: Make sure you order the full meal at Holy Cow! Some of the best French fries I have ever eaten came with the burger.
3) St-Nicholas Cathedral
Whether you are religious or not, St-Nicholas Cathedral is an iconic, Gothic church that cannot be missed. Beautiful from both the outside and inside, St-Nicholas Cathedral is home to beautiful stained-glass windows. There is also a tower in which you can ascend to see the entire city.
TIP: Ascend the 365 steps to the cathedral's tower where you can overlook the entire city of Fribourg, which would be the perfect place to take pictures. That said, viewing the church from the ground either outside or inside is enough to appreciate this beautiful Gothic masterpiece.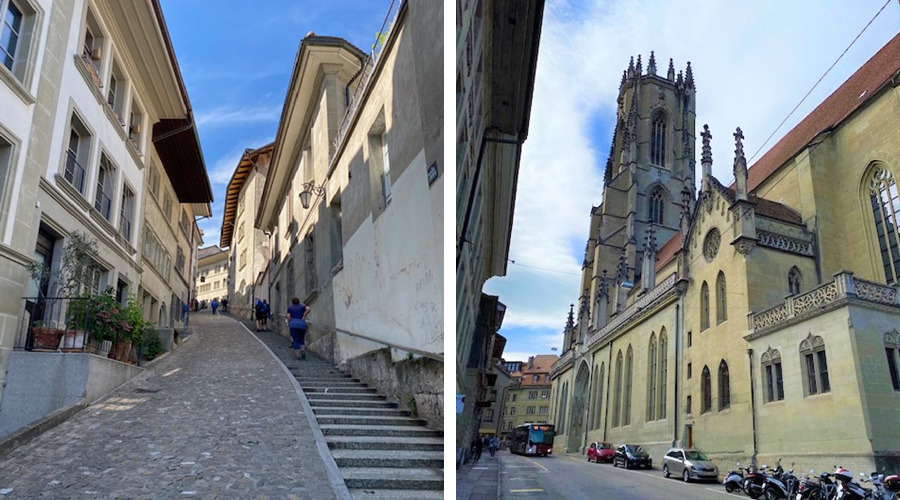 Canton Fribourg is a great getaway from Valais for the weekend! Pay a visit to any one of these cities this spring, and do not miss out on seeing the Gothic and Medieval regions of Switzerland.
Where am I off to next? It just might be home to a famous infinity pool, but you will have to see in next month's post! Thank you for reading.
Want to keep reading? We recommend: