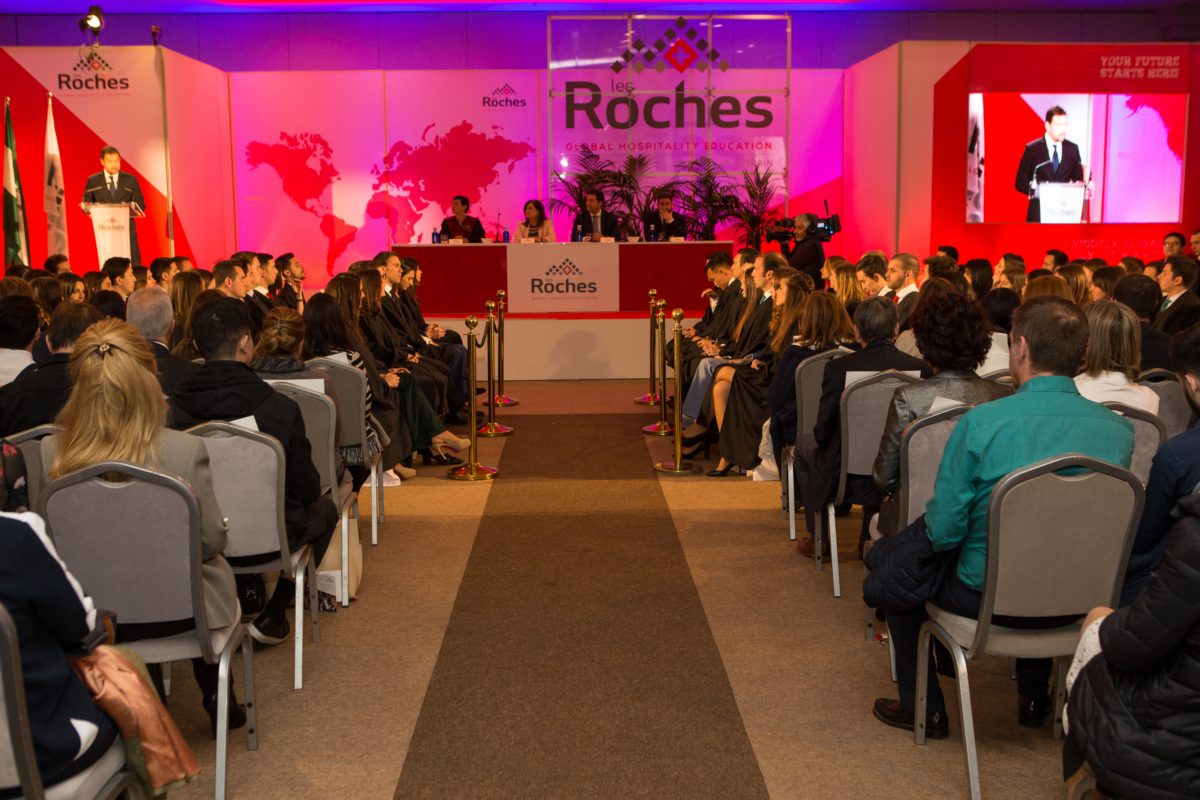 Les Roches Marbella Global Hospitality Education celebrated its XLVII Closing Ceremony last Friday. A total of 59 students received their Postgraduate Diploma in International Hospitality Management and an additional 15 received their Postgraduate Diploma in Marketing Management for Luxury Tourism. The new graduates come from 17 countries: Azerbaijan, Belgium, Canada, Colombia, Croatia, Greece, Hungary, India, Italy, Kazakhstan, Lebanon, Morocco, Portugal, Romania, Russian Federation, Ukraine and Spain.
The ceremony was chaired by Carmen Díaz García, General Director of Culture, Education and Historical Heritage of Marbella Town Hall, and Dani García, Chef and Entrepreneur, who delivered the closing speech. Carlos Díez de la Lastra, General Manager of Les Roches Marbella and Maria José Aparicio, Academic Director of Les Roches Marbella, also intervened on behalf of the faculty.
Video of the XLVII Closing Ceremony [full ceremony]
Carmen Díaz García stressed that "it is an honor for me to share this closing ceremony with the students, teachers and the entire Les Roches community. This is a school that has achieved international prestige for being the best in hotel training, a prestige that also contributes to the city of Marbella. I want to thank you for what this means for our city. On behalf of the city of Marbella, congratulations on your hard work, congratulations on what you do as hospitality professionals. To all the graduates, the city of Marbella and the City Council is always with you,. This will always be your home and we will always welcome you with great joy".
Dani García in his emotional speech shared with students his own experience as an entrepreneur since its inception 25 years ago and his own reflections for which he has achieved success. He emphasized to the graduates that "the most important thing in your personal and professional life is your attitude. Without a positive attitude, you will never overcome obstacles and achieve success. Also, attitude towards failure is key and you have to believe in yourselves without caring about what others will say. You must believe that you can change the world through your actions if you do things with enthusiasm. In the face of adversity, you must continue with even more desire, ethics, and integrity. If you do so, you will always have a second chance." Dani concluded by saying "Do not forget that it is important to accept failure to be able to accept success, the most important thing is to be humble. Always accept success but with humility."
During the ceremony, the tenth edition of the Les Roches Marbella Awards was handed out, which were as follows:
Les Roches Marbella "Inspiring Young Talent Award" was awarded to the Puente Romano Beach Resort & Spa hotel for promoting youth employment and recruiting, over the past 20 years, more than 170 students and 11 graduates of Les Roches Marbella who, at present, form part of its staff in positions of responsibility. The award was received by its General Manager, Mr. Jorge Manzur, and Ms. Catalina Bernal, Director of Human Resources.
Les Roches Marbella "Social Responsibility Award" was granted to the Multiple Sclerosis Association Marbella-San Pedro Alcántara-Estepona and was accepted by Dulce Córdoba del Rey, president of the association AMPMNA. Postgraduate students handed over the check with the funds raised for the association through various activities they have carried out during their studies.
Photos of the XLVII Closing Ceremony