Although it sits within one of Spain's premier tourism regions, the Costa Del Sol, Marbella has so much more to offer than just luxurious seaside resorts. In this article you will find some fun and interesting facts about the city which provides a home to one of the best hospitality schools in the world: Les Roches Marbella!
Originally a mining town & fishing village
Marbella's fame as the jewel of the Costa del Sol did not begin until the 1950s (see below). Prior to this, the town was known for its iron ore production. At one point, Marbella's smelting furnaces, with ore mined from the nearby mountains, produced 75% of Spain's iron. Relics of this past can be found in the old architecture throughout the city; however, the most notable landmark is the blue loading dock that rises out of the sea off the shore of Marbella's Cable Beach. It was here that boats would arrive to load mined minerals into their hulls.
The local community grew thanks in part to this important industry and, as a result, the fishing industry grew along with it. Today, seafood is an important part of the local cuisine. You can visit the fishing harbor in the downtown area of Marbella where fishing boats are moored, nets are mended, and fishermen unload their daily catch to be delivered to the local markets and restaurants.
It's jet-set reputation came about thanks to a breakdown!
In 1946, German Prince Maximilian de Hohenlohe-Langenburg and his son Alfonso were traveling in the area when their Rolls-Royce car developed a fault just as they were close to the then fishing community of Marbella (with a population at that time of just 900). Suitably enchanted by the area, Alfonso acquired some land, built a home for himself, and then sold plots to his wealthy friends from the Thyssen and Rothschild families. His personal home, Finca Santa Margarita, became so well-liked by tourists that he converted it into the Marbella Club, the first upscale hotel on the Costa del Sol, in 1954.
It's a celebrity playground
Celebrities from all over the world, including Hollywood stars, flock to Marbella. Many have vacation homes there, including Antonio Banderas, Melanie Griffith, Eva Longoria, and Simon Cowell. Hollywood legend Sean Connery was also a fan of the city during the height of his fame, owning a villa beside the sea, between Puerto Banús and San Pedro, which he named Malibu.
Marbella has become a movie destination in its own right
Marbella has appeared in many films and now has its own Film Office. A few examples of the movies that have been filmed in Marbella throughout the years include: Scent of Mystery, Holiday in Spain, The Idol, and The Impatient Alchemist. To these can be added locally produced works like Santiago Segura's Torrente 2: Mission in Marbella, or José Coronado's La Caja 507. The importance of cinema to this community even led to the establishment of the Marbella Film Office, which has since been responsible for the management of more than 50 different films and recordings.
There are 4 Michelin-starred restaurants currently in Marbella
One of the best parts of traveling is discovering the amazing local gastronomy! Marbella will not let you down when it comes to amazing food. The city is home to four Michelin-starred restaurants, led by two star eatery Skina, which is located in the city's old town and is home to chef Mario Cachinero. There are also three Michelin one-star establishments: El Lago, Nintai and Messina.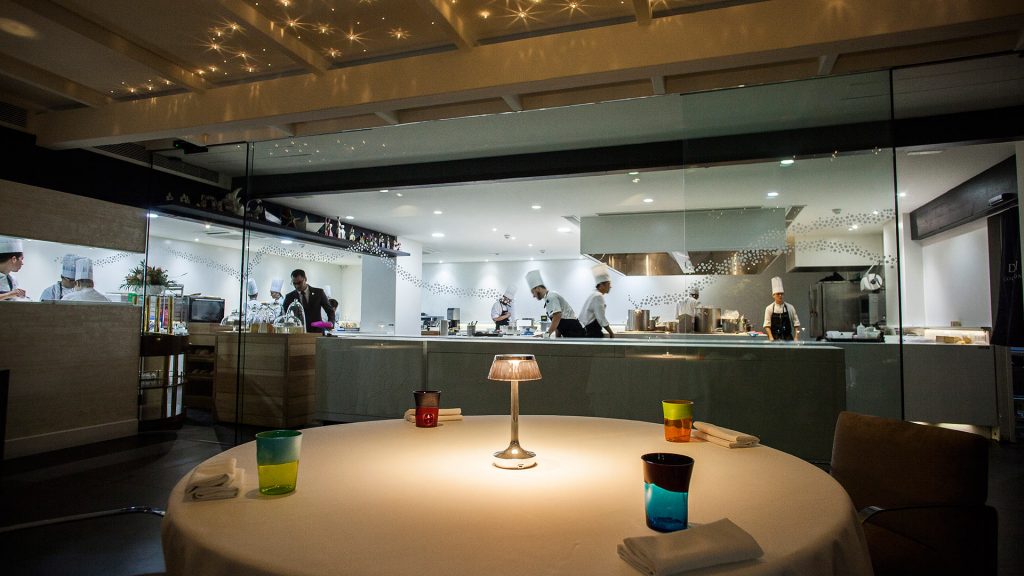 27km of coastline includes 7 beaches with the Blue Flag
The Blue Flag certification is the gold standard of clean beaches. Issued by the Foundation for Environmental Education (FEE), it certifies that beaches meet stringent environmental, educational, safety and accessibility standards.
Today, Marbella has seven Blue Flag beaches. From the impeccable urban beaches of Casablanca to El Faro with its exclusive beach clubs, also Guadalmina in San Pedro de Alcántara, El Cable, Puerto Banús – Levante, Venus-Bajadilla and Adelfas-Alicate, which was a new Blue Flag beach in 2022. Take a long walk along the city's promenade and you will see right away why Marbella's beaches are so treasured. Or take a tour in a boat around the coastline of Marbella and you can encounter dolphins.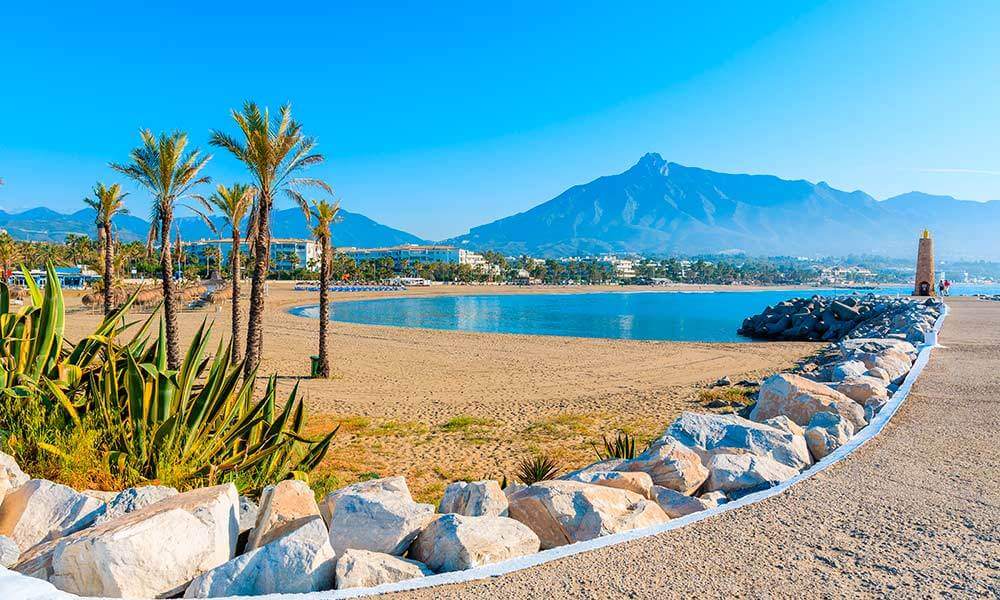 A golfer's paradise with 17 courses to choose from
There are 47 18-hole golf courses in Málaga Province, and 17 of them are located in Marbella alone. Marbella is a golfer's dream and, during the mild winter months, they flock here to enjoy the luxury of the city's climate and its perfect golfing conditions. Nearby, you can also find the world-famous Valderrama Golf & Country Club, home to top international golf tournaments each year. 
Marbella is a truly international city
Marbella is a true global melting pot – around 25% of the city's residents were born outside of Spain, with the nationalities having the largest presence being British, Moroccan, German, Ecuadorian, and Italian. Les Roches Marbella offers a perfect example of the city's unique multicultural coexistence. The student body includes around 90 nationalities and, when you combine this with Marbella's international luxury tourism industry, you'll find people from all across the globe enjoying the beauty and world-class amenities the city has to offer. You will, for sure, make a lot of international friends here!
There's incredible nature all around Marbella
Nature lovers, don't get too scared by Marbella's luxury and modernity! If you want to get away from it all, then Marbella is still the perfect destination as it is also home to some great natural wonders. These include the natural sand dunes of "Las Dunas de Artola", and the mountain park, Sierra de Las Nieves, declared by UNESCO as a Biosphere Reserve.
Surrounded by mountains and sea, Marbella's natural environment is well preserved. The area is home to many different species of protected flora and wildlife that span beautiful mountain ranges, valleys, and gorges. The city's natural beauty is available for all who wish to trek the hundreds of kilometers of trails located along the coast and mountains to the north. However, it may get hot up there, so don't forget your bottle of water!
A must-see, free open air museum of Salvador Dalí
Even if you are not a big fan of surrealism, you cannot miss Salvador Dalí's uniquely bizarre sculptures. Ten of his posthumously-produced bronze works are located in the picturesque Avenida del Mar park, between the historic old town and the seafront. Despite the controversy that surrounded the origins of the works, they have become a must-see landmark and a rare opportunity to enjoy a beachfront, open-air museum. The park also hosts many free art and cultural events throughout the year for residents and tourists alike to enjoy.
The oldest villa in Marbella dates back 2,000 years
La Villa Romana was built long before the city became home to the rich and famous. Dating back to the 2nd Century B.C., the ruins stand out for their quality and originality of their mosaic designs. Since 1960, when they were first discovered, the ruins have been slowly excavated to include an interior patio (atrium) and several rooms located around it. It is a rectangular-plan arcaded enclosure, with corridors covered on three sides, in which the roof was supported by twelve columns. Today, only the bases of the columns remain preserved. While you can visit the Villa Romana, this one is not for rent!
Article by alumna Alexandra Jourdan-Astruc. For more travel tales, why not check out Alexandra's blog Virevolte.