Ever wondered what insider industry experiences are like for Les Roches students? This is the second part of a two part series talking about industry visits, guest speakers and one-on-one sessions with luxury professionals – all included in our Master's in Marketing and Management for Luxury Tourism.
The importance of arranging visits to luxury establishments, and having guest lecturers, is simple. We want to play an active role in our students' learning in the hotel and hospitality industry. The objective is to validate what they learn in the classroom by getting a behind-the-scenes look at the "real world" outside.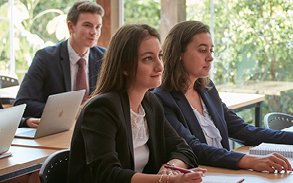 The types of industries we take an "up close' look at vary from year to year. Our students visit establishments and get private lectures from professionals in jewelry, luxury cars, private banking… in short, any area that we think could be interesting for our students and will improve their understanding of the luxury sector, and the changing needs of its customers.
How to manage VIP luxury personal shopper experiences
El Corte Inglés is probably Spain's largest chain of upscale shopping centers. In response to a growing demand by both customers and luxury brands who wish to have a dedicated space to showcase their products in a more elaborate environment, El Corte Inglés is leaning more and more towards VIP luxury services in its stores.
Our students visited El Corte Inglés in Puerto Banús, Marbella, and were met by Gaël Vignon, Marketing Manager for El Corte Inglés who is heading efforts in the fields of international marketing and luxury development.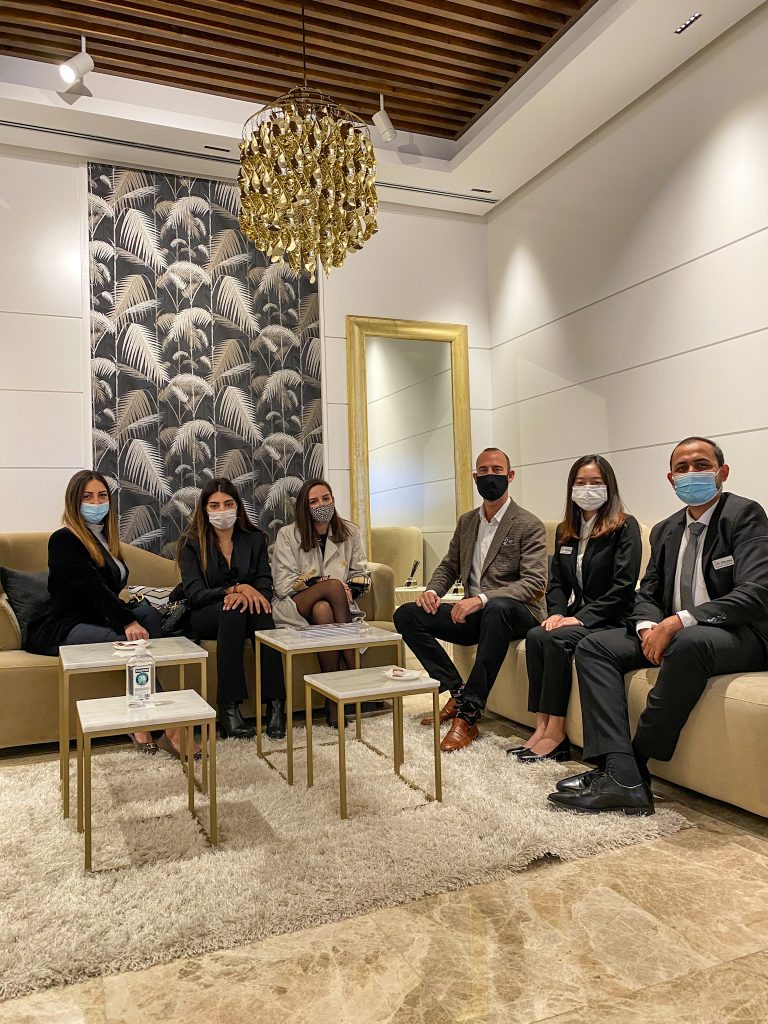 Our students got an insider's view into what's involved in managing the luxury personalized services offered by El Corte Inglés Marbella's very own Xquisit Shopping access key. Complete with a secret door closed off to the general public, this service allows international clients to access exclusive services like a VIP concierge, personal shoppers, international shipping services and a private wellness lounge.
Visit to Puerto Banús – Marbella's luxury shopping destination
Puerto Banús is a seaside luxury shopping complex in Marbella which receives more than five million international tourists and visitors each year. With the aim of understanding the positioning of various luxury stores in the complex, our students visited brands like Chanel, Louis Vuitton, Hermes and Loewe.
In order to give them a fuller understanding of what goes on in the marketing management side of these stores, Ms. Castiñeira's fashion retail course offered students a private showing of the exclusive luxury retail services on offer.
Up close and personal with Lamborghini and Elefant Travel
As part of the Master's program, our students received guest lecturers from various industries related to the luxury segment. One of the names that stands out is Roberto Febré, Marketing Manager for Lamborghini Barcelona. He gave our students an outstanding presentation on the essentials of dealing with clients in the luxury car industry. In a very motivational tone, he finished by sharing his views on achieving success by saying "you will never achieve great things sitting on the sofa waiting for the phone to ring".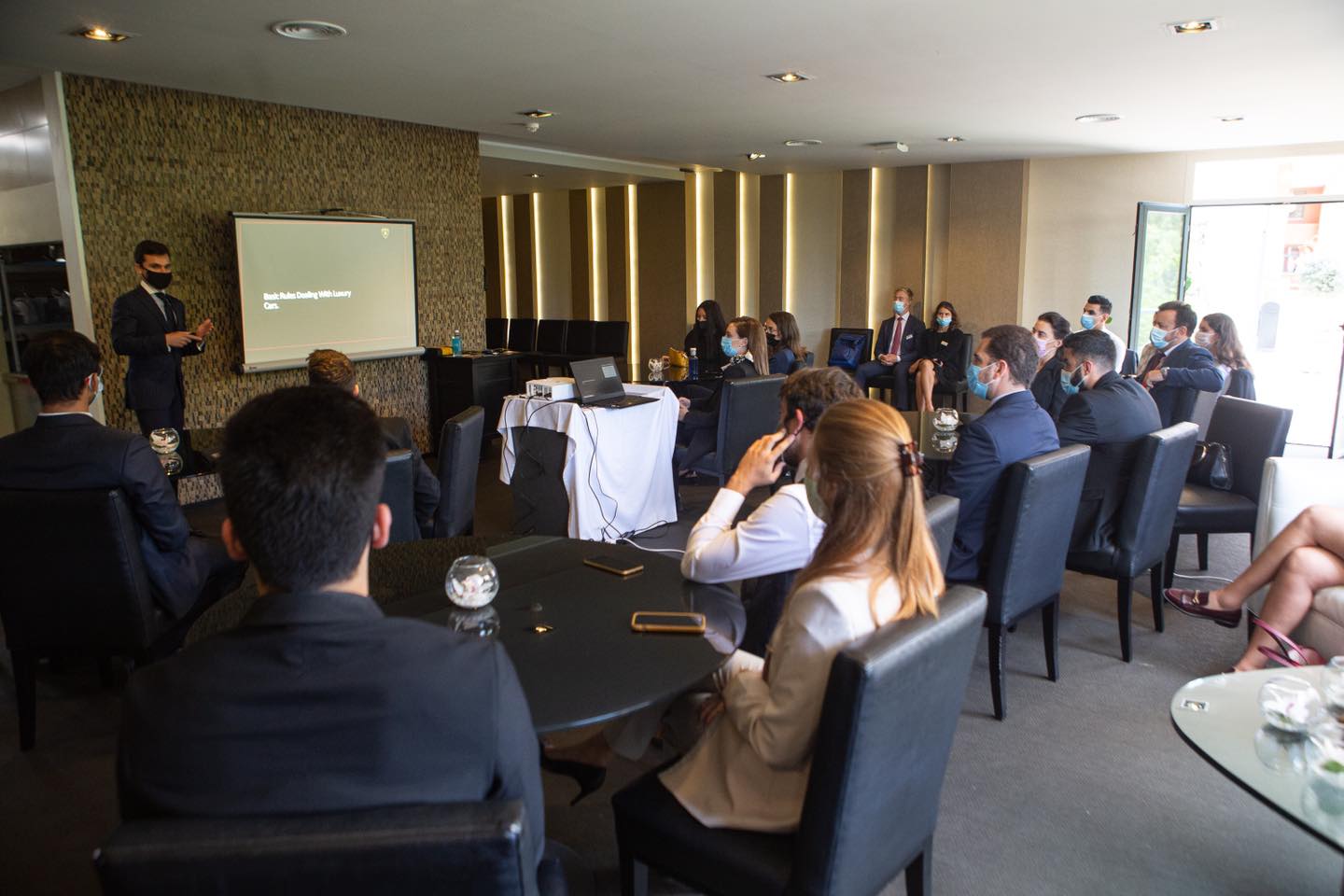 Our students were also met by Gonzalo Gimeno, CEO and founder of Elefant Travel. Established in 2004, Elefant Travel is a bespoke luxury travel agency founded on creating uniquely tailored experiences for international tourists. They've sent clients on personalized travel experiences to everywhere from Lofoten Islands to Iceland. Gonzalo is also brand ambassador for Ocean Sky Cruisers, a company which is currently developing an innovative return of floating airships for unique global travel with exclusive cabin suites.
Sustainable caviar at Riofrío
Caviar is an essential element of the luxury dining experience – so it couldn't be left out of the industry visit experiences. Located in a little town in Granada that bears its name, Riofrío is the world's first Certified Organic caviar.
Our students visited the sturgeon farm and got a behind-the-scenes look at how to obtain the caviar and then market it to businesses in the area. Notably, Riofrió caviar is famously used by chef Diego Gallegos of Sollo Restaurant, one of only two restaurants in Andalusia to receive a Michelin Green star for its use of sustainable caviar.
As a matter of fact, our students also visited Sollo as part of the Master's in Marketing and Management for Luxury Tourism industry visits, which you can read about in part one of this series.
Interested in the Master's degree?
If you have a specific leaning towards luxury and tourism, and you're looking for a Master's degree, the Master's in Marketing and Management for Luxury Tourism is your perfect match. It offers the perfect stepping stone into an emerging and very competitive market.
With a duration of 9 months (with an optional 6 month internship), this degree is divided into two parts. The first semester goes in depth about marketing concepts and luxury trends, while the second term delves into building brand equity and value creation in the luxury industry.
Want to discover more about Les Roches? We recommend: