Yearning to travel and see the world again? Us too! But in the meantime, let Student Ambassadors Arianna Lalwani and Inola Ganss take you on a trip to Dubai from the comfort of your home…
Dubai is definitely the place to be when it comes to luxury shopping and skyline views. From visiting Burj Khalifa and the Dancing Fountains, to dining in Burj Al Arab to desert safaris and strolling along Jumeirah Beach Residence (JBR), you will definitely not run out of things to do!
While these are the basic tourist attractions, there are many hidden gems to be discovered that are the true essence of Dubai and its culture.
Having had the privilege to live and work in this fascinating city, we promise there is more to it than its glitz and glam. Here is the top 5 must-see places, and some our favorite low-key spots, in Dubai!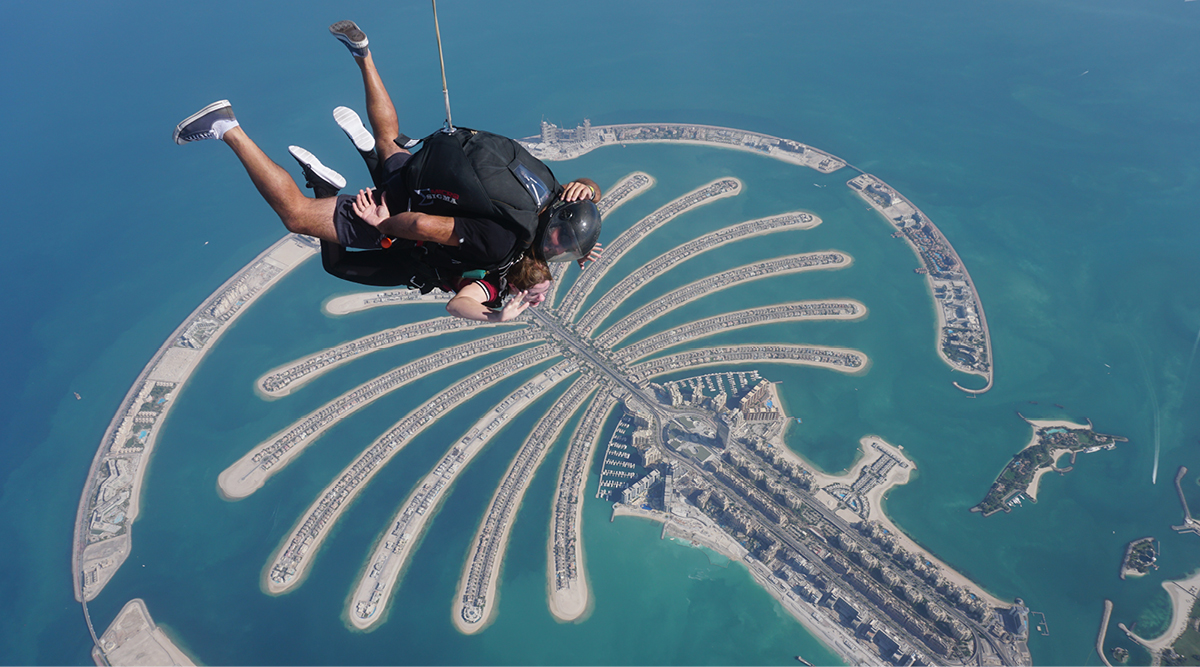 Inola's skydiving in Dubai
1. Take an Abra across the Creek to travel back in time
One of the best ways to experience the old traditions is hopping on an Abra boat across the Dubai Creek that will take you through the gold, spice and textile Souks. Don't be shy to barter the prices with the locals, as you might be able to strike a good deal! Along the creek you can even spot local Barjeel wind towers from the 1800s!
If you are a culture enthusiast, you might want to visit the Dubai Heritage Village and the Dubai Museum, which offer great insights into the traditional way of life. For a more luxurious local experience, you should definitely visit the Al Qasr Hotel in Madinat Jumeirah for an afternoon tea. There you can also take an Abra through the canals of the Madinat with a lovely view of the Burj Al Arab.
2. Stroll through the skyscrapers for a trip to the future
The view from the top of the Dubai Frame lets you contrast the Old and New Dubai. Explore the Downtown skyline, try to spot the Burj Khalifa if you can… we heard it's easily overlooked!
Of course, it is an absolute must to go up to the 124th floor of Burj Khalifa, to admire a view unlike any other. Our suggestion? Go up around 6:30pm to enjoy a beautiful sight of the city by day and night, and for a perfect spot to see the Dancing Fountains from above at sunset.
If you want to hear the music to which the water dances, enjoy a cozy dinner outside of Dubai Mall to have a front-row view. Get your camera ready for 'Instagrammable' videos of the 90-meter high shooting fountains with the Burj Khalifa light show, Dubai Opera and the Address Hotel as the backdrop.
You may also have heard of rooftop restaurants, but, in Dubai, you can literally dine in the sky! Suspended 50 meters in the air, indulge in a unique scene and experience, while enjoying an incredible meal with your friends and family!
3. Dubai Cuisine, it's everyone's taste!
As you'd expect in a place that's home to many nationalities, Dubai's restaurant scene is one of the most diverse you can find. Whether it is stopping at the local Shawarma stand, or enjoying a fine dining experience at At.mosphere, the highest restaurant in Dubai located at the top of the Burj Khalifa, you will always find the perfect place to match your culinary taste!
Dubai is also known for Friday Brunches. Some of our favorites include Brasserie 2.0 at Le Royal Meridien Beach Resort, Lido on the cruise ship Queen Elizabeth 2, permanently docked in Dubai as a hotel, and London Social Brunch at Ritz-Carlton JBR. Make sure to go on an empty stomach!
If you are looking for a more luxurious brunch for a special occasion, then you should spend the day in the Burj Al Arab for the Grand Petit Dejeuner in the Al Muntaha restaurant on the 27th floor. You will find a selection of world class pastries and live cooking with the view of Downtown, the Palm Jumeirah, Jumeirah Beach Hotel and Jumeirah Beach Residence, and the Dubai Marina skyline.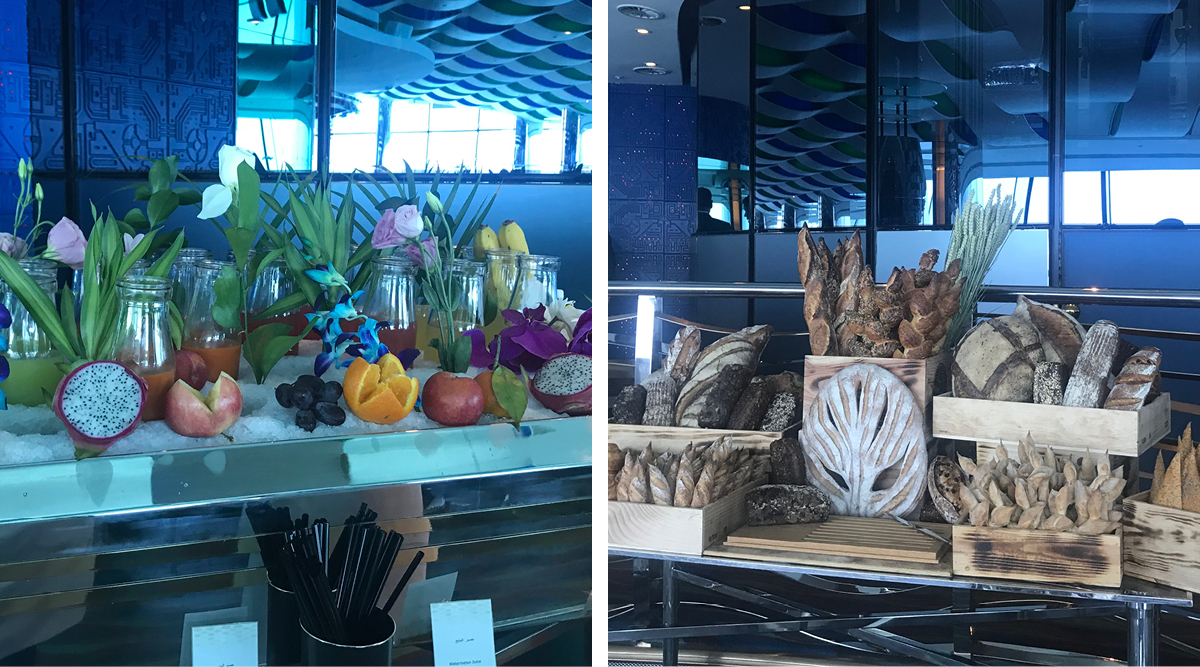 Grand Petit Dejeuner in the Al Muntaha
For a less touristic experience, you need to check out Cabin Cafe in Al Barsha South, a new art cafe with a quiet rural urban twist, or Möto Rauch & Staub, a German biker vibes cafe with live music, a small mechanic's office, and even a barber shop… it is something you don't find everywhere!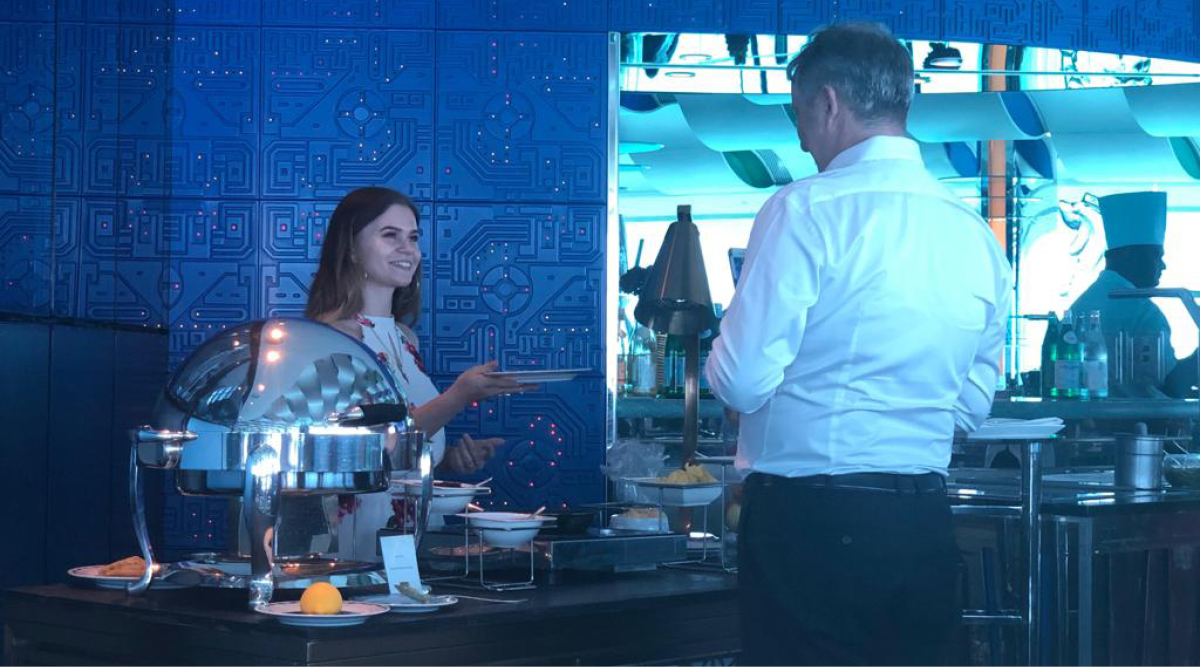 Inola at the Al Muntaha
4. Experience the desert
For anyone wondering, Dubai is not solely made up of sand! However, there are still many fun activities to do in the desert. From safaris to discover its wildlife, and visits to the Dubai Desert Conservation Reserve, sandboarding, to special trips to the Al Khayma Camp, where tourists can enjoy local food, camel rides, henna painting and belly dance performances, the opportunities to explore the desert are amazing.
Alternatively, these can also be experienced in Al Hadheerah, which is part of the Bab Al Shams Desert Resort and Spa, and is located in the desert outside of the city. It is a hub for local food with live traditional music and performances, including belly dancing, and camel and horse shows. You can also take part in activities like archery, hawk walk, falconry, yoga, horse riding and camel riding.
5. Enjoy the fun indoor & outdoor activities with your family and friends
The best way to cool off on a hot summer day is to spend it in the water. With temperatures in the summer reaching 50℃, a cool pool or an indoor theme park is the way to go. IMG World of Adventures is the world's largest indoor theme park and an ideal attraction for families. The park offers rides, restaurants, and shows for all ages.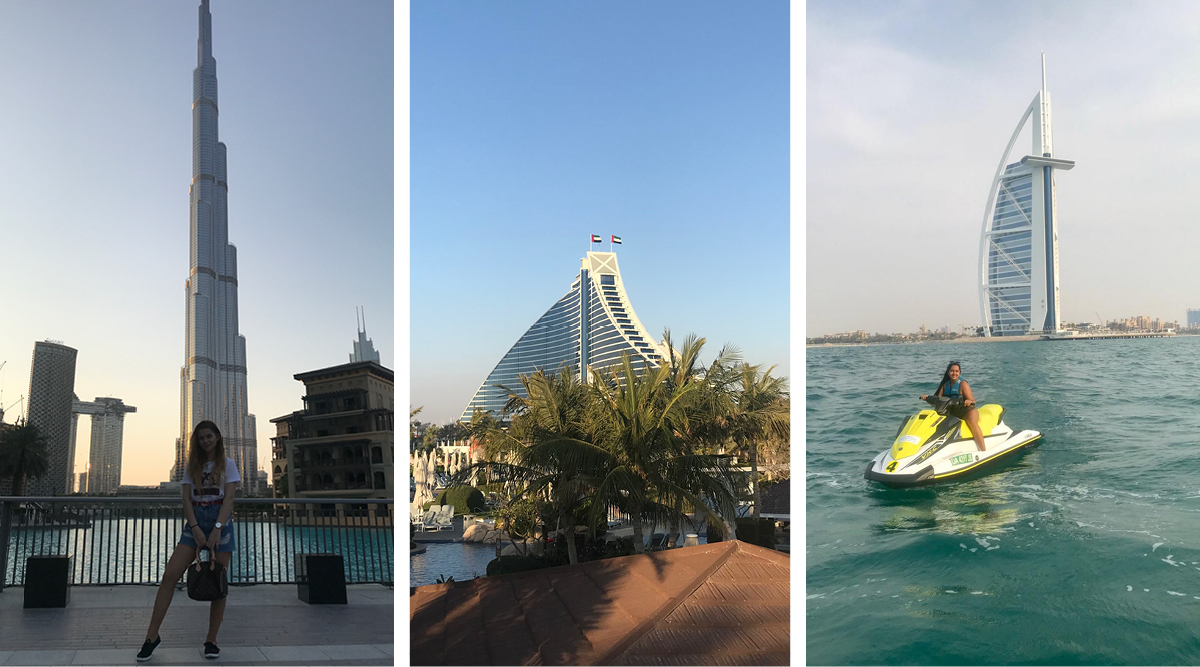 Arianna's activities in Dubai
As for waterparks, Dubai definitely doesn't have a shortage of those. Among Wild Wadi, Laguna Waterpark and Aquaventure in the Atlantis Hotel, Aquaventure is by far the most exciting, with the Dolphin Bay where you can swim with dolphins, and the famous Leap of Faith slide that goes through an aquarium filled with sharks, rays and many other marine animals. It is impressive and exciting!
Speaking of water, Dubai offers many beaches. Our personal favorite? Kite Beach, right by Umm Suqeim 1. Without any surprises, the beach got its name from the multiple kite surfers practicing their passion at that special spot, and offers a gorgeous view of the Jumeirah Beach Hotel and Burj Al Arab. It also has a running track and many small shops and food trucks with delicious food!
Other popular places are The Beach in JBR with a huge promenade with shops and restaurants, and views of the Dubai Eye (or in Arabic: Ain Dubai), Sunset Beach and the beach in La Mer on the other side of Dubai. But if you want to relax on one of Dubai's best-kept secret beaches, you must go to Black Palace Beach, which is situated between Palm Jumeirah and Burj Al Arab in Al Sufouh. There are few facilities, but that's all part of the charm!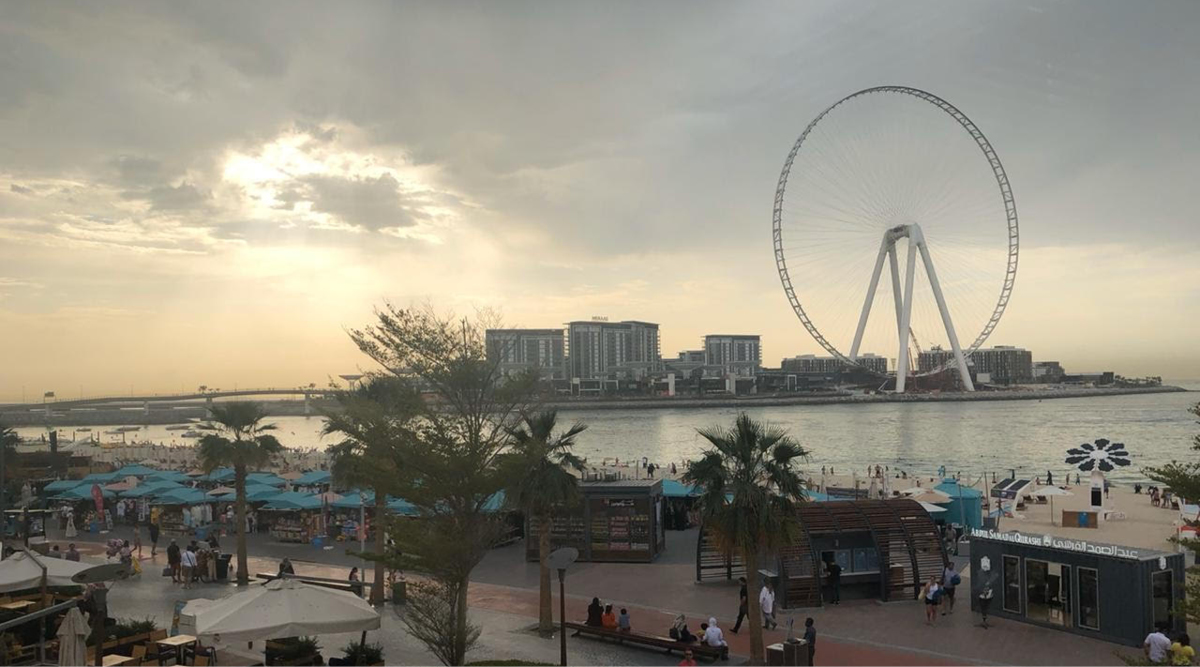 The Dubai Eye (or in Arabic: Ain Dubai)
Dubai definitely doesn't lack diversity, and this can especially be experienced in Global Village, a fascinating cultural hub! Located along Sheikh Zayed Road, it consists of four different sections with events, concerts, carnivals, food and shopping from 90 countries and 27 pavilions. You can even see miniature replicas of Burj Khalifa, the Leaning Tower of Pisa, Big Ben, Colosseum, Red Square Russia, Chinese temples and more. Set foot into a different country with every step and try food from 130 multicultural food kiosks… It is the perfect place to learn about cultures of the world!
Lastly, let's not forget about La Perle, an acrobatic performance by Franco Dragone, founder of Cirque du Soleil. You should not miss out on this amazing show. When the stage comes alive, a giant puppet appears, five motor bikers start speeding in a small sphere cage, acrobats jump into an 11-meter deep pool and the stage fills itself with water one minute and makes it disappear the next. It is definitely a show worth seeing as it is truly one-of-a-kind!
——————-
While you may think a city is quickly explored, this is definitely not the case in Dubai… it has so much to offer and is extremely fascinating in every way! While these tips may seem like many, they are only just the beginning of an incredible and unforgettable experience. We are in love with this city, and hopefully you will be too!