It is, once again, time to travel around the world from the comfort of your home. This week, Student Ambassador Inola Ganss takes you on a trip to the historic city of Berlin…
There is a reason why the famous "Ich bin ein Berliner" (I am a Berliner) phrase is commonly and proudly used. Germany's capital city is the melting pot of German history, a global hub for art, and the greatest cultural extravaganza.
From exploring the tragic stories of the Berlin Wall, to local street art and traditional German cuisine, the possibilities are endless.
Here are the top 5 to-do activities for the ultimate Berlin experience.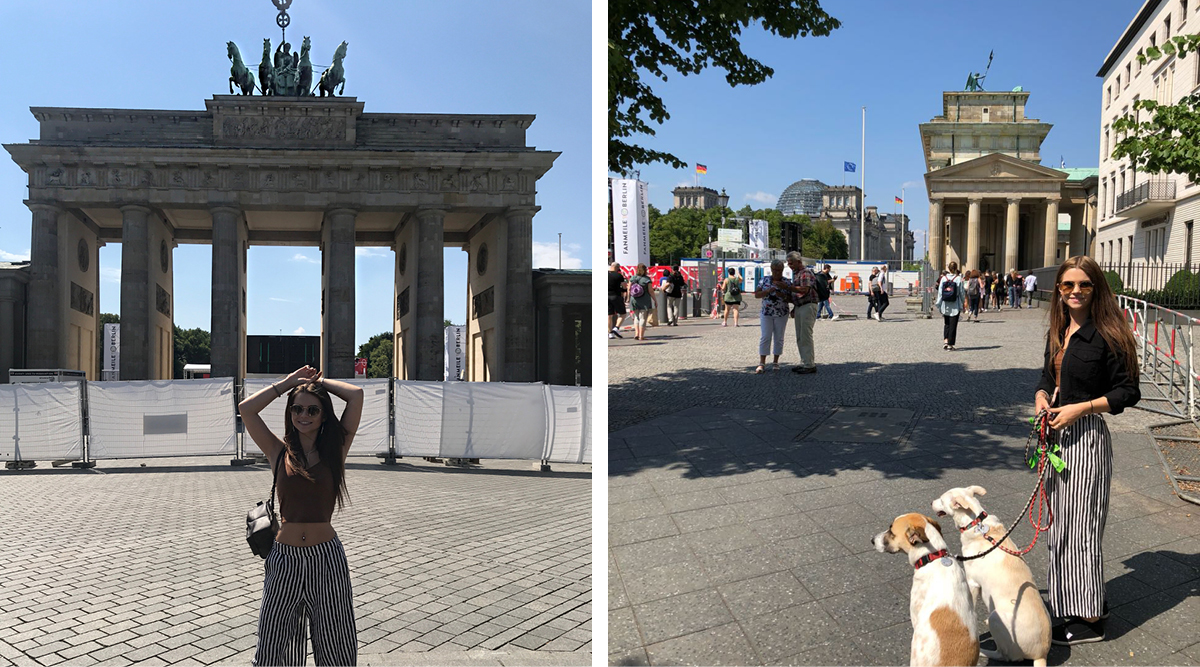 Inola during her sightseeing in Berlin
1. Berlin's Must-See Places
Let's start your trip at Alexanderplatz, one of the city's liveliest areas, where you will be able to enjoy a nice cocktail on one of the many terraces. Then wander around this great square to admire the Brunnen der Völkerfreundschaft (Fountain of International Friendship) and the Fernsehturm, the famous Berliner television tower.
Take a walk to Nikolaiviertel, the rebuilt historical heart of Berlin, close to Alexanderplatz. This primitive quarter brings the charm of old Berlin back to life with its quirky houses and narrow streets, as well as the beautiful Nikolaikirche (St. Nicholas's Church).
From there, hop on the "U-Bahn" to see the world-famous Brandenburger Tor (Brandenburg Gate) – the gate to Unter den Linden, a boulevard that directly leads to the Berlin City Palace. Brandenburger Tor definitely is Berlin's most famous landmark.
Then, of course, there is the Berlin Wall, which has been a celebration of freedom ever since its fall in 1989. Remains can be found at the Berlin Wall Memorial, Green Mauerpark and the East Side Gallery. This open-air gallery consists of murals directly painted onto the Berlin Wall, documenting a time of change and hope for a free future. Then wander to Checkpoint Charlie, the famous Berlin Wall crossing point between East and West Berlin during the Cold War. Get yourself a ticket to visit the Mauer Museum, right by Checkpoint Charlie, which exhibits successful escape attempts and much more.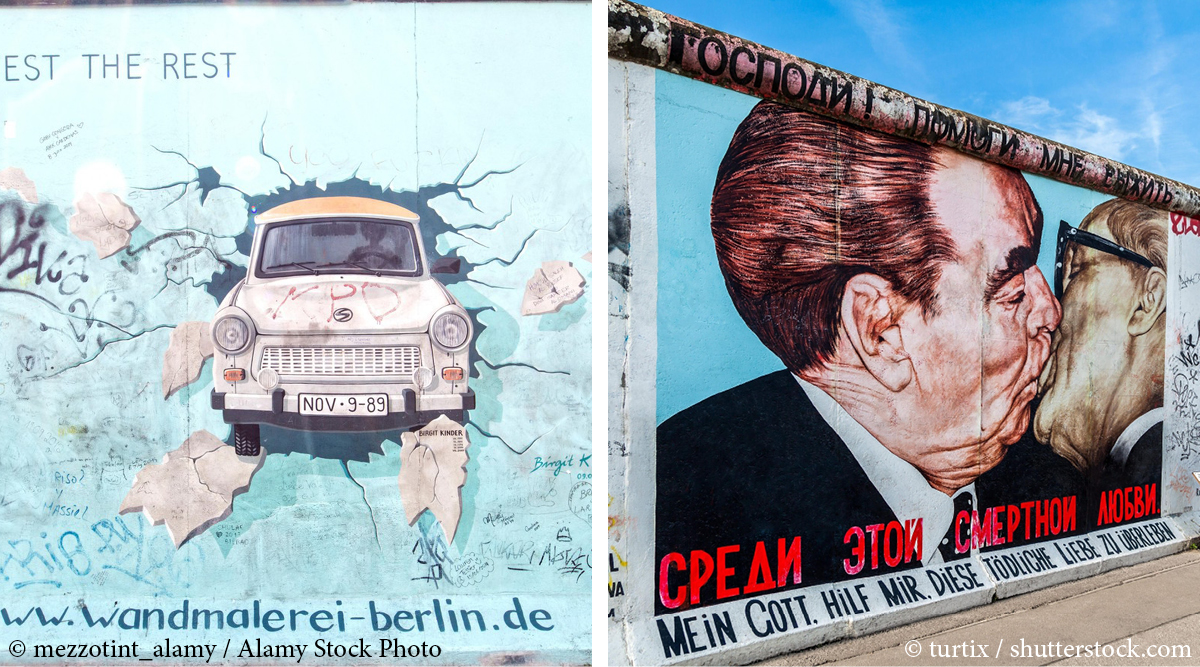 The open-air gallery from the Berlin Wall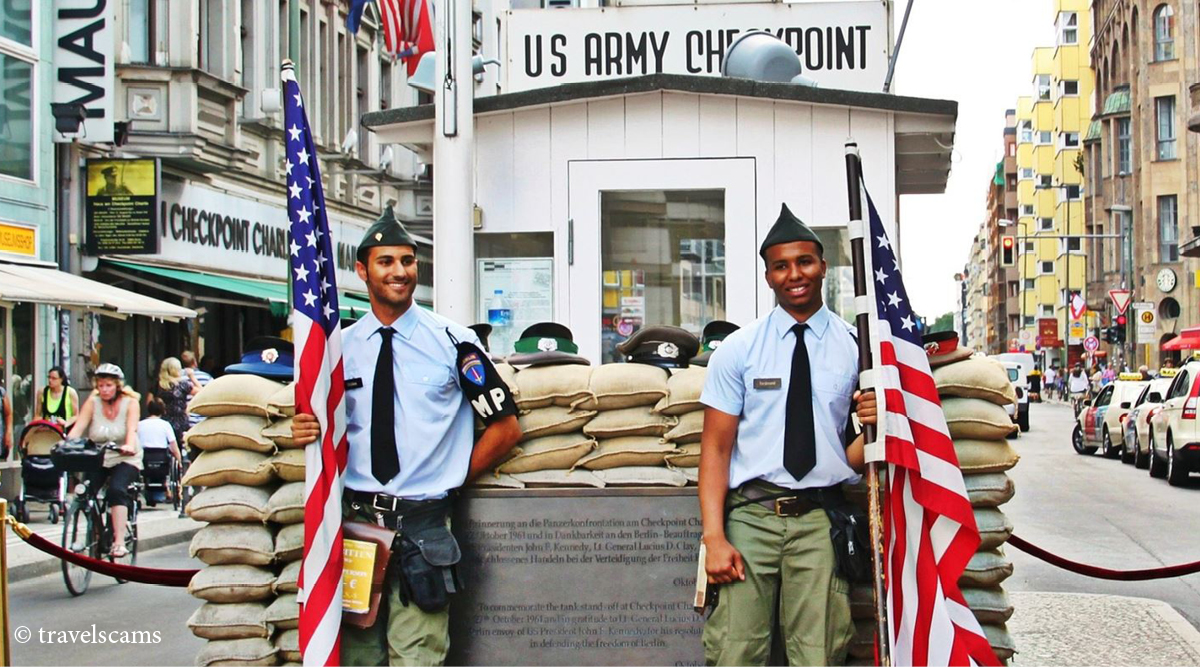 Checkpoint Charlie: The famous Berlin Wall crossing point 
Let's not forget about the magical Sanssouci Palace! Located southwest of Berlin in the city of Potsdam, the palace is considered Berlin's Versailles, and was the summer palace of Frederick the Great, King of Prussia and Elector of Brandenburg. Stroll through the beautiful terraced gardens, the Great Fountain and the Temple of Friendship, and explore the different rooms inside this fascinating palace.
2.  Memories from the Second World War
Let's travel underground and back in time to World War II. Take a moment to explore the Berlin Story Bunker, Fichtebunker, and Berliner Unterwelten, where you can also do tours of the underground escape tunnels. The Tempelhof Bunker, located under the Tempelhof Airport, is also worth visiting, as well as, perhaps the most notorious, Hitler's own bunker, the Führerbunker.
A more somber but still essential place to visit is The Memorial to the Murdered Jews of Europe, built by Berlin in honor of the victims of the Holocaust. It consists of 2,711 concrete slabs, and where you can also find an underground "Place of Information" that holds around three million Jewish Holocaust victims' names. Not too far is the Jewish Museum Berlin, a modern building that exhibits Jewish social, political and cultural history.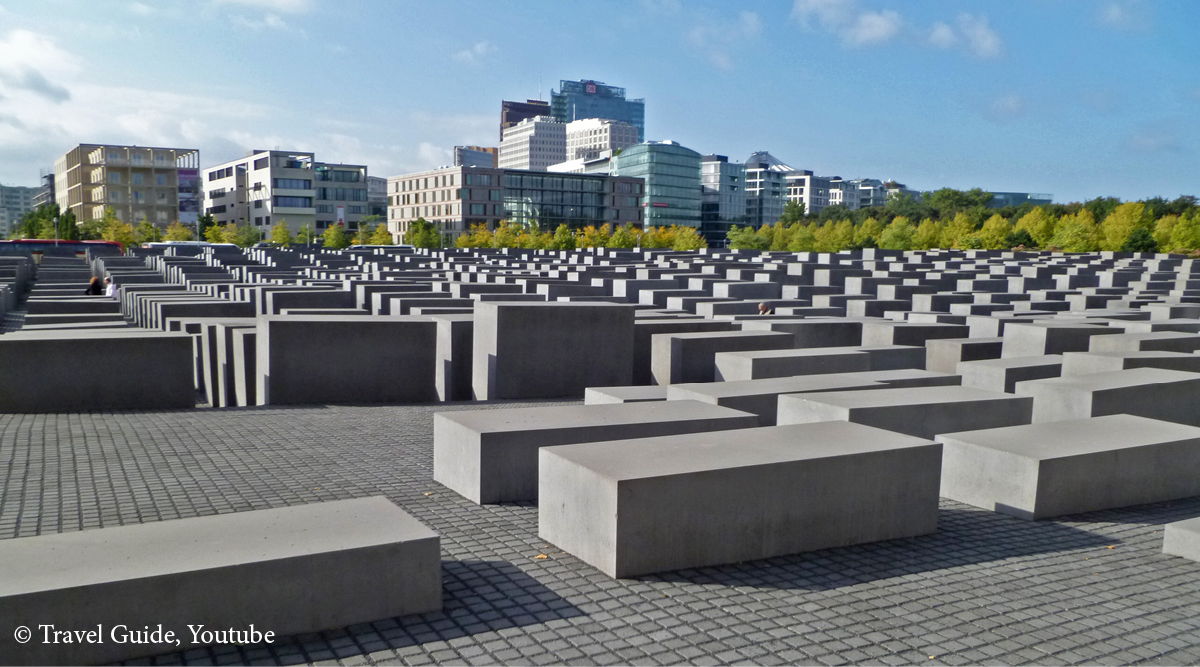 The Memorial to the Murdered Jews of Europe
3. Berlin's Wicked Attractions
Now let me introduce you to a few places not many talk about.
You should not miss out on the Monsterkabinett amusement park. Located near Alexanderplatz, this jaw-dropping mechanical robot-monsters theme park is definitely worth exploring!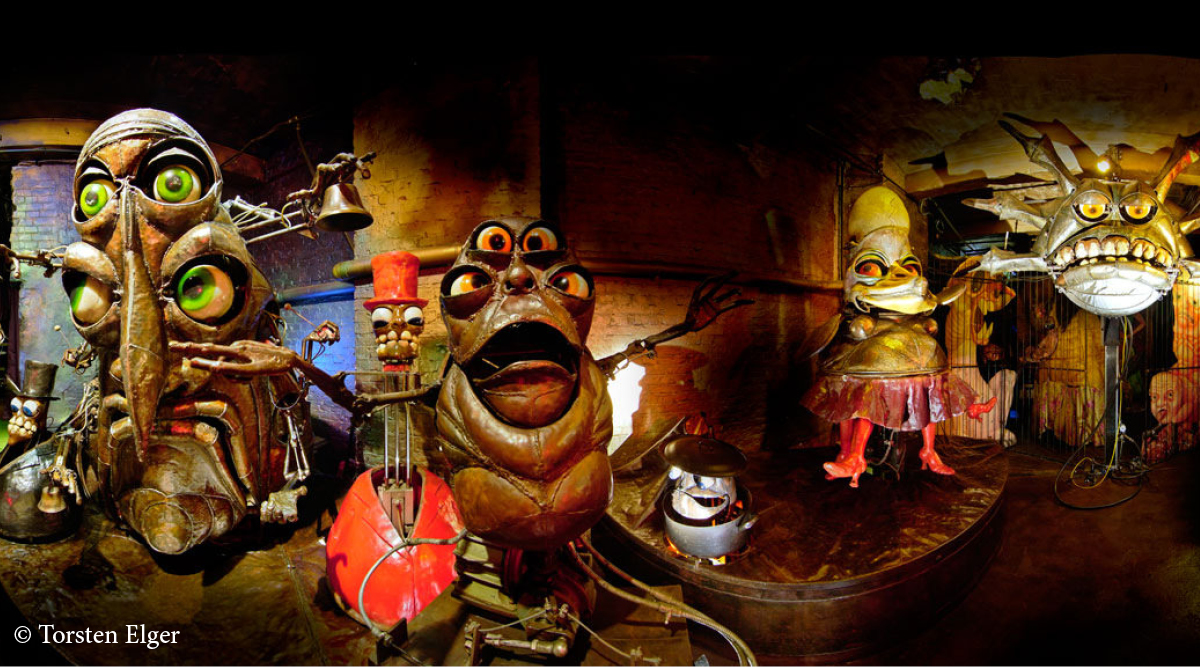 The Monsterkabinett amusement park
If you love mysterious places and are up for a day trip out of the city, check out the abandoned Rüdersdorf Chemical Factory. It still has some wicked-looking potions lying around for you to find and some areas with amazing graffiti for edgy photoshoots!
Another option, is to spend the day in Berlin Mitte. The coolest way to broadly explore the city with a tour guide is through a Trabi Safari – the official car of the DDR (Deutsche Demokratische Republik or German Democratic Republic). These old tiny cars may be a little hard to drive but are a lot of fun!
If you are castle fan, you will love the UNESCO World Heritage Site Peacock Island, located southwest of Berlin, near Potsdam. The main attraction: a beautiful castle with a bridge between the two towers surrounded by an English garden roaming with peacocks.
4. Taste Our German Cuisine
Berlin definitely has no shortage of restaurants. Whatever you desire, Berlin's got it! First on the list of my top restaurants is Klunkerkranich, a rooftop bar south of Berlin. Enjoy the sunset while admiring the view over the city and listening to live music. 
Looking for something local and traditional? Don't worry, Berlin's got you covered. Eschenbräu brewery offers delicious beer and Flammkuchen. Also, Schnitzelei Mitte has the best traditional Schnitzel in town. Now, if you really want the full experience, then you should eat at Hofbräuhaus Berlin, where the waiters are wearing Dirndl and Lederhosen – our traditional clothing. Max & Moritz also has quite a traditional ambiance and food, and is located outside of Berlin Mitte near Kreuzberg. Last but certainly not least, you must try our Currywurst. Curry 36 is said to have the best of the best! 
For my vegetarian and vegan readers, Cookies Cream is a great place to eat. This hidden treasure can only be accessed through the Westin Hotel's service alley and takes food to a whole new level.
5. Nightlife in Berlin
Let's talk about bars and clubs. In Kreuzberg, one of the city's trendiest and most multicultural neighborhoods, you will find a secret bar called Fahimi Bar – an industrial-chic speakeasy place with some of the city's best cocktails.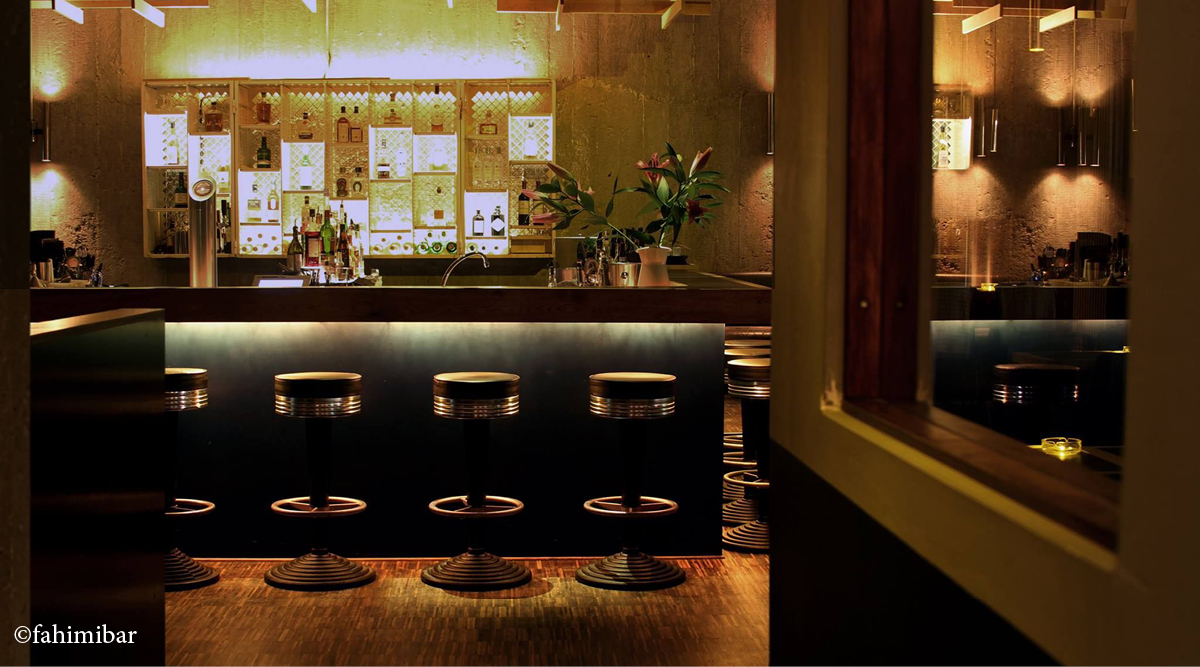 Fahimi Bar: a secret bar in Berlin, with some of the best cocktails
Another hip bar is Monkey Bar. Its unbeatable panoramic views and occasional monkey sightings create a perfect atmosphere to admire the sunset.
Now my absolute favorite: the world's tiniest disco Teledisko Gold – a nightclub inside a gold phone booth. It is easy, you only need to use a 2-euro coin to dance to your favorite song, and take a picture or video of you and your friends! This undeniably beats any phone booth in London!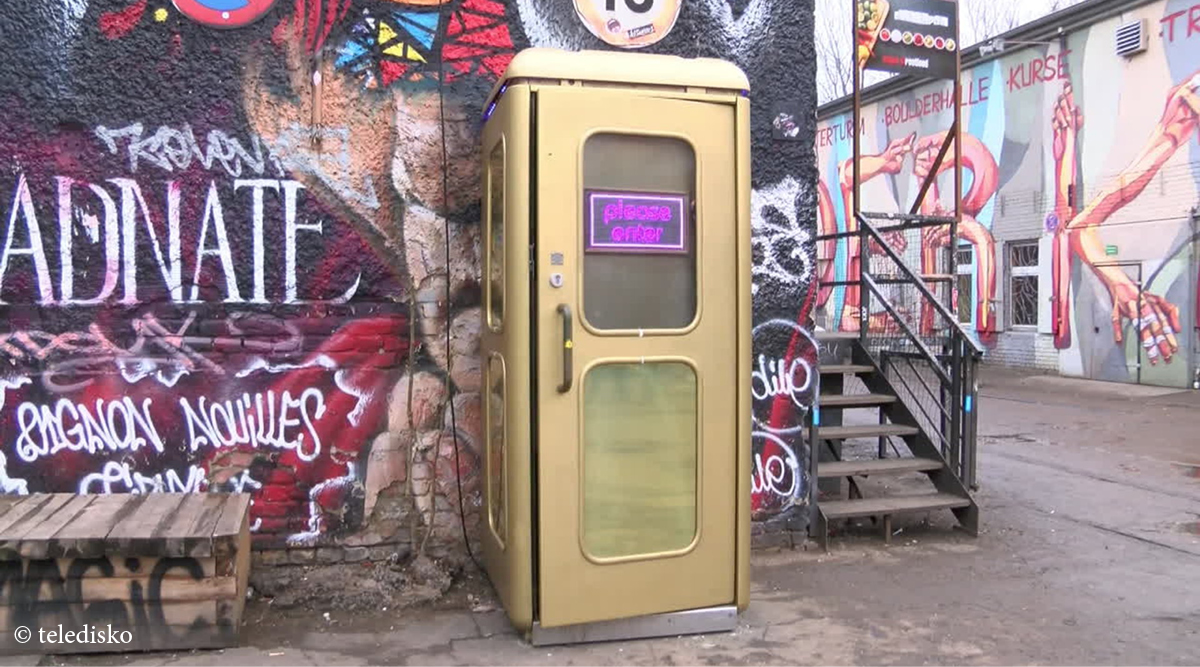 The world's tiniest disco Teledisko Gold
All in all, Berlin has so much more to offer than many believe. There are so many more hidden gems to explore and beautiful places to see, but hopefully, this guide will open your eyes to new possibilities and adventures!
Discover more blog from the same series: