Food lovers, keep reading! Les Roches Student Ambassador Alysia Liveras shares all of her favourite restaurants across Switzerland, and, in this third article, she lets you know about her recommendations in the cities of Geneva, Lausanne, and Montreux!  
Geneva is home to some of the most luxurious and decadent restaurants in Switzerland. It is not hard to find a good place to eat here.
Le Baroque
Restaurant, bar and club, Le Baroque offers a "lit" dinning experience with good food and a great atmosphere. It is a Mediterranean and Nikkei Cuisine so you can eat sushi alongside duck a l'orange. They offer great cocktails too. 
Parfums de Beyrouth
When entering this restaurant, you may be a little confused to why I recommend it, but once you taste their classic Lebanese food you will know why! I cannot go to Geneva without stopping here for a chicken Shawarma. It is also a great option for vegans, they have the best falafel and hummus I have tried in Switzerland as well as other delicious vegetable options, such as stuffed vine leaves and tabouleh salad. This place will totally cure all of your Lebanese food cravings!
Le Relais de l'Entrecôte
If you don't know Entrecote then you need to find out! It is totally worth the hype! With only one dish on the menu: steak-frites (walnut salad with mustard vinaigrette to start, followed by two servings of steak-frites with the famous house sauce, then a selection of homemade desserts) you know it is good and will never disappoint. This classic yet renowned meal will transport you to a lovely French Bistro. Be sure to get there early, as there is always a long queue outside the door to get a table.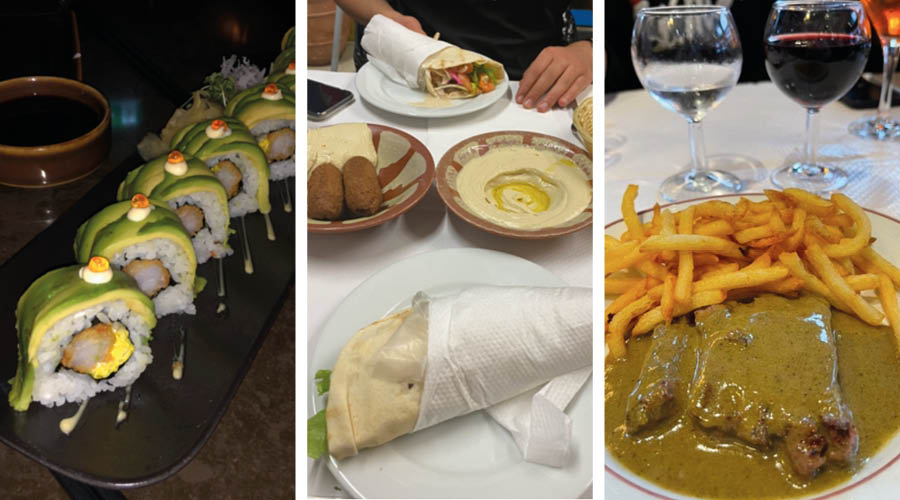 Izumi  
IZUMI at Four Seasons Hotel Geneva is a trendy urban oasis set on the most expansive rooftop in Geneva, offering a Japanese-fusion concept similar to the likes of Nobu and Zuma. From starter to dessert, you can taste a selection of sophisticated dishes that are so delicious.
Price: €€€€€
Lausanne is the most youthful city in Switzerland with many cool places to eat, drink and party. It is also home to some different food concepts that might not be seen elsewhere in Switzerland.
OSIO 
From matcha cake to fluffy milk buns, this Japanese bakery will serve up your daily dose of cuteness.
Wawas
Wawas Vietnamese kitchen is the place to be for flavoursome Pho and Asian classics.
Donutime
When that B3 donut just won't do, Donutimes's freshly prepared speciality donuts such as s'more or speculoos flavour will. They are a great treat for cheat day!
Chez Xu
Famous for having the best dim sum in Switzerland, this Chinese restaurant is the closest you can get to typical Chinese favourites. When craving a good Chinese, this is the place to go!
Stunning Montreux has many restaurants with beautiful views of Lake Geneva, as well as the Christmas market, which is a festive and fun foodie experience! The market has a plethora of different foods to eat such as fresh churros, German sausages, fondue filled baguettes, fresh crepes and waffles, a whole French foodhall and many more delights! Here are some of my favourite Montreux restaurants.
Montreux Jazz Café
Located inside the Fairmont hotel, it is described as "An especially laid-back slice of luxury", directly inspired by the atmosphere of the legendary music festival, and decorated with a multitude of Claude Nobs memorabilia, the Jazz café offers international cuisine with dishes such as salt baked sea bass, prawn coconut curry and chilli spatchcock chicken. There are great options on this menu for everyone's preferences.
Caveau des Vignerons
Not in the centre of Montreux but in the Old Town is this cosy, traditional swiss restaurant offering raclette, fondue, rösti and chocolate fondue at reasonable prices. 
Confiserie Zurcher
Is a traditional Swiss tea room. They have sandwiches and pastries as well as meals. You can stop by for a breakfast or to enjoy the eye-catching array of traditional Continental dishes, such as pain au chocolat. The Bircher Muesli, a traditional Swiss breakfast staple, is especially delicious.
I hope you enjoyed this final foodie blog, for more global restaurant recommendations please follow my Instagram: @thefabulisfoodie.