Name: Wilson Njuguna
Graduation year: 1995
Nationality: Kenyan
Program: Diploma in Hotel Management
Current position: Project Manager, Schaerer AG, PMO
Are you sitting down to read this story with a good cup of coffee? If so, your daily cup may well have been created using a machine by Schaerer AG. This Swiss-headquartered company is the world's leading manufacturer of fully automatic professional coffee machines. 
Among Schaerer's well-known customers are international F&B brands such as Tim Hortons, Dunkin' Donuts, Burger King, and Luckin Coffee.
The company is also home to Les Roches alumnus Wilson Njuguna, who joined around three years ago. Wilson started out as a project manager within the company's digital transformation team; today he runs the Project Management Office, ensuring that strategic projects are planned and executed as professionally and transparently as possible. 
Wilson has spent much of his working life post-Les Roches in the project management field, earning a series of professional certifications including Project Management Professional (PMP) and PRINCE2. He's also completed an Executive MBA. 
However, his early career was centered on hospitality, including working at the Hilton at Short Hills and Marriott Hotel Parsipanny, both in New Jersey, USA. He also worked at the Swiss Hotel in Basel.
"After that, I got the opportunity to join an IT/telecom company in Zurich, where I worked for about six years in various roles within the project management domain," he explains. "Then I worked in a number of industries (banking & insurance, IT/content management & industrial manufacturing) in different project management roles in Germany, before joining Schaerer."
The Les Roches coffee connection
While Wilson brings a little bit of Les Roches to Schaerer, the company's products have also become a familiar sight on Crans-Montana campus. Schaerer loaned coffee machines and coffee as part of its sponsorship of the 2018 Les Roches Alumni Reunion, and they proved so popular the campus bought some to keep!
Sponsorships like these are part of a marketing effort that takes on many different forms, as Wilson explains.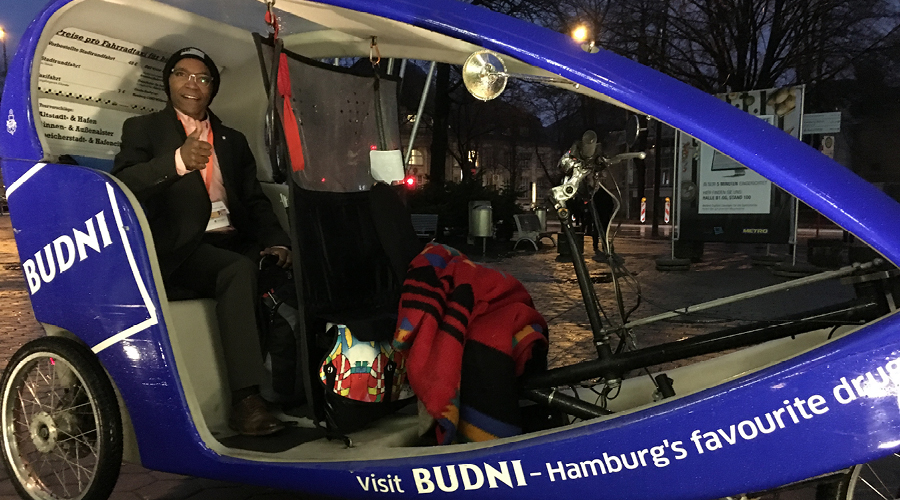 "There's the classical approach of being present in the top trade fairs, such as the Internorga in Hamburg (see photo above) and the HOST in Milan. We also partner with coffee roasters, who buy our machines and then offer their customers different leasing/financial models. We have a significant online presence managed by our Marketing department, and last but not least there's good old word of mouth from our happy and returning customers. At the end of the day, the quality of our products speaks for itself."
Cutting-edge coffee machines
Another element of the Schaerer ethos that resonates with Les Roches is the company's commitment to innovation.
Wilson says, "Digitalization and networking have long since found their way into the field of professional coffee machines. With every cup of coffee prepared, usage data is generated: what is the fill level of the bean container? How many hot drinks were produced today? And which beverage is ordered most frequently? All these data are of commercial importance because they allow us to draw conclusions about wear and tear or machine utilization. They can thus be used to optimize processes and costs as well as increase sales.
"Stay true to your values and what you strongly believe in."
"Our professional coffee machines have been recently certified by TÜV Rheinland as 'Protected Privacy IoT Product'. This certificate attests to compliance with current data protection and information security requirements for the communication between the coffee machine and the digital platform. We are pioneers in this field, as the first manufacturer of professional coffee machines to receive this certificate.
"The Schaerer machines also have a patented milk foam system – "Best Foam" – integrated. We believe it's the best available in the market today."
Although his Les Roches graduation is now a relatively distant memory, Wilson recognizes the impact his time at the school had on his career; particularly when allied to subsequent hard work.
"From a professional perspective, the old adage that hard work always pays off is for real. Les Roches provided a solid foundation upon which we can build anything to succeed," he says.
And he had this piece of advice for current Les Roches students. 
"Stay true to your values and what you strongly believe in. Always look for that alignment between your values and those of your employer – even if it means changing employers. It is the only way to be truly happy!"