Each semester, our students from every corner of the world come together for Cultural Night, to cherish and celebrate their rich cultural diversity. This semester, things were a little different, because Cultural Night went 'virtual' as a unique online experience. Next Generation Cultural Night, which took place on June 5/6, was a big success. So, it was a no brainer that we needed to reach out to the students involved to find out about the organization process, the challenges, and the takeaways from the overall adventure.
"The Next Generation Cultural Night reflects the true entrepreneurial, innovative and hospitality spirit of our community." – Andrea Chakravartti, Dean of Students at Les Roches Crans-Montana
From traditional to 'virtual'
The biannual Les Roches Crans-Montana Cultural Night has been a tradition for years. After 78 fantastic live editions, where the Les Roches family gathered together to attend amazing performances and enjoy tasty culinary specialties from each corner of the world, the first edition of 2020 was to take a whole other turn.
As the COVID-19 pandemic affected the world, this semester's Events Team of students had to think of another way to make the event happen.
"COVID-19 is a reminder of the uncertain nature of the business world. In order to survive and thrive, we should be continuously challenging our traditional thinking and embracing change." – Bilal Hassan, Senior Lecturer at Les Roches Crans-Montana
After discussions and brainstorms, the idea arose: why not take it online and organize the very first virtual Cultural Night?
"The process was unique, to say the least. We went through different solutions to come up with the best one to fit the timeline. We went from "What do we do now?" to deciding to turn Cultural Night into a virtual event and connect people from all over the world, in a time where people really needed that connection." – Selin Zakuto, Team Member, IT & Support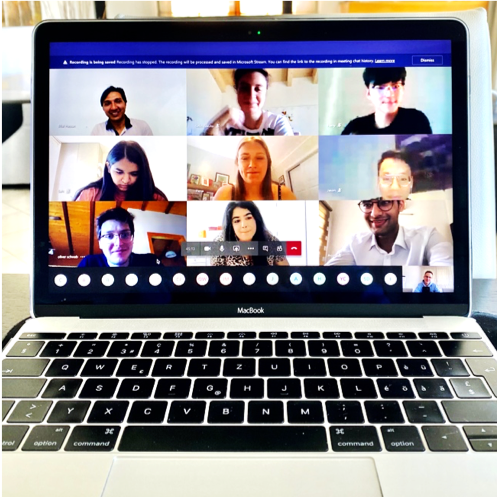 Video call to get the virtual event started
Organizing a 360° virtual experience
At the beginning of the whole process, the Events Team were doubting the feasibility of creating an online event.
"Having no precedent to guide us in organizing a virtual Cultural Night, it was quite difficult to guess if the event would be successful." – Selin Zakuto
Once it was agreed to take on the challenge, the first step was to divide the class into different teams, from marketing to IT, or programming, and design, and select team leaders.
"We divided the class into teams and assigned them to a specific area. Within the teams, we often split the tasks based on members who could work together and were in the same time zone. Each team had subsections. For example, within IT & Support, there were people in charge of the hard technology-related aspects like coding, and others in charge of finances." – Sahithya Batchu, Team Leader, IT & Support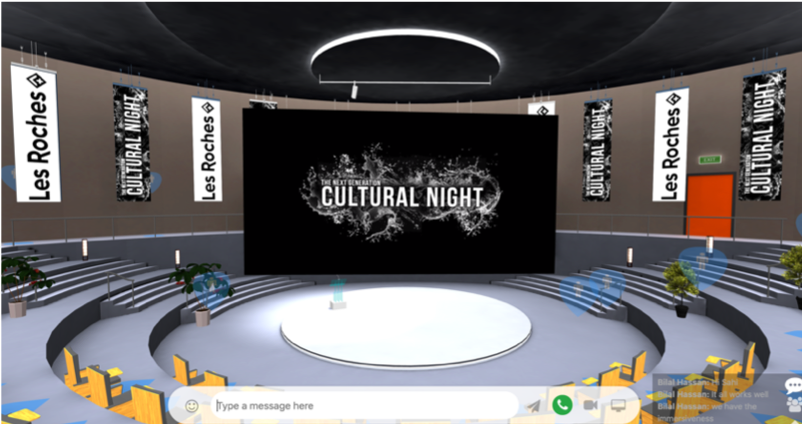 The virtual experience for students 
After the teams were formed, and tasks assigned, it was time to further think about the best format and tools to create the event.
"We had to come up with the best alternative to produce Cultural Night virtually and make it accessible to everyone. The general designing process was very exciting and, at the same time, kind of daunting, as it was the first time in the history of Les Roches that Cultural Night was going virtual." – Barthélémy Deslarzes, Team Leader, Program & Content
When organizing a digital event, finding and choosing the perfect tool is crucial, and can be difficult. To create this Cultural Night experience, the team decided to turn to LearnBrite, an experiential learning authoring tool, which offered adapted and fun functionalities to fit the event.
"A benefit of using LearnBrite meant participants could talk to each other using the chat feature and was a great connecting tool for everyone to catch up after weeks of quarantine and self-isolation." – Sahithya Batchu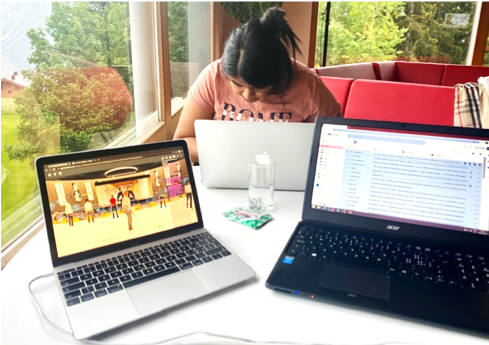 Students virtually taking part in the event
The main challenges of organizing such an event
Setting up a virtual event was a whole new concept for our Bachelor students. It was, therefore, no surprise that planning such an experience for a class of over 70 members was going to be challenging.
Students saw this digital experience in very different ways, and some took more time to open their minds to the idea and accept the untraditional aspect of the whole process.
"I think the biggest challenge was to make sure all students involved in the process were on the same page and had confidence about the viability of the event." – Barthélémy Deslarzes
Another challenge encountered was the way the teams had to communicate, create plans, and work remotely.
"Since the whole process was virtual, there were some communication barriers. Team members found it difficult to express their opinions compared to how they would in real life. Also, while time zones allowed members to work at their own comfort, it was challenging to plan and organize ourselves." – Sahithya Batchu
Of course, technology was also challenging at times. For instance, the team had to learn how to use LearnBrite and be comfortable with how it worked.
"Planning a virtual event required a lot of technical and computer knowledge which proved hard to explain virtually to team members." – Sahithya
Takeaways from the adventure
With over 400 attendees and 9 fantastic performances by students from Denmark, Kenya, India, Switzerland, and China, the first edition of the Next Generation Cultural Night proved to be a real success, and as Bilal Hassan mentioned:
"Success relies on our ability to imagine beyond what we see and identify opportunities within complexities."
Although it all started with doubt and fear of not achieving the goal, and of satisfying the community, students came out of this exceptional experience with pride. They improved their leadership skills and became more open-minded and adventurous. 
"Everyone combined their strengths to make this virtual event possible. We learned to adapt to the situation and amalgamated our creative juices with our digital prowess to create the Next Generation Cultural Night, where we brought together alumni, parents, teachers, management, and students from all over the world." – Selin Zakuto
Moreover, as extraordinary situations often create new opportunities, we are forced to ask ourselves unthought questions, think of untraditional ways of working, and explore areas we would not have dared to otherwise.
"I believe that challenges should be perceived as opportunities and that no matter what, we should always find a way to pursue our goals. The Next Generation Cultural Night is the perfect example of what it means to be brave enough and dare the impossible." – Barthélémy Deslarzes
Adapting through turbulent times can be difficult, but the Cultural Night team made it their strength and were able to produce an unforgettable experience for the whole Les Roches family to enjoy. Congratulations to all the students involved, and thank you for making the event possible!
If you didn't make it to the live event, here is summary of this legendary show.