This blog entry was written by our BBA student Paula Otto as her entry for our Ambassador Program. Her witty writing skills and amazing personality, of course, landed her a spot in the program.
Waking up to rays of sunshine on my face has been one of the greatest changes in my life since starting my Bachelor's studies in Les Roches Marbella. It is moments like these where I still ask myself "Am I dreaming right now?" However, it's been a year now and I still have not woken up from this dream, I'm looking forward to keeping dreaming for a few more years, and slowly realizing that this is the reality of my life. I am so grateful and happy with my decision of moving to Marbella and studying Hospitality Management at Les Roches. It has been the best decision I have taken in many years and helped me grow in unthinkable ways. Les Roches Marbella has finally given me the feeling of arriving home, at a place very far from my "real" home, back in Berlin. If you think about it, it's crazy to feel so at place and peace, in a place so contrary to what you always believed your actual one to be. This just shows how the right place and environment can open your mind and help you grow as a person.
It's a crazy feeling to start your life from zero after high school and embark on a completely new adventure in a new country.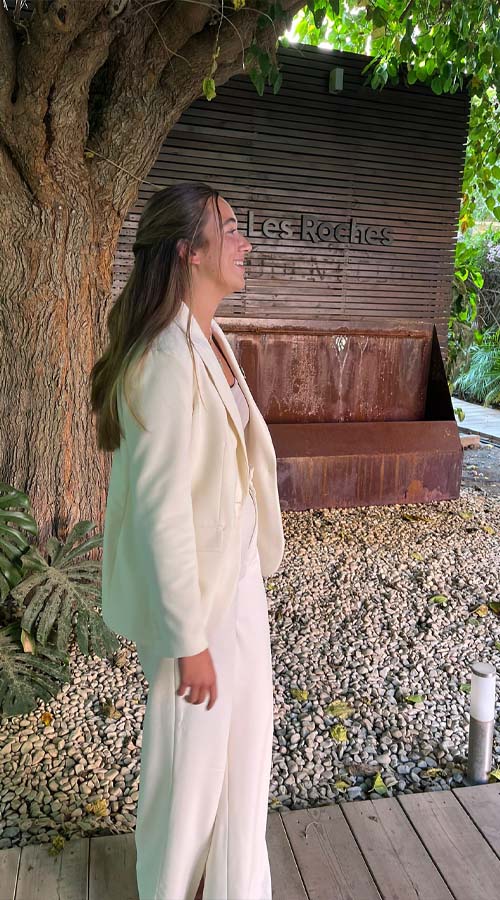 On the 20th of September 2021, I arrived on campus with my life packed in two big suitcases and my heart filled to the brim with excitement and anxiety. I am not going to lie, it's a crazy feeling to start your life from zero after high school and embark on a completely new adventure in a new country, with new people and uncertainty of how it is going to go. However, there I was ready to take on whatever life will throw at me. Little did I know I was starting the best chapter of my life so far.
"Friends are the family you get to choose" is a quote I hear all the time and have now come to learn its true meaning. While your own family will always be the constant in your life to support you in your decisions and stand by you in tough times, here I have learned that friendships can be the same thing. Going into a career like hospitality management allows you to meet people with similar interests, passions, and hobbies as you. This truly amazed me when I started studying here because all my life I doubted my interests since there was never anyone that shared these with me. I immediately realized how well I fit in with everyone because we all had similar passions and could openly and freely share them with one another. A feeling I didn't know I had missed my entire life truly fulfilled me as soon as I arrived here. I honestly don't know how to express the feeling of "coming home" and finding the true friendships I found here in Les Roches, but I really hope that once you experience that feeling too, you will remember my words and hold on tight to that feeling. Especially in BBA1, living on campus and being surrounded by your classmates every day, one extremely appreciates the familiar feeling on campus and the emotional support we give each other. One can directly tell we all burn for hospitality, not only towards future guests or clients but also emotionally towards each other.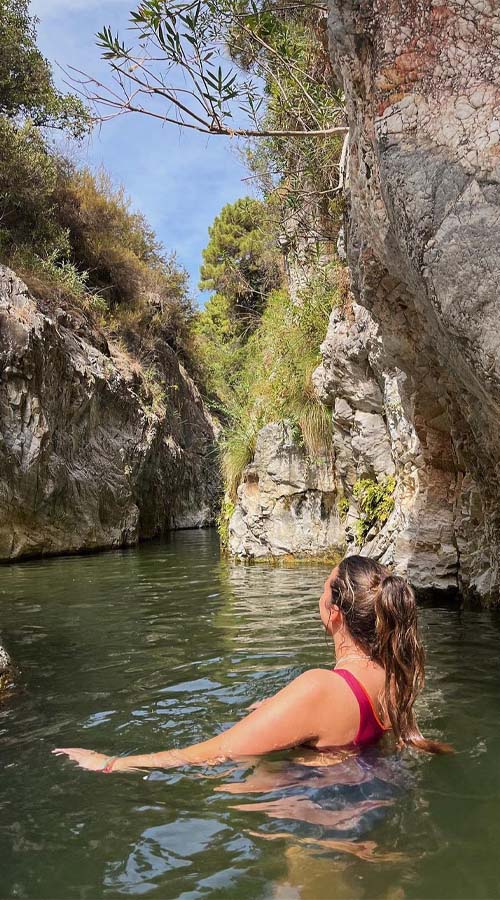 Taking naps at the beach, hiking through Marbella's large-scale offer of natural sights and mountains, swimming in the ocean, or having some tapas in the old town have become regular activities in my life. Would you have told me this two years ago, I would have never believed it, but, as I said before, life here feels like a dream you never want to wake up from. Don't get me wrong, studying here takes a lot of discipline and requires hard work to be on top of your classes, especially when being attracted by all the
amazing activities one can do here, however, the student life is from another world. I never take any moment for granted and appreciate the time here to the second. The options are endless, especially being at such a perfect location in the south of Spain, from which traveling to towns like Ronda, Tarifa, Seville, or even Gibraltar is so comfortably easy. Last year my friends and I spent a weekend in Tarifa and visited the most southern point of Spain and discovered places we have never seen before. I hold on very tightly to these memories since it was such a spontaneous trip and thanks to living in Marbella, was so easy to travel to. If I am being completely honest, I wasn't very aware of the nature, the South of Spain had to offer, but once I realized how much
in fact it did, I have become very passionate about discovering new areas and natural sights in the surrounding areas. Hiking has become a regular activity for me and even though I cannot boast of having climbed "La Concha" yet, it is the next point waiting to be crossed off my bucket list. Apart from "La Concha" there are smaller mountains to hike and natural sites such as rivers which are astonishing. Last weekend my friends and I went cliff jumping and climbing along a river not too far from campus. And once again I had a moment of "Is this another dream?!" I seriously cannot get enough of them, and I hope I never do.
Putting these thoughts into words just makes me more aware of how fortunate I am of being here. The opportunities I am given are unimaginable and prove to me, on a daily, that I made the right decision of coming here for my bachelor's studies. My internship at The Charles Hotel in Munich being the greatest one yet. Following my first semester and the introduction to the world of practical arts such as culinary arts, Food and Beverage service and Hotel Operations, applying the knowledge learned at university in Munich's most prestigious five star Hotel, has been an amazing learning experience. Opportunities like these have further opened my eyes to the world of Hospitality Management and proved to me that this is definitely the professional path I want to take for my future career. Apart from my internship, the teachings of the academic part of Les Roches by true professionals in the field has inspired me in many ways and the connections between students and teachers grew very meaningful to me. The teachers and instructors, as well, grow to be part of the family you build up during your time at Les Roches, and will act as your guidance and motivation to go above and beyond and make use of the opportunities we are given. For example, a few days ago, helping at our annual charity gala dinner for "Fundación Harena". Events like these give us students the chance of applying our learnings from the classroom and develop our passion for the hospitality industry. I had such a great time and truly enjoyed meeting people from different BBA and Master's courses. Opportunities like these are what connects and makes up the Les Roches student body.
Having now commenced my third semester I can reflect upon the changes I have made over the last year, especially during my BBA1 semester and my six-month internship. I am truly proud of the professional, as well as personal growth, I have made throughout this time. I have become more open-minded and have learned a lot about how to create interpersonal connections in the professional field. Apart from the diligent bachelor program, Les Roches Marbella has to offer, the learning environment is not bound to the walls of the classroom. Most learnings take place in social and practical environments and have helped me strengthen my own persona. With these experiences, I am ready for another amazing semester and hope for more experiences and moments where life feels like a dream.
The student life here has been a gift to which I will hold on forever and tell stories about years from now. The best part is that it has all only just started and I am looking forward to all there is to come. The dream continues and my reality is something I have no fear of thanks to Les Roches.