What is the future of hospitality? It's a big question, and each year some of the best thinkers in the industry come to Les Roches to debate the answer, at the Future of Hospitality Summit. With the help of the student organizing team, we review some of the best presentations from this year's event.
In late October, Les Roches had the pleasure of welcoming Accor Innovation Lab, Winnow Solutions, MilesAddict, Ducasse Paris, PuraWorka, MCI, Cristhian Osorio, Trivago Hotel Relations, WestCherry Hills Corp, BeeKeeper, IOST & Eversystem and Ibis Music to campus.
All these companies were brought together to share insights into their innovative and creative practices, as part of the 2019 Future of Hospitality Summit (FHS).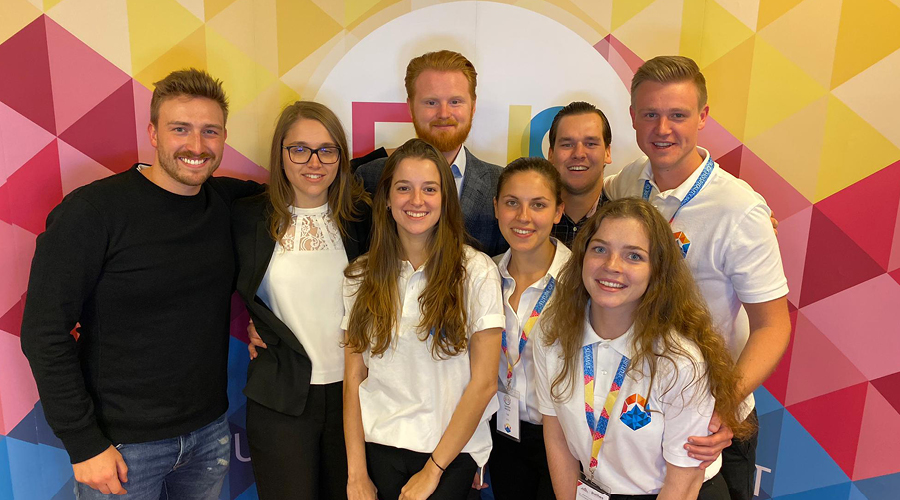 One of the annual highlights on the Crans-Montana campus, FHS is organized and run by students, with different themes debated each year.
Each and every speaker this year was thrilled to be a part of the summit, leaving behind nothing but a good impression and positive comments and feedback. Speakers mentioned that they were surprised by the level of organization, and were pleased to connect with the students of Les Roches. 
Below are some of the ideas that the keynote speakers shared with us throughout the two-day summit. 
Accor Innovation Lab – Marie de Branche
Marie's informative keynote presentation described Accor's three objectives: communication acting as a visibility tool; welcoming new talents; and acquiring successful start-ups. As a partner of VIVA Technology, Accor is continuing to innovate and create new ideas and concepts. A prime example of this would be the development of The Loft. This innovative new "pop up hotel" prototype fulfills its objectives of mobility, being autonomous and being able to cater up to six people. It is, as Marie describes it, "truly like nothing the industry has seen before".
Best of all, Accor was kind enough to bring The Loft to our campus; and a group of lucky students won a special competition to spend the night in it! You can find out what happened in our Instagram story…
Winnow Solutions – Natasha Montagu
Les Roches BBA graduate Natasha focused on finding possible solutions for the food waste problem facing the hotel industry. She told the audience that her attention had been drawn to this issue during the first internship of her BBA at a top London hotel, where she'd noticed the food waste situation at her workplace. Natasha noted that food waste makes a significant contribution to climate change. Moreover, it was hard to measure and the data on food waste was not getting analyzed properly during  the operation period or inside the kitchen. Food for thought!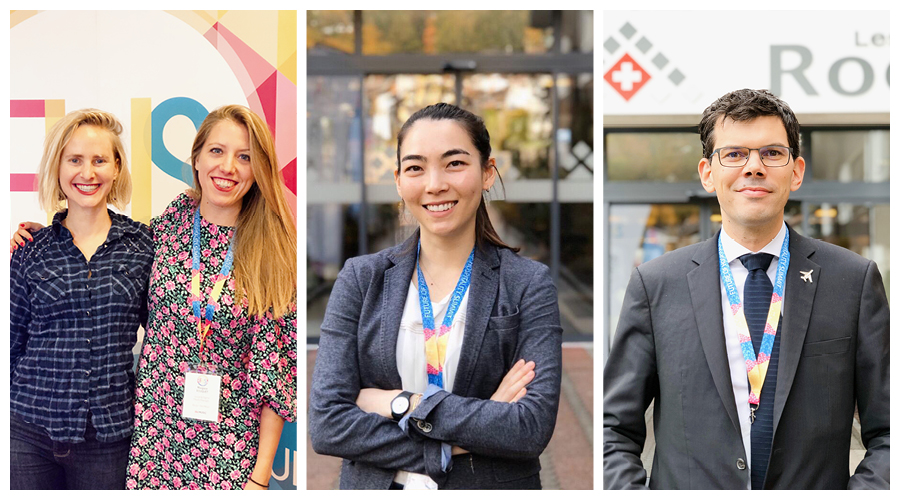 From left to right: Marie de Branche & Marcaus Bouque (Accor), Natasha Montagu (Winnow Solutions), Guillaume Schaer (MilesAddict)
MilesAddict – Guillaume Schaer 
MilesAddict's Guillaume answered various questions on frequent flyer programs, such as how to choose the best programs based on the individual customer's travel patterns; the differences between the various programs; and how miles are earned. He also revealed several simple tips to earn miles!
Ducasse Paris – Jean-Marie Hiblot
Jean-Marie is in charge of 46 Ducasse restaurants across the world. He shared many interesting experiences and culinary insights. He emphasized that cooking was not just about putting ingredients together, but it was also telling stories with what you presented on the plates. Jean-Marie always tries his best to improve and innovate his cooking by creating local tastes and searching for new ingredients. Last but not least, he also mentioned what chefs should take into account: like which products should be used in which dishes, and that the chef should always be found in the kitchen.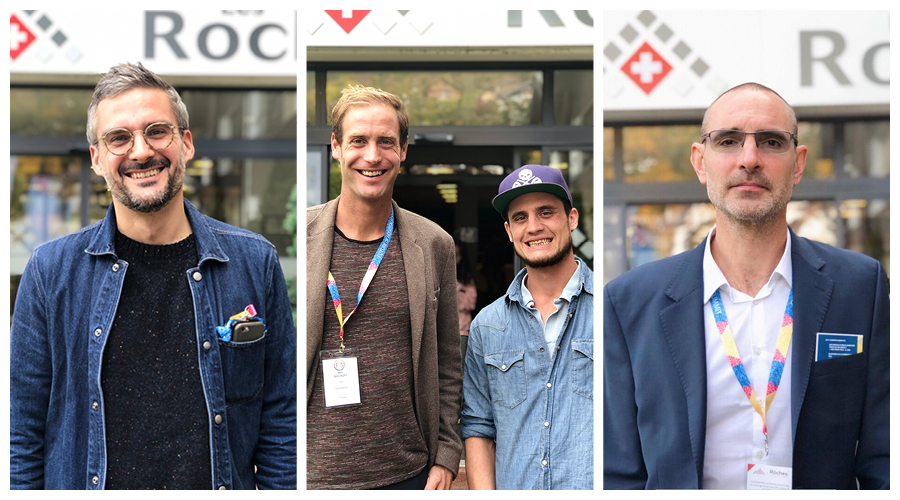 From left to right: Jean-Marie Hiblot (Ducasse Paris), Neil Beecroft & Nicholas Fontaine  (PuraWorka), Rene Haller (MCI Group)
PuraWorka – Neil Beecroft & Nicholas Fontaine 
PuraWorka is a new co-working/co-living concept that combines innovation and tradition, while incorporating sustainability. PuraWorka shared many future visions with the audience, such as leveraging the digital revolution, finding ecosystem partnerships and fostering cultural exchanges. The goal of the company is to move forward and always find new ideas or solutions. By mid-December 2019, PuraWorka is planning to open an Alpine boutique hotel in Zermatt.
MCI Group – Rene Haller 
MCI is an event management company headquartered in Geneva. It focuses on creating new experiences based on current trends such as digitalization, climate change and security. The company has devised some innovative tools, such as a chatbot to help event participants find their way quickly, and a 'feedback now' tool to help event organizers react immediately. Another creative idea from MCI is a matchmaking tool that helps like-minded participants to get together. 
·      If you want to discover more about the 2019 Future of Hospitality Summit, you can read our exclusive preview here