Hotels and tourism are two of the industries with the highest global economic growth over the last several years and demand for trained professionals has grown parallelly. Due to the diversity of these two industries, one of the most attractive aspects of a degree in hotel management is that it is a grouping of a wide variety of professions. At times, this causes confusion when talking about hotels and tourism. How is tourism different from hospitality? In this article we are going to tell you about it.
Key points to consider before reading the article:
Hospitality and tourism are not the same. Hospitality management is the direction of hotels and hospitality-related companies and services.
The hotel industry is one group of activities whose operations are directed toward caring for the guest and the provision of services linked to their use of restaurants and other food & beverage establishments.
Tourism encompasses the activities that people carry out during their trips and stays in places other than their natural environment for a specific period of time and for leisure, business, and other reasons (according to UNWTO).
Hospitality Management professionals are in charge of the strategic management of hotel, tourist, and catering establishments (et al) and companies that are managed with a vision of service and customer experience that goes beyond hotels. This includes luxury brands, events, casinos, technology applied to hospitality management services, etc.
If you want to advance, click on one of the following links:
What is studied in a degree in tourism?
Specialization in hospitality: what master's degree in tourism can I study after my career in hospitality?
Hospitality and tourism: two industries intertwined in hotel and tourism management.
What do you imagine when you think about career opportunities in hospitality and tourism? The possibilities are many and varied. As the name suggests, this includes everything from hotels and resorts, to airlines and cruise ships, theme parks and casinos, and many more. As for job opportunities, the positions can vary and the training for each one varies as well. Some positions will range from purely tourism positions, such as travel agents, tour guides, and tour operators, to positions identified with hotel management such as General Managers, hospitality and tourism industry entrepreneurs, marketing directors, and event management specialists.
However diverse the hotel and tourism industry may be, there are a number of common dynamics. The most important of these is the customer's experience and satisfaction with the product or service. In these industries, the greatest impact on the customer will be determined by the human factor, directly or indirectly.
Whether an employee is in direct contact with the customer or is part of the team behind the scenes, the reality in the hospitality industry and the tourism industry is that their employees have the ability to determine the outcome of the customer experience. A "moment of truth" is an expression used in the hotel and tourism industry to describe the moment when a guest and an employee have an encounter. For example, when a hotel guest arrives at the reception, or when a maitre'd welcome you to a restaurant. However, it can also be when the client is attended to by maintenance personnel to fix any incident in their room. In this industry everything counts, that's why it's called a people industry.
The two industries – hospitality and tourism – come together in hospitality management. It is understood, therefore, that the meaning of hospitality management goes through the management of hotels and tourism companies with extensive knowledge of the operational details that will offer the best customer experience and the most technical knowledge of strategy, finance, and leadership that tourist companies need in order to succeed.
Food & Beverage sector: definition and how it is benefitted by Hospitality Management professionals
The Food & Beverage (F&B) sector of the hospitality industry center on activities, services, and operations linked to the operations of a restaurant, cafe, or bar establishment.
Establishments dedicated to food and beverage operations, although considered to be a separate, stand-alone industry, are still managed within a framework of hotel management (hospitality) practices. Also, they are linked to the overall growth of tourism.
The operations of the Food & Beverage sector are mainly those of the kitchen, dining, and bar services. Among the positions with the greatest demand in the F&B industry, we can find chefs, baristas, room managers, sommeliers, and waiters. An employee in Food & Beverage will work mainly in restaurants, cafes, or other food and drink establishments.
F&B training is usually very hands-on and covers areas like the design and preparation of dishes, dining room management, menu presentation, or purchasing management. They can also include subjects that provide knowledge of wines, preparation of cocktails, or how to manage a kitchen team.
Hospitality Management: definition and explanation of what is a degree in hospitality management
Hospitality Management is a professional career that is responsible for the management of hotels and tourism companies. The anticipated growth of tourism offers future hospitality management students a number of opportunities within the industry. Now is a key moment to seek a future career in hotel management, since the revitalization of the tourism industry means that professionals will be required who know how to manage hotels and different tourist-related establishments.
A degree in hotel management focuses on training future students to be true professionals who not only know how to manage a hotel but also to take it to its highest level. Schools specialized in hotel management, such as Les Roches, are pioneers in creating hotel managers, based on innovative classroom methodologies and practical training.
More specifically, the subjects taken by students studying hospitality management range from operations to marketing and financial management. Some of the subjects offered in the BBA in Global Hospitality Management are:
Hotel Operations and Rooms Division
Resort Fundamentals: Operations and Communications
Marketing in the Hospitality Industry
Managing Diversity in a global company
Lead your Team to Success
People and Talent Management
As you can see, these are subjects focused on developing the student's managerial profile, with a deep knowledge of operations, and of course, team management. It is also about subjects that create leaders and professionals who know how to manage talent since our personal achievements are the accumulation of the achievements of our team.
Degree in Tourism
The origin of tourism studies dates back to the 1970s. At that time, higher education in the field of tourism did not exist as we know it today. Tourism was studied as an aspect of a country's economy, and its relationship to geography and spatial planning.
A young Yugoslav geographer, Zivadin Jovicic, who was a professor of geography, is considered the "father of tourism". It was Jovicic himself who defined Tourismology as "the science that seeks to define and study the different spatial, economic and sociological dimensions of tourism." Today's tourism graduates owe much of their training to the philosophy of Jovicic, who set the course for future studies for a degree in tourism.
Following Jovicic's own philosophy, it is understood that the study of tourism planning is not a unique phenomenon, and none of its components can be studied in isolation. In order to study a degree in tourism, it is essential to know its essence, without presenting it from a one-sided economist, geographer, or sociologist's angle. This line of thought is commonly heard in the classrooms of tourism schools.
The fundamental objective of the degree in tourism is to train professionals with a specialized profile, which takes into account the needs of visitors to a destination or establishment.
What is studied in a degree in hospitality management?
A bachelor's degree in hospitality management is an education with a solid future. The main objective of studying hospitality management is to train students to be effective managers in hotels, tourism companies, and related services. A degree in hospitality management is one of the best ways to access the world of hotel management, food & beverage businesses, leisure establishments, and tourism-related products and services. The degree also provides skills that are easily transferable to other industries. (https://pixelsmithstudios.com/)
There are many subjects that are learned in a degree in hospitality. The subjects that a student of hospitality management takes include event organization, tourist accommodation management, cultural heritage, numerous business management courses, digital marketing, and many more. Additionally, there are courses that focus on hotel operations and management of the food and beverage departments in a hotel or restaurant, human resources, and talent management, as well as interpersonal communication and information technology applied to hotel management.
Lifelong learning must also be taken into account. Active professionals in the hospitality sector must also continue to develop new skills. One of the best ways to continue training is through a master's or postgraduate degree.
What is studied in a degree in tourism?
Currently, schools that offer degrees in tourism tend to have a study plan according to the reality of the current job market. For this reason, the undergraduate programs focus on education applied to tourism from the point of view of the management of tourism companies specifically.
These schools train future professionals to fill positions in tourism companies such as travel agencies or tour operators. Students of tourism obtain training in the socio-cultural and territorial dimensions of tourism, and on many occasions, they study languages such as English or Mandarin.
In the same way, many degrees in tourism include classes on cultural tourism, the legal dimensions of tourism, management of catering services, and other subjects applied to tourism.
The importance of studying hospitality management and tourism
Although the global hotel and tourism industries have experienced exponential growth in recent years, it has never been difficult to manage accommodation, hotels, cruises, airlines, restaurants, and travel agencies effectively. The academic offer of degrees in hospitality management, hotel management, and tourism must evolve with current times while adapting to the dynamics that characterize these global markets.
Many years have passed since Horst Schulze defined hospitality so eloquently as "ladies and gentlemen serving ladies and gentlemen". Hospitality, and the hotel and tourism industries, need professionals who have been trained by experts, with the ability to propel tourism to the next level. Innovation in the sector is a key and necessary element needed to introduce a game-changing disruption in the market and to serve as a driver for future growth.
Three decades ago, most countries did not have a Ministry of Tourism. Today, they do. Why were government bodies created especially for the industry? Because tourism has proven itself to be an industry that lifts the economies of many countries and generates prosperity that reaches all socioeconomic groups. The proof of this is in the development that has been seen in airports around the world. Not only are international airports logistical centers that transport travelers to and from their destinations, but they have also become venues themselves where the world's top luxury brands are showcased in veritable shopping malls that double as passenger terminals.
The figure of the Ministry of Tourism does not require mathematical and financial expert knowledge, but it does require interpersonal communication knowledge and a lot of experience in the tourism industry.
You just have to watch the rapid development in Dubai over the past several years, where Mohamed bin Rashid Al Maktoum's vision of being the heart of the Middle East came true. In the middle of the desert, a near-utopian built world has been created both from an architectural and economic point of view.
None of these milestone developments around the world would be useful without a sound hospitality education that includes attaining in-depth hotel management knowledge and the development of crucial soft skills. A well-rounded hospitality management degree will also involve receiving training from seasoned industry experts since they are the ones who generally pave the way for future leaders in hotel and tourism management.
Studying hospitality management in Les Roches
Studying for a degree in hospitality management at Les Roches is a great way to start your professional career. The Bachelor of Business Administration (BBA) in Global Hospitality Management is internationally recognized. The duration of the undergraduate degree is 3.5 academic years with a total of 120 credits (Les Roches uses the US university credit system).
The BBA's degree's curriculum intertwines hotel management, tourism accommodation management, and hospitality management studies. The subjects that are studied involve business management, marketing for tourism, cultural heritage, and management of tourism products among others.
The academic year at Les Roches begins in February and September of each year and the BBA program is divided into 7 semesters.
Les Roches is among the best schools for specialized business studies in hotel and tourism management. The international college ranking organization, QS University Rankings, has placed Les Roches in the World's Top 3 universities by specialization, and the second-best school worldwide in hospitality management and leisure studies according to employer reputation (employability).
The same organization positions Les Roches as the best school in Spain to study hospitality management. Earning a degree at Les Roches can be one of the best decisions you make to develop your career in hospitality management.
Les Roches also offers external internships in all its courses, as well as inter-campus mobility programs. Entrance exams are not required, but you do have to meet a series of stringent admission requirements to see if you meet the high standards for entry into the programs.
Specializing in Hospitality: Studying a master's degree in hotel management after completing a degree in tourism
A postgraduate or master's degree in hospitality allows you to specialize in different sectors of the tourism industry. Depending on your tastes, skills, and professional needs, you will find several master's degrees in hotel management with which to develop your professional career.
The offer of postgraduate and master's degrees in hospitality management is quite wide. You can find specialized courses according to different student profiles and depending on the time you have.
At Les Roches, you can find a series of specialized master's degrees in different areas that will help you to advance your career. You have, for example, the Master's in International Hotel Management, the Master's in Marketing Management for Luxury Tourism, the MBA in global Hospitality Management, the Master's in Hospitality Strategy and Digital Transformation, or the Postgraduate Diploma in International Hospitality Management.
And if you already have an established career in tourism, but want to gain more knowledge in hotel management, you can opt for the Executive Master in International Hotel Management. The main advantage of this master's degree is that it combines face-to-face training with online training. This means that you won't have to stop working to get executive training.
Master's in International Hotel Management (includes business trip to Dubai):
This master's degree is designed for recent graduates of a degree in tourism or those who come from other careers. It is designed to turn the student into a hotel manager, teaching the ins and outs of the hotel industry.
The Master's in International Hotel Management is the most demanded in Les Roches. It includes a business trip to Dubai, in which students visit luxury hotels and have meetings with the CEOs of the hotel industry in the world's most sought-after tourist destination. And if you already have an established career in tourism, but want to gain more knowledge in hotel management, you can opt for the Executive Master in International Hotel Management.
Executive Masters in International Hotel Management:
If you are currently working and want to further your education with a master's degree, this is one of the best options for active professionals. This master's degree is designed for working professionals who want to take their management skills to the next level.
The Executive Master's in International Hotel Management offers flexibility that lets students combine their professional careers with advanced graduate-level studies. It offers a blended curriculum that includes online training modules supported directly by teachers from Les Roches and 6 periodic weeks of face-to-face classes held on the campus in Marbella.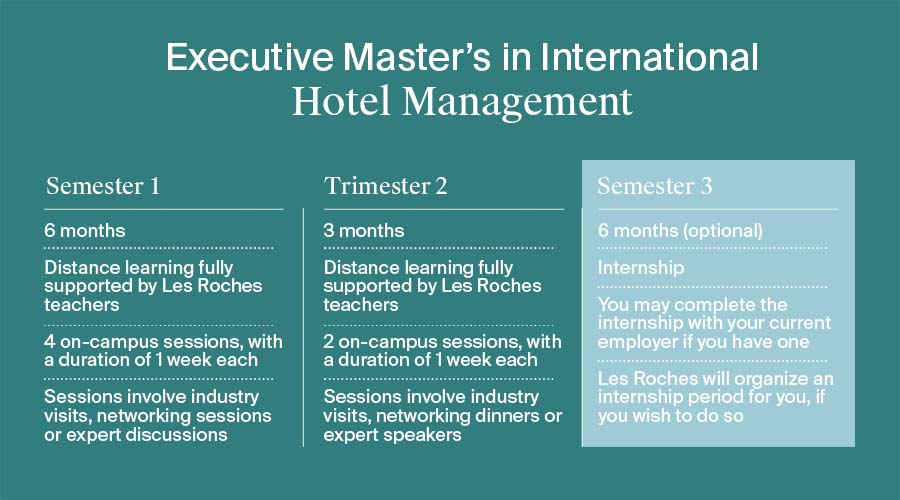 Master's in Marketing Management for Luxury Tourism:
If you are interested in being part of the most coveted industry in the world, this luxury tourism master's is your way to show it. The Master's in Marketing Management for Luxury Tourism helps students to lead marketing projects in the luxury sector and premium brands.
MBA in Global Hospitality Management
This is the definitive hospitality MBA: the only intensive, full-time MBA offered today by a global Top 3 hospitality management school. Now includes a choice of two second-semester specializations: Advanced Revenue and Performance Management; or Hospitality Entrepreneurship and Business Development. The program also features two international study trips, plus a real-world Consultancy Project.
Master's in Hospitality Strategy and Digital Transformation
A world-first Master's that takes you to the forefront of digital transformation in hospitality. Learn tactics, strategies, and leadership through exposure to cutting-edge faculty and experts. There's also an international field trip, while the curriculum concludes with a fully assessed capstone project which can be completed either through a real-world internship experience or consultancy case study.
Postgraduate Diploma in International Hospitality Management (includes a business trip to Dubai):
The perfect postgraduate degree for professionals seeking to redirect their careers toward hospitality, whether they have previous experience in hotels and tourism or not. The Postgraduate Diploma in International Hospitality Management provides comprehensive training in hotel management. The business trip to Dubai takes students of the course to visit and study the world's best luxury hotels. They also have the opportunity during the trip to meet with CEOs of the hospitality industry in one of the world's most sought-after destinations.
Questions and answers about degrees in hospitality management
You may have some doubts about whether a degree in tourism is for you or not. A career in tourism and hospitality management is a profession whose objective includes hotel management, the management of tourism companies, and the development of tourism service companies,
We have compiled a list of the most common questions that future professionals in hotel and tourism management have. Keep reading to discover the answers to your questions:
How good is a career in hotel and tourism management?
A career in hospitality management offers potential as great as the aspirations of the student. Students who choose a career in hospitality management tend to have an interest in traveling and learning about different cultures. They want a career that allows them to develop professionally and personally.
Additionally, Les Roches graduates aspire to be industry leaders and students with these aspirations are always in high demand by the industry. Career professionals in hospitality, through their high standards of excellence and ethics, add value to society.
For Mark Harmon, CEO, and founder of Auberge Resorts Collection, building a hotel today is about creating a community. In the paradox of digital connectivity, we are more and more disconnected personally. A hotel can offer a place to connect with those around us. Some city hotels, such as ACE Hotel in New York and Portland, are part of the social fabric of these cities and have come to define their surroundings. Through art and music, they create more connected communities.
Do you travel a lot studying a degree in tourism and hospitality?
If you like to travel and you are clear that your future professional career should provide you with the opportunity to move to different countries: a career in hotel management and tourism is perfect for you.
Studying hospitality management at Les Roches gives you the opportunity to discover new places. The 3.5-year BBA in Global Hospitality Management includes two semesters of internships that you can do abroad. In the same way, you can choose to combine your studies between the campuses in Spain, Switzerland, and Shanghai.
What is the best career to choose if I like to travel?
If you like to travel and you are about to start your university studies, you will surely want to seek a university degree that allows you to travel the world.
A career in hospitality management is one of the best options. Obtaining a degree in hotel and tourism management from Les Roches allows you to work in all parts of the world. The training that you will obtain in hotel and tourist management is also applicable to other industries that can allow you to move around the world.
Whether your final position is in a hotel, airline, or international trade, a career in hospitality is your best option if you are looking to travel and see the world.
The options of being able to travel and work in other countries will be even greater if you learn several languages.
What languages ​​are learned by studying a hospitality management degree?
For those pursuing a career in tourism and hotel management, learning new languages ​​is the foundation for creating a great and successful career.
One of the reasons why you should learn a new language if you want to study for a degree in hospitality is because when you travel, speaking the local language is a way of showing respect. In hospitality, this will be of great help when you start building your network of contacts.
On the other hand, when you start traveling you will have the opportunity to perfect your level of English. English is "the official language of business", and it is the language you will have to speak if you want an international career in hotel management.
What do you learn in a career in hotel management?
When you study international hotel management, your training goes far beyond the tourism industry. Hospitality management studies prepare graduates to be business managers, with skills that can be transferred to different industries.
When you study at Les Roches you will receive professional training in business management, international trade, marketing, and much more. In the same way, you will also learn what it is like to actually work in hotel or restaurant operations through practical arts training.
Here is a small list of the subjects that you can find in the BBA in Global Hospitality Management:
Gourmet Experiences
Business Mathematics
Marketing for the Hotel and Tourism Industry
Managing Global Diversity at Work
Principles of Sustainability and Innovation
What is the profile of the student of a career in hotel and tourism management?
The ideal student profile for a career in hotel management is that of a person with the vocation to know the world and all its splendor. If you often find yourself advising your friends and family about tourist destinations, a career in hospitality management is for you.
Below, you can find some of the typical characteristics of an ideal student for a career in tourism:
You want to join a fast-growing industry
You don't want a monotonous job
You want to meet people from different cultures
You are passionate about traveling around the world
You don't want a typical office job
You want to have the option of pursuing a career in various industries
Top 7 reasons to study hospitality management
There are as many reasons to study a career in tourism and international hotel management as there are students. The reason why you choose one professional career or another should not be based on an economic principle. The best thing is that you think about what you are looking for in a professional career, and what you want it to contribute to your personal development.
Here are the top 7 reasons why a career in international tourism and hotel management is ideal for you. If you feel identified with them, congratulations, you have found your ideal profession.
Diverse career opportunities: Hotel management is a career that never goes out of style, and the training obtained in a bachelor's or master's degree in hospitality and hotel management in Les Roches is adaptable to all types of industries in which customer satisfaction is essential. In both the private and public sectors, the world of tourism offers extensive job opportunities within and outside the hotel and tourism industries.
Get to know new cultures and new ways of thinking: One of the biggest reasons to study at Les Roches is undoubtedly the cultural diversity of its students. In this way, students learn about new cultures, acquire virtues such as empathy, and learn about traditions and social behaviors from other countries.
Creativity: Many of the tasks of a professional career in hotel management require creativity. Fomenting creativity has led almost a third of Les Roches graduates to choose the entrepreneurial path. Many of the students work for a few years for third parties and then move on to start their own businesses, using their creativity to differentiate themselves from the competition while developing innovative solutions for the hospitality and tourism industries.
Personal development: Studying a degree in hospitality management allows you to develop as a professional in various fields within the tourism industry and outside of it too. As a result, there are endless opportunities to learn new interpersonal skills and get to know new cultures. You will learn about the history of other countries and discover hidden corners within your own country that you have never heard of.
Variety of Tasks: A career in tourism and hotel management requires professionals to have skills in many fields. The tourism and hotel industry forces undergraduate students in tourism to be multidisciplinary and to know how to carry out several projects at the same time. You must have skills in communication, human resources, marketing, business management, sales, and much more.
Teamwork: A career in tourism and hospitality management requires you to work as a team. You must be able to get along with your colleagues and know how to work with professionals from different cultures. If you are passionate about teamwork, a career in tourism is perfect for you.
Never a boring day: Monotony is not part of the daily life of a hospitality management professional. Every day is different, and if your position requires constant travel, be prepared to be introduced to industry professionals in multiple languages ​​and in multiple countries.
Where to study hospitality
Schools specializing in international hospitality management careers are present in all major cities in the world. Similarly, in most public and private universities, you will find different degree options in tourism and hospitality.
The quality of training is an aspect that you must take into account, as it is what will make the difference when it comes to getting hired and the quality of the companies in which you work. Did you know that Les Roches is in the Top 3 in the World for employability for Hospitality Management schools? This recognition is granted by QS University Rankings, one of the most important agencies in the world in terms of university classifications.
Les Roches has campuses in Spain (Marbella), Switzerland (Crans-Montana), and China (Shanghai). Marbella is recognized globally as a hub of luxury tourism, the perfect setting to learn the principles of hospitality.
Switzerland, for its part, is the cradle of hospitality as we know it today. Its history is closely related to hospitality education and the best hotel management schools in the world trace their beginnings to Switzerland.
You might be interested in reading: