By Nicholas Allen, Class of 1992 Les Roches alumnus
There's not much I can say about this gentleman that he hasn't already told everyone! Larger than life, and a man who can make everyone smile with his humor and humility. He's been like a brother to me for 30 years… the brother who never cleans his room and follows the wrong rugby and cricket teams. Ladies & Gentlemen, I present '92 graduate, the Alumni All Star – Mr Robert Stanford!! And don't forget to check out my previous 'Between You and Me', featuring the wonderful Bruno Kim!
Nicholas Allen (NA): What is your profession and current position?
Robert Stanford (RS): I worked in the hospitality Industry for 16 years after graduation. I worked for Hotel du Vin group, ran my family business for nine years, was an Area Manager for Lakeside Inns before finishing as GM at a hotel in Herefordshire in the UK.
After 16 years solid of long hours I had a career epiphany (needed a better work/life balance!) – and took a job lecturing in Hospitality and Tourism Management at City of Liverpool College and Liverpool John Moores University. I am now in my 15th year of being a lecturer in Liverpool, where I also met my wife! I have completed a Degree in Education as well as a Master's in Hospitality Management. I now act as a mentor to new lecturers, while also writing articles for various publications, plus I am part of the Quality Executive.
NA: Who was your first room-mate at Les Roches?
RS: I had a single room in Years 1 and 3 – but in Year 2 had a share with Laurenz Melchers. He had an apartment in Crans-Montana, which meant I effectively lived alone. Though George Rarasea moved in for six weeks while recovering from a ligament injury.
NA: Where did you grow up?
RS: I grew up in rural Gloucestershire in the UK – an area called the Forest of Dean. I was schooled in South Wales and Somerset – all very quiet areas and all about farming.
NA: Whom has made the biggest impact on your professional career?
RS: There are so many that I could mention. People that spring to mind are Ken Wentworth Jackson, who was a Les Roches student and sat me down one day to discuss getting the balance between enjoying your time at Les Roches and studying. Also my boss at City of Liverpool College, Anne Hauger, who taught me that the best lecturers never work hard but it is always the students who should be working hard. A motto I still use to this day.
NA: Who was your favorite teacher at Les Roches?
RS: I loved the grumpy butchery tutor who was so rude to everyone, refused to speak English and bellowed "comme les mains" at everyone taking lacks of lamb off the bone. But the wine and bar tutor inspired me with his love of "cepage" – he was funny, knowledgeable and taught me that learning should be fun!
NA: What's your advice for new graduates?
RS: Enjoy every minute of your time at Les Roches – savor it, make as many friends and acquaintances as you can as they will be there for the rest of your life. Play hard, work hard. Oh and Denner in Crans sells the cheapest beer!!
NA: Who did you have a crush on at Les Roches?
RS: Ely Oyama Liu was a funny girl – very cute back then (as I am sure she still is!).
NA: What is your fondest memory of Les Roches?
RS: That's an impossible question – so many things come to mind. I suppose the overriding memory is how close I was with all my friends there; and the fact that, to this day, I still hear from them after all these years.
We had the sad passing of Matt Richter recently. He was a fabulous man and even now it still hurts thinking about him no longer being with us. Just goes to show what effect that place had on many of us.
NA: What do you think of when you hear the names below?
o Marc Parche – bruising heavy metal freak/mate that lived next door to me. I think Satan worshipping, crazy kid from Darwin – love you fella.
o Bluche – fondue, fendant, Cardinal, Appenzeller.
o Nicholas Allen – West Coast Eagles fan with a heart of gold – love you mate. Oh, and high five drop kicking rugby legend.
o Liverpool – home, work and the most fun city in the UK. Where I met my wife!
o San Nicks – drinking, drinking, drinking… oh and drinking. And the weirdest, most eclectic, best jukebox in the world. Song of Indifference by Bob Geldof is still my 'getting ready to go out' tune.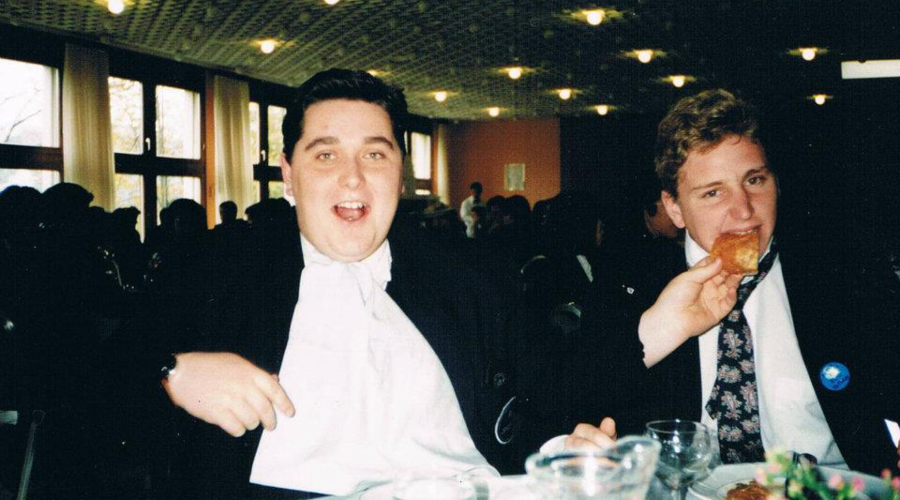 NA: If I could grant you one wish, what would it be?
RS: I wish I could come and see more Alumni – need the lottery numbers to come in.
NA: You can ask me one question, what is it?
RS: When you think about the name Rob Stanford – what comes to mind?
NA: Oh, now that's an interesting flip buddy… a genuine mate, a lad who wears his heart on his sleeve and will have your back no matter what. Cricket Legend in his own mind !! Can't sing or dance but can keep you laughing.
NA: Last question. You have organized a lavish dinner party with no expense spared. You can invite eight people, alive or dead, who are they?
RS: Paula Stanford (wife), Rebecca Whelan (stepdaughter), Nick Allen (Les Roches), Thomas Nock (Les Roches), Marc Parche (Les Roches), Ken Wentworth Jackson (Les Roches), Paolo Campillo (Les Roches), and Ramon Mitchell (Les Roches).
I suggest Doyles at Watsons Bay in Sydney – water taxi from Central Quay on the beach on a sunny day. Has to be seafood heavy: oysters natural amuse bouche. (Soma online) La Belle Epoque Champagne. Hot and cold seafood platter starter in the middle of the table, family style. Cloudy Bay Sauvignon Blanc. Rack of lamb main course. Penfolds Grange Hermitage. Cheeseboard and 1971 Croft Vintage Port. Coffee and Maker's Mark 46 Bourbon.
Not smoked since 31st October 2000 – so if we all get together for a huge catch-up it has to be Cohiba Robustas all around. Best of all – Nick Allen is paying!
NA: I knew you would leave me with the bill! Cheers mate, keep giving your students hell!!