By Nicholas Allen, Class of 1992 Les Roches alumnus
This is an absolute treat for me, to interview one of my favorite people: class of 1994 graduate, Kelly Barker Hodgson. Without a doubt, the kindest and most innovative alumni. Make sure you check out my previous 'Between You and Me', featuring the Alumni All Star, Mr Robert Stanford!
Nicholas Allen (NA): What is your profession and current position?
Kelly Barker Hodgson (KBH): Currently I am the President of F&H Inc. an E-commerce based company that I own with my husband, Shawn.
NA: Who was your first room-mate at Les Roches? 
KBH: Jennifer Kott.
NA: Where did you grow up?
KBH: Connecticut, USA.
NA: Whom has made the biggest impact on your professional career? 
KBH: Les Roches, the school, the way of life, the people. It definitely gave me what I needed to grow in the industry and work all over the world. And to create lifetime friendships with some of the most amazing people!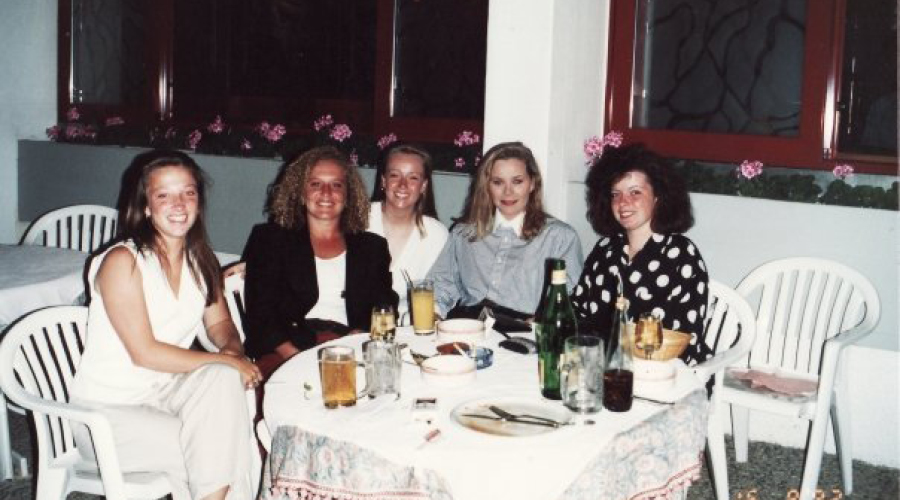 NA: Who was your favorite teacher at Les Roches?
KBH: I had two teachers who helped me tremendously in figuring out my test taking inability. I am therefore extremely thankful and would have to consider them to be my favorites: Mr Catrett and Mr Haering.
NA: What's your advice for new graduates?
KBH: 1) Be sure to have personally done each task/position or job. 2) Don't sweat the small stuff. 3) If whatever you are worried about won't matter in five years' time, let it go! 4) Enjoy all the cultures that you are surrounded by in Les Roches – whenever you can! 5) Work in all the places you can outside of your home country. 6) Relationships are everything, don't burn bridges.
NA: Who did you have a crush on at Les Roches?
KBH: There were a few, no names needed!
NA: What is your fondest memory of Les Roches?
KBH: I have so many:
o   My first day arriving to Les Roches 
o   Montreux with Jessica
o   Moving into our building with Jessica during our Management Year and volunteering for student orientation!
o   Going to Fribourg to Katie's house
o   Cultural Nights – they were like visiting so many parts of the world all in one evening!
o   Looking out of my window at the Swiss Alps from Rocailles
o   Bungy jumping in Crans-Montana with Tom, Brian and Andrew
NA: Do you have any phobias?
KBH: No.
NA: You can ask me one question, what is it?
KBH: What is your best memory of Les Roches, Nick?
NA: I think it was the journey of getting there Kelly, coming from the other side of the world from a city that lives and breathes the ocean to the majesty of the Swiss Alps. The train from Geneva, seeing Lausanne then Montreux pass me by, entering into the Canton of Valais, the funicular ride up the mountain from Sierre and walking into Bluche.  
It is still very emotional every time I take the same journey back to campus and walk into the most multi-cultural university village in the world.
NA: Last question. You have organized a lavish dinner party with no expense spared. You can invite eight people, alive or dead, who are they?
KBH: My grandparents, who passed away when I was really young. They migrated to the US from Ireland. I have so many things I would ask them now that I am older. Next is my cousin Ryan, who passed at just six years old while I was at Les Roches. Then my Aunt Kay, Ryan's grandmother. And then the rest of my family too, so we could all be together again.
NA: Thanks so much for your answers Kelly!