In recent years, the hotel landscape has changed a lot thanks to accommodation alternatives like Airbnb becoming more popular.
Customers now have more choices than ever before, but some may find this confusing.
If you're looking at hospitality as a career, then it's important to know the facts when it comes to Airbnb vs hotel and what the future could hold for both of these business models.
In this article, we will go over the differences between Airbnb and hotels, including their benefits and limitations.
We'll also discuss how the two business types influence the hospitality industry, as well as potential changes in the future.
Read on to find out all about how Airbnb works compared to traditional hotels, and whether this will be the start of a continuing trend.
Airbnb vs hotel: a comprehensive comparison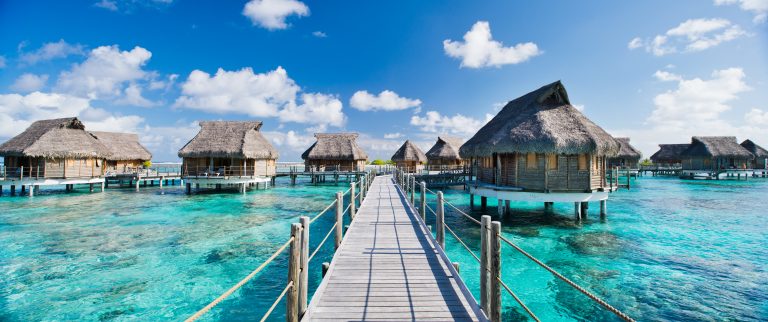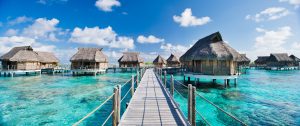 There are similarities and differences when it comes to assessing Airbnb vs hotels. Many questions naturally arise when you look at this comparison. To start, let's make an overview.
Airbnb vs hotel industry: the basics
While many people are familiar with hotels as a business, it can help to make sure we know what the 'Airbnb industry' is.
Airbnb and similar online platforms allow people to rent out individual rooms or entire properties for short-term holiday lets.
The rental term for an Airbnb will often be the same as a hotel, in that they can be rented for one night through to several months, though most people use an Airbnb for between a weekend and a fortnight.
This makes hotels and Airbnb rentals look similar, especially for the consumer.
Of course, hotels are often located in buildings that are custom-built or modified for hospitality, and they often have dedicated staff with extensive training.
Airbnb rentals will often be managed by one person, who's not always on-site.
What industry is Airbnb in?
Airbnb is best described as being in the tourism industry or the sharing economy. This is because these short-term rentals do not really intersect with the hospitality industry.
Overview of Airbnb vs hotel business model
Airbnb and hotels use different approaches to deliver different things to their customers. Let's look at how the two business models operate and their advantages and disadvantages.
Airbnb business model and its advantages
Airbnb operates in a similar way to many short-term holiday rental platforms.
Airbnb as a company allows people to advertise rooms or properties for rent. Here are some of the advantages.
Longer lets are often cheaper: Renting an Airbnb property for a stay of more than a fortnight can be cheaper for the customer, compared with booking a hotel for the same length of time.
This means that Airbnb has an attractive niche in the market.
Avoids taxes on hotels: Many cities, states, and countries have specific laws that mean hotels must pay taxes on rooms they rent out.
Airbnb properties are not always subject to this, depending on the exact wording of the law in the area. This means that Airbnb can undercut hotels or can make a higher profit.
Additional amenities:

Many Airbnb properties give customers access to kitchens and living areas, which can make them a popular option.
Airbnb business model and its limitations
Of course, there are some drawbacks to the Airbnb business model, including the following.
Reliability: Airbnb does not directly handle the properties that customers can rent out. Instead, Airbnb acts as an intermediary between the renter and the customer.
The only way to know whether or not a host is reliable is through reviews on the site, which can be faked.
No on-site staff: Many Airbnb hosts either rent out multiple properties or rent out rooms in their homes but go out to work during the day.
This means that there is often no on-site support in case something goes wrong. Instead, customers have to contact Airbnb customer service for help.
Hotel business model and its advantages
Hotels are a business model that has been around for much longer, and it does have advantages over the Airbnb model.
Better support for customers:

Having staff on-site throughout the day and night means that customers get better support, which is a big selling point for hotels.

More focus on hospitality:

Hotels can offer more hospitality services, including food and drink options, concierge support, and more.

More well-known: People are more familiar with the offerings of hotels, and some customers may be more likely to instinctively choose this type of accommodation.
There is also better name recognition and trust from customers for some specific hotel brands and hotel chains.
Hotel business model and its limitations
Hotels can also have limitations.
Higher price points:

Some customers may be put off by the higher price of hotels compared to holiday lets such as Airbnb.

Difficulty finding real estate:

Hotels often need buildings that are custom-made or converted for hotel use, whereas Airbnb can be anywhere since it's generally located in residential buildings.
Higher running costs: Hotels often have higher overheads, which are passed on to customers or limit the profit potential.
World-class hospitality education from Les Roches
Everything you need to know about hospitality management and business models in the hospitality industry in our accredited business degree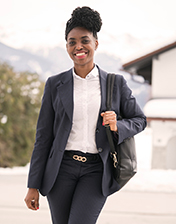 Revenue generation and financial stability of Airbnb and hotels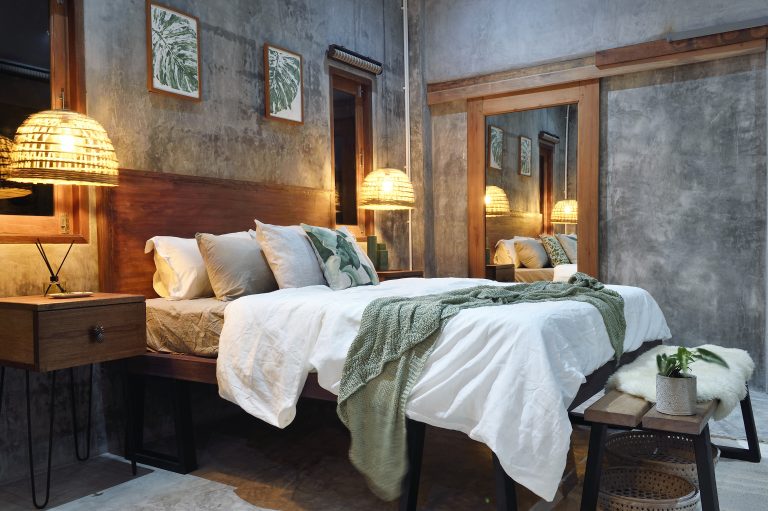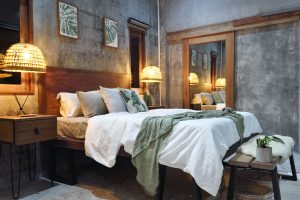 Another important factor when looking at Airbnb vs hotels is the revenue generation and financial stability that can be seen in either sector.
Of course, we can only examine the general trends, so you might find hotels and Airbnb do not follow an exact pattern.
Typically, hotels have higher outgoings, which can cause problems during quiet times. However, this can be mitigated through smart financial planning and revenue management for hotels.
This means that hotels should have quite solid financial stability.
Hotels can also offer other potential means for revenue generation, and hotel management will need to make sure that all possible avenues are used to their full advantage.
These can include restaurants, bars, ballrooms, and additional services such as laundry or concierge assistance.
In contrast, Airbnb rentals often have much lower outgoings as there is much less in the way of staff or amenities that hotels offer.
However, because this is a newer field, it can also be harder to balance revenue and predict the financial stability of such a let.
This is especially the case as some areas are bringing in regulations to prevent Airbnb rentals.
Market growth and expansion opportunities for Airbnb and hotels
The tourism and hospitality industry continues to expand, as travel generally becomes easier and more affordable.
However, this does not necessarily mean that growth is guaranteed.
Hotels might find it difficult to grow profitability as their higher price point may put off some customers. But generally, hotels have a more reliable history of expansion and growth.
On the other hand, Airbnb faces major issues which could limit growth or damage the sector.
Some countries are trying to curb the proliferation of Airbnb rentals and other holiday lets, with nations such as Singapore banning short-term holiday rentals.
This means that there is the potential for hotels to experience considerable growth as the Airbnb market is curtailed.
World-class education in the hospitality and hotel industry
Learn everything about managing a hotel or hospitality venue with a master's degree at Les Roches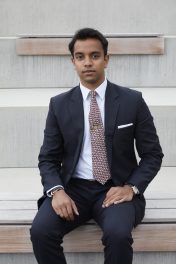 Impact on the tourism and travel industry
Hotels and Airbnb rentals both have a similar impact on the tourism industry, in that they help people visit places more easily. Both can bolster the tourism industry in an area.
Arguably, hotels with their own restaurants, spas, swimming pools, and bars might remove customers from other such facilities locally.
However, a hotel with good front desk service can also point people towards reputable local amenities, which can help bring custom to those places.
Airbnb rentals might discourage people from using restaurants and other local services since customers can cater for themselves.
Impact on the local area
Another factor to consider is how both affect the local area. One of the biggest complaints about the lodging industry is how it increases the price of properties and stops local people from being able to afford homes.
This should be considered, since part of managing a hospitality venue is about making sure the business is appropriate and sustainable for the local area.
Why do tourists choose Airbnb over hotels?
It is important to look at what attracts customers in the Airbnb vs hotel discussion. Here are some of the main reasons that tourists choose Airbnb rentals over hotels.
Price:

Often, booking an Airbnb can be cheaper than booking a hotel, though this is changing as Airbnb is becoming more expensive and Airbnb properties are moving closer to hotel prices.

Facilities:

Many people prefer Airbnb properties if they have kitchens, as this means they can cook rather than eat in restaurants. This is especially favored by the independent traveler.

Wide range of options:

Most travelers can find an Airbnb that suits their requirements, including long-term stay options or last-minute business trip needs.
Why do tourists choose hotels over Airbnb?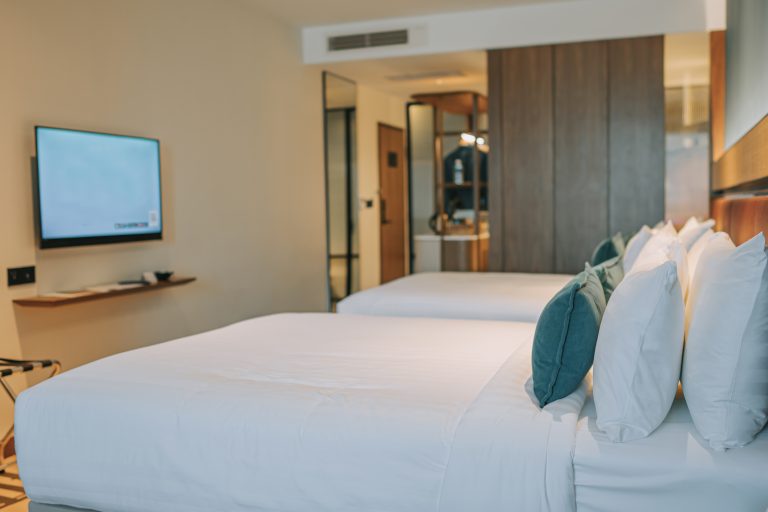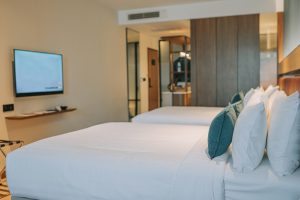 Of course, there are plenty of things that attract customers to use hotels as well, such as:
Better service

: A lot of hotels have staff on-site to help customers, which particularly appeals to the business traveler.

Amenities

: Hotels offer restaurants, bars, swimming pools, etc.

Reliability

: Hotels are typically seen as more reliable and trustworthy than Airbnb properties.

Daily housekeeping

: At hotels, guests can have their rooms cleaned daily.
Who uses Airbnb the most?
The majority of people who use Airbnb rentals tend to be younger people, aged up to 30. Generally, it's also guests who are traveling without children.
However, as the Airbnb system becomes more popular, more and more people are using these facilities, including older tourists or long-term travelers.
Is Airbnb better than hotels?
There is no simple answer to whether Airbnb or hotels are better, and the Airbnb vs hotel debate has a lot of factors to consider.
Both cater to slightly different markets, and different customers will prefer various aspects of either hotels or Airbnb properties.
Even as business models, neither is necessarily better, though Airbnb rentals have a more uncertain future due to the regulations and limitations that some areas are putting in place.
Airbnb vs hotel: summary
Airbnb is a newer option for people who are looking for holiday or travel accommodation, and it has made quite an impact on the tourism industry.
However, there are pros and cons when it comes to Airbnb vs hotel and these should all be considered.
Currently, both are popular options, but this could change in the future.
If you are looking at hospitality as a career, it's important to keep informed about hotel trends in order to make the best decisions for your venue.
A hospitality degree from Les Roches can help make the difference in getting the knowledge that's vital to carefully assess the market.
Photo Credit:
miljko/E+ via Getty Images