The hotel industry is still adapting to the seismic challenges it faced during the Covid-19 crisis. But according to Rooms Division Lecturer at Les Roches Marbella Julia Krebs, what was a traumatic time for hospitality is now shaping the opportunities in the sector and defining the trends we'll see in the coming year and beyond.
A Les Roches alumna and former guest relations and rooms division manager for Belmont in south east Asia, Julia's current role involves redesigning and rethinking classes for students to ensure they are relevant and inspiring, which naturally means staying on top of all the current and emerging hospitality industry trends.

Here, she outlines what the next 12 months have in store for the industry, how we can expect to see hotels adapt to stay competitive, and why it's important to stay on top of the latest developments.

Hotel industry trends
As the entire global hospitality industry continues to adapt to the challenges thrown up by the pandemic, it will be critical for hotel owners and those working or looking for employment in the industry to pay attention to five big themes that will shape the industry in the coming months and years.

Changing workforce
Possibly the most significant development is the influx of younger people into the industry following the great exodus from hospitality during the pandemic.

Hotels are desperate for qualified people to work for them, which means there has probably never been a better time to enter the hotel industry. And the opportunities are there whether you have the experience or not. Many hotel groups are experiencing such acute labor shortages they are offering on-the-job development and expanding their management in training programs to include not only the traditional food and beverage or rooms division routes but also 360-degree operations as well.
We're also seeing faster career progression than we had before due to skills gaps in key roles, so it's going to be really interesting to see how that impacts the industry in the next 12 months and beyond. With more energetic, passionate, and enthusiastic people in higher positions, it's unthinkable that will not have a significant effect on how hotels develop and the kind of services and technologies they embrace.
Technology trends
Another hangover from the pandemic – increased use of smart technology in hotels – is also set to be a theme throughout the industry in 2023. Where the Covid crisis necessarily saw new technologies such as a hotel app deployed for customers to check in and out, I think we will see that 'smart hotel' trend continue but with an increased emphasis on building human interactions back into the mix.

You just don't get the same level of hospitality with a robot as you do with people, so hotels will increasingly be looking at ways in which they can combine the efficiency of technology with the personal touch. That will be even more of a factor given people are now spending a higher proportion of their income on their travels in the post-pandemic world.

We've already seen innovations such as the JEEVES robot drinks caddy replacing inefficient minibars at Radisson and Leonardo group hotels. And we have also witnessed the use of SuitePads bringing efficiencies to guest communications in hotels such as Shangri-La and Jumeirah. In fact, we have one in our Housekeeping Demo room on the Marbella campus so students can see how guest communications are improving, how guest requests are processed, and how that feeds into sales and revenue management. As demand increases, hotel groups will be doing everything they can to improve efficiency by, for example, adopting artificial intelligence and automation and I believe this is where we will see further technological advances in the next 12 months.


Going green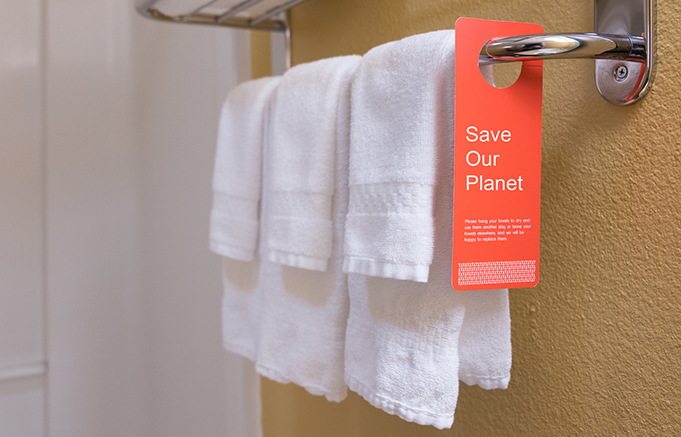 Boosting efficiency isn't all about saving money either. In many instances, as with the JEEVES drinks robot, it can contribute to a hotel's sustainability as well. As the sector continues its post-pandemic recovery, so the spotlight has turned on the industry's environmental impact and, as a result, sustainability will be a key trend in the next year and beyond.

Combatting climate change is one of the biggest challenges we face today and is a top priority for the hotel industry. That's why we're seeing the entire industry adopting more environmentally-friendly approaches in almost every aspect of their operations and this is set to continue in 2023.

Whether it's demanding more sustainable goods and services from supply chains, striving to reduce waste or designing energy-efficient buildings, hotels have embraced the challenge of reducing their carbon footprints and are aggressively pursuing a greener agenda.

The truth is, sustainability is no longer something hoteliers can ignore. It's increasingly a deciding factor in customers' hotel choices and it's important to the new generation of employees who will drive the industry in the future, so I've no doubt 2023 will see some big strides in this area.

It's one of the reasons sustainability is one of the biggest topics we cover in our Bachelor's and Master's programs at Les Roches. It will necessarily be at the heart of everything the industry's future leaders do.


Giving back to society
While tourism's impact on the environment is rightly at the forefront of hoteliers' minds, we are also increasingly seeing them consider how their operations affect the societies in which they have a presence too.

Mass tourism can have a devastating effect if it is not properly managed and hoteliers are becoming increasingly aware of the potential impact opening more and more hotels could have, so I think we will see a growth in the number of socially-conscious initiatives the travel industry develops in the next year and beyond.

In particular, giving back to local communities will be a recurring theme. We are already seeing more hoteliers making conscious efforts to source talent, goods, and services from the areas in which they operate, hiring from underrepresented groups when possible, and investing in their employees' professional development. It doesn't stop there. Many groups such as Rosewood are actively supporting local education and social services initiatives too.

Hotel companies are, in short, taking more responsibility for the development of tourism in their local communities and stepping up to the plate and I think this will be one of the key trends in the future.


Traveler preference trends
One of the more interesting key trends we have already seen have an impact on revenue management in the hotel industry – and one that's set to continue for years to come – is the rise in segmentation of guests.

Things have come a long way since we asked whether the purpose of guest visits was business or pleasure. Hoteliers are now separating customer groups into many more categories and tailoring their offering according to the desired customer experience. For example, we have already seen more 'pet-friendly' hotels open in response to consumer demand, and niche offers of that type are likely to become more widespread.

Another driver of innovation in the industry – again influenced by the pandemic thanks to the technology behind remote working becoming more commonplace – is the burgeoning 'digital nomad' lifestyle. Older-style business lounge facilities are being updated and adapted to become co-working spaces for hotel guests. They provide the essential communications and IT infrastructure but also give guests the opportunity to network, taking away the sense of isolation many people experienced during the Covid years.

Catering for specific guest needs has already driven some of the larger hotel chains into diversifying their offer according to the experience clients are demanding and I think this will continue to be the case for the foreseeable future. And I'm not just talking about individual hotels – I can see the larger multinational groups creating entire sub-brands that are geared towards catering to a specific niche as they look to compete with boutique offerings in increasingly diverse target markets.
Covid recovery
As we have seen, the far-reaching effects of the pandemic are still having a significant impact on global hotel industry trends and the changes it brought about will define how hotels develop and thrive for years to come. Adapting to the 'new normal' is a common theme throughout the top trends in hotels for 2023 and this is evident not just in the way hoteliers have already tweaked their offer to suit changing traveler preferences but also in the very nature of hotel companies themselves, which have experienced an influx of young and passionate employees.

That workforce will be one of the factors driving the adoption of more socially conscious and environmentally sound initiatives and the technological solutions that can facilitate them. But unsurprisingly, it will be customer demand that shapes how hotels emerge from the pandemic and that underpins each of these hotel trends for 2023.

We are beginning to see the effects of what some in the industry have described as 'pent-up demand' unfold, with the result more customers are spending more on their travels. To ensure hoteliers benefit from this development, it's critical they not only react to demand but also monitor and stay up to date with the latest and future trends. While they do not necessarily need to be first to market, early adoption or buy-in to certain trends can lead to significant business exposure, brand awareness, and customer loyalty.

In an ever-more competitive marketplace, repeat business is the lifeblood of hotels, so it's important they know what will make a difference to their guests – keeping an eye on emerging trends is key to that.
Learn how to shape the hotel industry of the future
The Les Roches Master's in International Hotel Management covers all the latest and emerging hotel industry trends