Wondering what the airline industry is? Maybe you're unsure what exactly the airline industry involves, or what it might be like to work in the aviation sector. In this article, we'll go over what exactly you can expect when you look for work in one of the major airlines, including how rewarding it can be to work in the hospitality side of the business.
What is meant by airline industry?
When you think of the airline industry, most people think of planes. Certainly, air travel is at the heart of the airline industry, but that's not all there is to it. We're going to use the term to talk about anything to do with airlines, flights, and transport. This includes passenger airlines, leisure travel, freight or goods haulage through the air, as well as private air travel.
What type of industry is airlines?
There are many different industries that all work within airlines to make sure that everything runs smoothly. While the primary industry is the most obvious, it's important to remember that airlines wouldn't operate smoothly without all the additional industries to prop up its logistics.
Primary aviation industry
The primary industry in airlines is of course transportation, and there is an ever-increasing demand for air travel, especially international flights. This is split into two halves:
Passenger flights

– This can include public and private flights. Many people rely on the aviation business for their domestic or international travel requirements. This can be further split into business and leisure travel. These two groupings are rather similar, but we'll go over how they differ later. Whether it's jetting off on holiday or attending a business meeting, much of aviation is for passenger flights.

Cargo flights

– While most of us will have experience with the airline industry as passengers, there is also a large amount of air travel that helps facilitate international trade. All kinds of goods, from food to clothes to documents, can be moved by plane. Air travel is usually the choice for items that need to be moved about quickly, as planes are much faster than a ship or train cargo.
Other industries within airlines
Of course, while transportation is the main part of airlines, there are plenty of other industries that work within or alongside aviation. This includes:
Hospitality

– Tending to customers, providing food and drinks, and making sure customers are comfortable throughout their whole time with the company. This means working on making a seamless overall customer experience across all channels including websites, email, call centers, and service staff. There are plenty of people who work for airlines during their

hospitality careers

.

Engineering

– This highly specialized type of engineering is vital for the manufacture and upkeep of planes.

Logistics

– With so many planes and such a large volume of passengers or cargo being carried each year, the logistical side of air travel is an industry by itself.

Marketing

– Like all for-profit businesses, airlines have to have good marketing while constantly developing what they offer to customers.
All of these supporting industries help to ensure that the airline industry can meet all of the expectations of its customers in terms of good service. While many are not directly responsible for keeping planes in the sky, they are still vital parts of this business.
Why is hospitality important to the airline industry?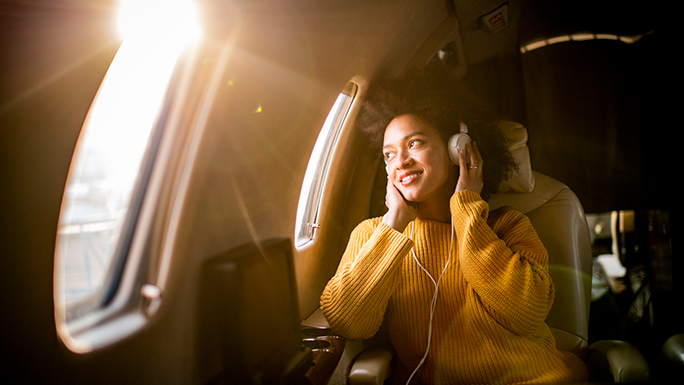 In any industry where companies will be dealing directly with customers, hospitality and customer service are important. This holds true whether we are talking about the customer help desk at a supermarket or the concierge at a five-star hotel. In the airline industry, hospitality is different and unique.

It is usually based on what kind of customers you are dealing with, as well as what part of the air travel process you are working in.
Personal airline hospitality
For commercial air travel, hospitality is important. At the service level, this includes:
Greeting customers and helping them through bag checks and security checks

Relaying information to customers while they wait for their plane

Guiding customers onto the plane

Serving drinks or food and meeting other needs of customers while in the air as flight attendants

Helping customers get off the flight, find their luggage, and leave the airport

Handling complaints

Additional help for customers with special needs and disabilities
At the management level, this includes:
Marketing and branding strategy

Manjaging service teams

Revenue management

Ensuring customer experience is seamless across all platforms

Liaising with partner companies such as suppliers, online travel agents, and airports
Business airline hospitality
Most of the hospitality requirements will be the same for business or first-class air travel, but there are some additional hospitality concerns, such as:
Guiding customers to lounges

Dealing with additional requests

Providing extra services or special deals to ensure repeat customers
Private airline hospitality
Within private air travel or charter airlines, the same basis applies. However, often, you are dealing with far fewer passengers. On the other hand, these passengers tend to expect a higher-end experience, which includes:
Remembering customers and their preferences

Helping fulfill unusual requests

Serving more elaborate food and drink mid-flight
What are the differences between airline hospitality and regular hospitality?
Hospitality is usually similar in all fields, but there are some differences, especially when the majority of the service offered is in the air.
Similarities
Just like with regular hospitality, airline hospitality focuses on:
Being polite and pleasant to customers

Listening to customer requests and following them as much as possible

Arranging food and drink, including organizing deliveries, cooking, and serving customers

Customer complaints that are often relayed after service
Differences
However, there are some differences when it comes to hospitality in the air transport industry, such as:
Customers are more likely to be stressed or tired when interacting due to the nature of air travel

Options to assist customers are limited when they are in the air

Time is limited, whether in the terminal, lounge or plane
All of these factors can make airline hospitality more of a challenge. While this might be intimidating, it also means there are many exciting roles in airline hospitality. For example, by its nature, the airline industry does not just work in North America. Working in airline hospitality means you can work all over the world.
What hospitality jobs are there in the airline business?
There are a lot of different hospitality careers possible in the airline business. This includes:
Concierge

Marketing for hospitality

Hospitality management
Of course, different airlines will have different organizational structures and different roles.
How can I prepare for a career in airline hospitality?
If you are looking for a career in airline hospitality, there are multiple different routes you can take. This includes:
Studying hospitality
There are plenty of ways that you can study hospitality management to help you get the skills you need for a career in this field. You can do this with a degree in hospitality management or other qualifications. Make sure that the qualification you get is accredited and will be recognized by companies when you are looking to get a job.
Become an expert in global hospitality management
Les Roches' degree gives you all the skills you need to manage hospitality for an airline thanks to real-world learning and internships.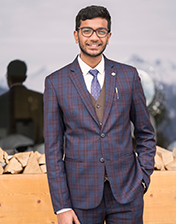 Internships in hospitality
Another option to consider is experiencing internships as a route into airline hospitality. Some companies will offer internships as a stand-alone process, where you can work with them for six months to a year. You will gain useful skills and experiences during this time.

There are also plenty of hospitality degrees that include hospitality management internships as part of the course. Internships are great because they give you practical, hands-on experience that underpins any theoretical knowledge. Practical experience is vital in hospitality to truly understand the unique demands and challenges of the industry.
Working from entry-level roles upwards
Another way into airline hospitality is to start in an entry-level role and work your way up. There are plenty of companies that will take on people without much experience. However, this means starting as a receptionist, desk clerk, or similar and eventually getting promoted, when you might be required to complete a degree.
Working on skills
As well as qualifications, there are plenty of skills that you can work on to improve your chances of doing well in a hospitality role. This includes:
Communication

Organization

Problem-solving

Personability

Teamwork

Team management

Time management

Work ethic
Summary
The airline industry is primarily concerned with moving people and goods from place to place. Since the industry deals with customers directly, hospitality is an important aspect. Airline hospitality is similar to any other type of hospitality, but there are additional challenges brought about by the nature of the job.

Working with people who are only your guests for a short (and sometimes stressful) period can make it hard to provide the great hospitality that people want.
If you are looking at how to get into airline hospitality, then there are various routes open to you. One of the most popular is to study for a degree in hospitality. There are plenty of courses to choose from in hospitality and business that can help you get ahead. Consider other ways of improving your chances of doing well in hospitality, such as building on skills or finding an internship, too.