There are almost 10,000 kilometers between Hong Kong and Switzerland. But when the new, ultra-luxury Rosewood Hong Kong hotel opened its doors for the first time the good vibes were felt all the way to Les Roches' Bluche campus.
Why? Because no fewer than seven Les Roches alumni played their part in getting this flagship Rosewood property ready to receive its first guests.
Among them is Alice Targett, a class of 2014 BBA graduate who is Senior Marketing Services Manager for the hotel group. She says, "As soon as I heard Rosewood was opening in Hong Kong I jumped at the opportunity and applied for a job there. Working for a hotel group like Rosewood had always been a dream of mine – however I did have my doubts that it would actually be possible.
"After a couple of months of interviews I was offered this role. I have now been at Rosewood Hong Kong for about five months and it has been an absolute blast. Being part of the pre-opening team has been an incredible opportunity. The hotel is truly the most magnificent urban hotel in the world."
Another class of 2014 alumnus, Taimur Mukhtar, had already worked at Rosewood properties in London and Beijing before joining the pre-opening team for the Hong Kong flagship in April 2018.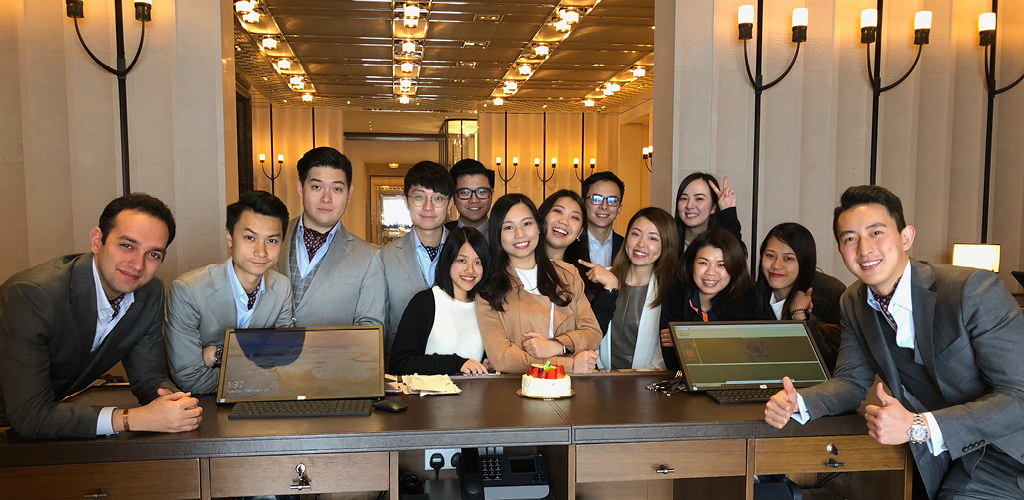 Steep learning curve
"I was transferred to be front of house manager, but during the 12 months of pre-opening I was in charge of all procurement for the rooms, including budgeting and handling the designing/customizing and sourcing. This took me right outside my comfort zone and it was a great learning experience," he says.
This past year has changed the way I think, because I was able to spend a lot of time with my hotel management team and the designers. This helped me to understand their vision and direction.
Stunning art and design is one of the new hotel's hallmarks. The interior design is the work of celebrated hospitality designer Tony Chi, who recently gave a talk at Les Roches. The luxurious public spaces, meanwhile, feature artworks from Henry Moore, Damien Hirst, Bharti Kerr, Wang Keping and Hong Kong's own Wilson Shieh.
The power of sleep
All these luxuries count for nothing if the guests don't get a good night's sleep, however. And here class of 2018 Les Roches alumnus Philip Lam found himself in the front line.
He explains, "Though my assignment was originally in the front office, I would often find myself helping the housekeeping department to prepare the guestrooms with all the required furniture and amenities.
"I also participated in several of our 'sleep tests'. These involved staying in the guestrooms for the night and testing all of the features and setups, so that we could better anticipate what problems might need attention before we started to welcome our real guests. Every small detail had to be examined to eliminate any defects and ensure the overall guest experience was at the required level."
Into the rhythm of hotel life
With the gala opening complete, Alice Targett says life at Rosewood Hong Kong is starting to develop its own rhythm. "We have a better understanding of the hotel and which aspects to concentrate on. One of my biggest projects is creating the first Rosewood App – this is something new to me which I find very positively challenging."
For Philip Lam, the pre-opening was a truly unique experience. "I'm very proud to have been part of opening Rosewood Hong Kong. Right now, I am making the most of the operational aspects within the front office and trying to absorb as much new information as possible. The next months will be very busy and I am looking forward to being involved in this challenging yet exciting industry," he says.
As a veteran of three Rosewood hotels, Taimur Mukhtar says he plans to stay in Hong Kong for a while longer. "I want to enjoy what we all created and see the hotel blossom. I'm also ready for the next chapter and my next challenge within the company."