The first ever Exclusive Brands Week at Les Roches Marbella saw experts in luxury and entrepreneurship share their experience and insights with Master's in Marketing and Management for Luxury Tourism students.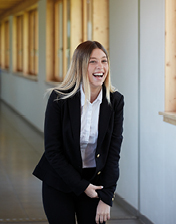 More than 70 Les Roches Marbella students attended our first-ever Exclusive Brands Week, which featured guest speakers from some of the world's most famous high-end luxury brands such as Yves Saint Laurent, Biotherm, Loewe, Bentley and Cartier.
A week-long luxury masterclass
On each day of the event, students got to hear directly from international luxury brand experts in innovation and entrepreneurship. These included self-styled 'retail girl' María Jiménez, Retail Director for L'Oreal Luxe, Yves Saint Laurent and Biotherm, and Gonzalo Gimeno, CEO and founder of Elefant Travel, an ultra-luxury travel boutique specializing in designing tailor-made travel experiences for high net worth individuals.
Exclusive guest speakers
Also speaking at the illustrious event was Eline Ewbank, the London-based fine jewellery consultant behind The Jewellery Stalker (thejewellerystalker.com). A specialist in sourcing exquisite pieces for collectors and connoisseurs, Eline delivered a masterclass in sales channels and the kind of brand identity strategies deployed by renowned jewellers such as Van Cleef & Arpels, Bulgari or Tiffany & Co. 
Alongside the masterclass, Eline also took the time to share her tips on how to get ahead in the world of luxury.
"You have to be curious, interested and passionate about the field you choose," she says. "Finding out all about the brands and speaking to people who work within the industry are really important too. Focusing on a particular area – such as jewellery in my case – allows you to deepen your knowledge, which helps you stand out from the crowd.
"It's also vitally important you aren't afraid of making connections and networking, as this helps boost your career prospects and is key to progressing."
Luxury people management
Alejandro Iborra, global HR Business Partner Retail at Loewe, also spoke at the event. Having previously worked with brands such as Louis Vuitton and Burberry, mainly in Europe and the Middle East, Alejandro is now responsible for implementing advanced HR policies at Loewe across 22 countries.
As well as talking students through the finer details of people management in the luxury sector, Alejandro also shared with them the secrets of his success.
"In this sector, you have to be hardworking, passionate and always strive for excellence, but you also need to be highly sensitive to human emotion," he says. "This is a difficult industry to break into, so it's important to be open-minded about your first role and understand it's unlikely to be your dream job at the beginning.
"But once you do land a job, you need a strong focus on gaining experience and, if you're aspiring to lead, you have to learn how to deal with people and understand what motivates them. The best leaders no longer subscribe to the old style of leadership – they work hard to get the best out of their team."
Luxurious experience
It wasn't all about academic learning, though. The Exclusive Brands Week also included a luxury experience at Villa Padierna Anantara Spa between Marbella and Estepona on the Costa del Sol. This gave students an amazing opportunity to experience first-hand the kind of luxury on offer at high-end resorts from the customer's perspective.
Keep reading about Les Roches: