The career path you map out for yourself is not your only route to success. Life has a way of redirecting you down different roads, but unimaginable achievement and fulfilment can be found down all of them if you choose to step up and apply your hospitality skillset, as class of 2017 alumna, Marija Dimitrijević, found out.
Born and raised in Bosnia and Herzegovina, Marija knew she wanted a career in hospitality from a young age. At 19 she started a Bachelor's in International Business, and at 23 she enrolled in a Les Roches Masters. After graduating a year later in 2017, she went straight into a training program at Marriott, working her way through various departments.
And now? Now Marija is Business Operations Lead at an energy tech startup and has just won a prestigious PODIM pitching competition to secure Venture Capitalist support for the business. It's incredible where life, and a Les Roches hospitality skillset, can take you.
"I went to the US and did my rooms division training at the Saint Regis in Aspen and had a really great experience. Within three months they'd promoted me to the front office, which I was really happy about because that's what I wanted to do."
"Through networking I found a job in the energy sector, which was a completely different scenario…"
Marija spent 10 months in Aspen, before heading home to Bosnia after a move into HR in Germany was curtailed by Covid. "Through networking, I found a job in the energy sector, which was a completely different scenario compared to what I'm used to. But I had a business background and a hospitality skillset, it was just a case of applying them in a completely different industry.
"Dwelt is a tech startup offering a software platform specialized for the energy sector.  The product Platform X is not just a platform, but rather a superior OS for the energy businesses. It's a completely different industry to hospitality and took me a good year to really understand the technical side of the role, which is when PODIM came along."
Complete your leadership toolkit
With career-focused specializations, immersive field trips, plus a real-world Consultancy Project, our MBA is your launchpad to leadership.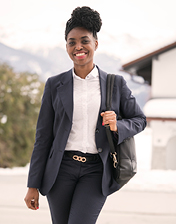 Pitch perfect
Having only been with the business for a year, Marija was trusted by the founder to represent Dwelt at an influential startup and tech event in 2021. "I applied for the pitching competition, where you have to explain what you're doing, your business model, growth projections, financials, and more in under three minutes to a panel of Venture Capitalist funds. We were one of 120 companies to get into the competition."
"I was sharp and on time with my first pitch, and we made it through to the second day, where I was now competing with ten other companies. For my second pitch, my boss took the whole team and put them in front of a screen, so everyone was watching. At the end of the day, I got a call to say we've made it into the top five, and at this point, I really started to take it more seriously and thought maybe this will lead somewhere."
"All I was thinking was it's a really great achievement to be a finalist…"
"On day three I had the final pitch, again three minutes and then one minute of questions. All I was thinking was it's a really great achievement to be a finalist because it's our first pitching competition. And then they pronounced my name as the winner! I really couldn't believe it, but I'm very glad in terms of our company and obviously my career. It's a big deal, we're now getting mentorship through a fundraising bootcamp as a result, this is the biggest achievement so far for me."
"Hospitality took me to this situation"
Now Business Operations Lead at just 27, Marija believes the skills she acquired through her hospitality Master's have been central to her success.
"When I came to the company last year, there was a very important energy conference where all the people from the energy startup world meet. It was online and I had to pitch our company for the first time, knowing very little about the energy sector. The founder decided that it would be great if I took on pitching going forward because there are not that many females in the energy sector globally.
"It was a risk really because usually, VCs like to see founders pitching, but he put me forward and so far it's going well. Hospitality took me to this situation, in hospitality there was a lot of problem-solving as well. It was way faster because you have to decide on the spot, but that's something that I still carry here as well. Our next move is to internationalize, and open an office internationally."
Advice for students and alumni 
Marija had advice for both those with ambition considering a Les Roches Master's and alumni considering their career path options. "Students should go for it, but remember to work on yourself during your Master's, find your spot, and explore because there are a lot of options. It's not only hotels and hospitality that you can work in, there are many, many different options. And of course, there's the international experience that you get out of Les Roches, which is amazing."
"When I came to Les Roches I thought hospitality was only hotel related, but then it opened up a million possibilities."
"For alumni, just know that hospitality skills can be transferred. When I came to Les Roches I thought hospitality was only hotel-related, but then it opened up a million possibilities. Even I couldn't imagine that a hospitality student could work in investment banking, for example. Your people skills and soft skills are needed in every single industry."